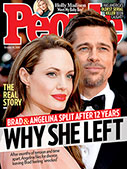 This Week's Issue!
People Top 5
LAST UPDATE: Tuesday February 10, 2015 01:10PM EST
PEOPLE Top 5 are the most-viewed stories on the site over the past three days, updated every 60 minutes
Picks and Pans: Pages
Midnight Sweets
He became Sir Laurence at 39 (the youngest actor ever knighted), an Academy Award winner (Hamlet, 1949) at 41, Lord Olivier at 63 (the first peerage that was ever given an actor). Laurence Olivier—now 81, ailing and retired—has received perhaps every attention his nation and the theatrical profession can bestow. But Holden's rewarding biography reassures us that Lord Olivier's honors are no more than his due. That the true personality of his subject escapes him cannot be held against Holden. Laurence Olivier's "real" self seems to have eluded not only Olivier himself, but those close to him. Olivier: "I'm not sure what I'm like...I'm far from sure when I'm acting and when I am not. Or, more frankly, when I am lying and when I am not." His wife (the third) of almost 30 years, actress Joan Plowright: "Larry? Oh, he's acting all the time." It is Holden's own conclusion that Olivier is "a born actor who has spent his long life auditioning to be himself, the one role he could never quite pin down." This biography offers perhaps more than most Americans will care to know of the childhood of this Church of England clergyman's son. There's a surplus of detail, too, about the behind-the-scenes politicking at Britain's National Theatre, of which Olivier became director in 1963. No reader can fail to be moved, however, by the account of Olivier's harrowing 20-year marriage to the manic-depressive actress Vivien Leigh and the late-in-life happiness he shares with Plowright and their three children. Holden provides vivid portraits of Olivier's renowned Shakespearean roles—Hamlet, Henry V, Richard III, Othello, Titus Andronicus—and many more modern ones, among these Heathcliff in Wuthering Heights and Archie Rice in The Entertainer. Too frail in his later life to take on major acting efforts, Olivier accepted many trivial but lucrative cameo roles in films, and in 1973 was paid $1 million for making a television commercial. It is only this, Holden notes, that enables Tony Manero (John Travolta) in Saturday Night Fever to place him. "Laurence Olivier? Who's that?" "Oh, come on. You know, the guy on television, the one who did the Polaroid commercials." "Oh, yeah, him. He's good." (Atheneum, $22.50)
Photographs by Jan Staller
As cities grow, the new does not always devour the old, but often just leaves it behind. On the margins the piers rot, the landfills spread, the warehouses creak, and the city's grimier commerce rumbles on. Truck drivers and workers may know these forlorn zones, where tunnel ventilators whir and road salt is stored, but few others venture there. Once central, in function if not in location, they are now, as Staller suggests in his title, unexplored frontiers. When Staller moved to New York City in 1976 after he had earned his bachelor of fine arts degree from the Maryland Institute of Art, he began to photograph the city's abandoned West Side Highway. Now demolished, "this unique Art Deco relic," as Staller describes the elevated roadway that once ran beside the Hudson River piers, propelled him into a more than 10-year photographic romance with the city's fraying fringes. Staller, now 36, shot in color, often in the fringe light of dusk and dawn, and in fringe weather—fog, snow, driving wind. Often there were mercury vapor, sodium vapor or incandescent streetlights overhead. On the daylight film Staller uses, these potent lamps turn skies martian red and lend a surreal beauty even to soaring concrete bridge pillars and protective curtains billowing around demolition sites. As striking as the light and the dramatic weather are the settings themselves. The glistening cobblestones, the rusting ironwork, the elevated subway platforms be-speak a bygone age when the urban aesthetic was not sleek and glassy but massive and mechanical. Staller's exceptional sense of form enlivens and dramatizes, and his orchestration of color is something to marvel at. In some pictures he plays the subtle harmonies of stone, steel and pavement. In another he strikes a spangling chord: brilliant red ship containers in fresh white snow under black steel bridgework. So freshly perceived are these places that even New Yorkers will not recognize them. In fact, one needn't really give a hoot about New York to value this book. The book is about valuing that which has been forgotten and abused. It's about beauty arising from ugliness. And it's about wonder, without which life is dull indeed. (Hudson Hills, $35)
by Sidney Sheldon
Seeing a title like that, a reader of this novel might expect some wisdom of the ages, a new approach to historical events or at least an appearance by the Beach Boys. If only. To call this book a potboiler would be an insult to kitchen utensils everywhere. The story of a Basque terrorist, his gang and four nuns he goes on the lam with in 1976, it is sloppily written and edited, preposterous even in its most plausible moments and a lot closer to being funny—particularly in its all too plentiful, slapdash sex scenes—than it is to being convincingly dramatic. About its only useful function, in fact, is that Sheldon decided that his characters, though they're almost all Spanish, should talk in English except every once in a while. Then they throw in a few words in Spanish, thereby giving college freshmen everywhere a good chance to have some vocabulary practice. ("Hey, Sally, does 'mi casa es su casa' mean 'I am imagining what your male hardness would be like' or 'my home is your home'?") Sheldon, author of Bloodline, Rage of Angels, Master of the Game and other miniseries fodder, seems to have just jotted down the first witless notions that came into his head. He mixes his metaphors with abandon: "The silence was like a gentle snowfall, soft and hushed, as soothing as the whisper of a summer wind, as quiet as the passage of stars." The ruthless colonel who is determined to trap the terrorist, even if it means raping nuns (it does), says things like, "I have an orgasm when I kill. It doesn't matter whether it's a deer or a rabbit or a man—there's something about taking a life that makes you feel like God." In Chapter 15, Sheldon introduces the Scott family, Americans who are nonetheless related to the plot (telling how wouldn't spoil much of a surprise but it would be very boring); in Chapter 16, he introduces them again, as if he had forgotten all about Chapter 15 (which would not have been all that bad an idea, come to think of it). As the colonel and the terrorist head toward their inevitable, dumb final confrontation, nuns and terrorists fall in love with each other like crazy. The daughter of a Mafia don is made to seem like a heroine when she manages to get his money out of a Swiss bank account, a wolf attacks, flashbacks keep occurring to fill many chapters, and Spain is made to appear like a nation of imbeciles. The nuns, of course, can't resist comparing their formerly cloistered lives with the newly discovered phenomena of the outside world. At one point one of them thinks, "God isn't going to like this." Amen, Sid. (Morrow, $19.95)
by Scott Bruce
Bruce, a Boston-based (and Seattle-born) writer, tends to exaggerate the importance of his subject a mite, as if the decline and fall of many a civilization has been traced through the history of its children's lunch boxes. Between 1950 and 1970, he writes, more than 120 million lunch boxes were sold in the U.S., and for baby boom youngsters, "A provisioned lunch box was equipment as essential as a rifle had been to earlier pioneers—a shield against an uncertain future, a badge of membership, a friend." He also overdoes his captions, describing, for instance, a 1967-68 GI Joe box showing a frogman this way: "Hasbro's action doll is shown rehearsing for the mining of Haiphong harbor." There is some amusing trivia though. He credits Aladdin Industries' Hopalong Cassidy from 1950 as the first example of a TV character being used as a lunch box illustration. He notes that a 1954 Howdy Doody box eventually had to be pulled off the market because it showed Howdy with Princess Summerfall Winterspring and the actress who played her on the show—Judy Tyler—had just defected to grownup fare, playing opposite Elvis Presley in the movie Jailhouse Rock. Bruce also quotes box artist Elmer Lenhardt's exasperation at having to redo the Dr. Dolittle design six times because the movie's star, Rex Harrison, kept being dissatisfied with the way he looked. (Another artist, Nick LoBianco, similarly remembers that "Diahann Carroll was a bitch about her Julia box.") Most of the fun is in just looking at the pictures of the boxes, though, and trying to remember why it was that anyone would have wanted to be seen carrying a Twiggy, The Flying Nun, Chitty Chitty Bang Bang, Paladin (Have Gun, Will Travel) ox Gomer Pyle box to school. There was obviously no fathoming that nerdiest of containers, the plain, no-celebs-at-all plaid box, as Bruce says: "In the blackboard jungle, the lunch box, reflecting one's identification with a fashionable character or show, was a passport to either social acceptance or, as in the case of Red Plaid, oblivion." (Chronicle, paper, $14.95)
by Bette Pesetsky
Be advised: It would be a good idea to stock up on quality cookies and milk before starting to read this quirky but affecting (and certainly appetite-whetting) offering from Pesetsky, whose two earlier novels were Digs and Author from a Savage People. Theodora Waite, the heroine of this story, has been obsessed since she was a girl with baking cookies and, as an adult, has managed to turn her obsession into a highly profitable chain of cookie shops, à la the Mrs. Fields of real life. "My personal life is my cookies," she says early on. As her story is revealed in a series of short, sharply written fragments that skip elliptically about in time and among characters, the cookies turn out to be just about the only sweet things around. Her mother dies when Theodora is still a child, and her father abandons her, leaving her to survive by robbing the homes of her teenage chums in between her cookie baking marathons. Two marriages and five children later, she is still persisting in her drive to create the perfect cookie. This novel is often reminiscent of Nora Ephron's Heartburn, partly because in both stories the heroines demonstrate a serious passion for the kitchen. Pesetsky's Theodora remains far more passive, though, than Ephron's Rachel was, and in Pesetsky's novel the humor is much subtler. Whereas Ephron concocts a scene where her heroine dumps a Key lime pie on her philandering hubby, Theodora gets even this way: "I did not mention to my husband one morning that the seam of his jacket near the left shoulder had begun to open up. A small two-inch tear." As with a good cookie, this novel is just sweet enough to satisfy without being cloying. It is delicate, too, but it doesn't crumble. (Atheneum, $17.95)
Contributors:
Jeff Brown,
Eric Levin,
Ralph Novak,
Leah Rozen.
by Anthony Holden
Advertisement
Treat Yourself! 4 Preview Issues
The most buzzed about stars this minute!