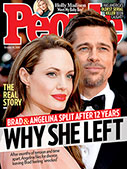 This Week's Issue!
People Top 5
LAST UPDATE: Tuesday February 10, 2015 01:10PM EST
PEOPLE Top 5 are the most-viewed stories on the site over the past three days, updated every 60 minutes
For a Gang of Five, One for the Road
With Five Cakes and a Great, Gooey Mess, the L'esperance Quintuplets Celebrate a Happy, Healthy First Birthday


The L'Esperances have plenty to celebrate. Ray and Michele, who turned to in vitro fertilization in their desperation to have a child, got five (PEOPLE, Feb. 15, 1988). Today, all the quints are happy and robust. Alexandria and Veronica have some lingering respiratory problems and are still monitored at night for apnea (difficulty in breathing during sleep), but like the rest of their siblings—Danielle, Erica and Raymond—they are growing as fast as healthy single-birth babies. All five jabber in monosyllables, stand on their own, clamber over furniture, crawl at carpet-burning speed, play pattycake and wave goodbye. They've each cut their front teeth—and learned how to bite. Unfortunately, along with the joys of raising the quints, the costs have also multiplied. "We are just able to make it on our incomes," says Ray, a corrections officer with the Macomb County Sheriffs Department, "but that is with a whole lot of help from our families."

Michele and Ray have transformed the family room of their colonial-style home atop a hill in a rural area outside Detroit into one giant, childproof playpen. A new jungle gym and an overflowing toy box dominate the room, where the quints scramble, tumble and tussle. When the noon birthday party is over, longtime sitter Darlene Venner helps strip the girls out of their lacy ruffled pink dresses and wrestles Raymond from his velvet suit and tiny bow tie. Then it's into the tub and down for a nap. Exhausted and sated, the quints nod off to sleep. Their parents, just exhausted, follow suit.

Each of the babies has developed its own personality. "She is Miss Eager Beaver," says Michele of Alexandria, the first-born, known as Alex. The musical quint, Alex is a 15-lb., hazel-eyed brunet who will sing and dance to anything, including the tone of a telephone left off the hook. "When she was in the hospital [for croup, late last year] she missed her sisters and brother so," says Michele. "When she came home, she went up and hugged each one. Except when she hugs, she pulls them close to her by the hair. They didn't appreciate that homecoming much."

Dark-haired, blue-eyed Danielle (Danni) is the biggest of the bunch, weighing in at 20 lbs. "She's changed from the most docile to the strongest and is a bully at times," says Michele. "But she's also the most sensitive. Her feelings are hurt real easily. When she's into something and you scold her, she'll zoom away. You'll see her little diaper scoot across the floor." Although she doesn't demand as much attention as she once did, Danni is still the champion howler. "You can't let her cry," says Ray. "She wakes up the others."

At 18 lbs., Erica is "just a pistol," says her mother. "Climbing and dancing, she's the clown. If she thinks somebody laughs by her falling down, even if she hurts herself, she'll do it again. She's probably the most mobile of the babies. If she wants something, she goes for it. She's not afraid of falling or afraid of anything." Gray-eyed with brown hair, Erica has also developed into the chief charmer. "They're all cute," says Ray, "but when she looks up at you with her long eyelashes...well, it's very touching."

Named after his father, Raymond is the only blond and has bright blue eyes. He was the first to speak, uttering an unmistakable "Da-Da" about three months ago. The tiniest at birth—just 1 lb. 15 oz.—he is now up to 14 lbs., which is still less than any of his sisters. "He sleeps late in the morning, then stays up late at night and plays quietly with us," says Ray. "It's like, 'Wow, this is my time with Mom and Dad.' He's figured out that he can be alone with us and not have the girls around at night." Says Michele: "I don't think he really wakes up until around 6 p.m."

Veronica, brown-eyed and about 17 lbs., is still playing catch-up physically. She had mild hip dysplasia (dislocation), which was corrected by three months of double-diapering. "She is tough, but she loves to be held and cuddled," says Michele. "She's a daddy's girl." Ray confirms it. "She is the sweetest of the babies," he says. "She's real happy-go-lucky." That doesn't mean Veronica is a pushover. According to Ray, "Lately she's getting more daring." "Yeah," adds Michele, "now she will deliberately take a toy away from one of the others. They cry. She laughs."

With each new stage in the quints' development, new expenses crop up. "The financial strain is really starting to get to me," says Ray, who makes $26,000 a year. Michele works three nights a week as a counselor at the Turning Point, a shelter for battered women, and prefers the job to her previous career as a model. "I learn from them daily," she says of the shelter's clients. "These women have helped me cope. The worse things I see, the more I thank God for what I've got."

The quints still go through 48 disposable diapers a day—$12 worth. Mead Johnson recently delivered a final 906-pound shipment of free formula, but that will be gone by March. Gerber, however, has promised to keep donating baby food "as long as we need it," says Michele. "These guys may be eating baby food when they're 16."

Until recently, the couple had to borrow Ray's mother's car to take the babies to the doctor or make any family trips because their old pickup truck and Pontiac Fiero couldn't handle the crowd. Then last week they took possession of the Quintmobile: an $18,000 1985 black Cadillac limousine with TV and stereo. "I know it sounds ludicrous, but the used limo was cheaper than a used van," says Michele. "We can't afford it, but we needed transportation. Finally, we can all go out together safely."

The family's plans to have the quints pay at least some of their own way by modeling have fallen along the wayside. Their first assignment last September at a local mall degenerated into squalling chaos. "I haven't pursued that," says Michele. "It was more trouble than it was worth."

Ray and Michele both work the late shift. They spend about $200 a week for sitters, including Venner and several teenage girls who come after school. With the babies waking up at all hours, "forget about sleeping through the night," says Ray. "One baby gets up at least once a night. Five babies get up five times as often."

Now that the quints are one year on their way, Michele feels a little wistful about how quickly her little Gang of Five has matured. "I hate when they move out of a stage," she says. "I know I will never have any more children and I'll never experience this again. Much as I love my job, I hate leaving these babies. All the time new and crazy things go on."

Which is not a bad way of describing the quints' second party of the day, a five-ring circus to which family and friends are invited. Amid much shrieking and rending of paper, the quints unwrap all manner of toys and clothes. Danni munches on a pair of mittens. Raymond chews on his new Snoopy pajamas. Veronica crawls into an empty gift box, then starts to bellow until she is distracted by the beep-beep of a new Busy Box. Ray surveys the wreckage of his living room and muses on his first year as the father of eight. "This has been one of the most difficult things I've ever had to deal with," he says. "But it's also been the biggest blessing of our lives."

—Montgomery Brower, and Julie Greenwalt in Detroit


Happy birthday to you—and you and you and you and you. Five hand-decorated cakes appear on five identical high-chair trays, and, faster than you can say "multiple birth," the L'Esperance quintuplets begin celebrating. Within 10 minutes, their infant glee has coated the floors, the walls and five very happy faces with chocolate cake and white frosting. Watching the show are the quints' dad, Ray, 28, their mom, Michele, 35, and the three sons the couple brought to their marriage 2½ years ago: Larry, 8, Christopher, 6, and Brian, 3. For the next half hour the family revels in what can only be called the quintessential birthday party: a celebration of the first year of life for America's first test-tube quintuplets.
Advertisement
Treat Yourself! 4 Preview Issues
The most buzzed about stars this minute!