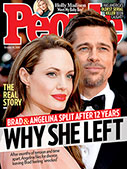 This Week's Issue!
People Top 5
LAST UPDATE: Tuesday February 10, 2015 01:10PM EST
PEOPLE Top 5 are the most-viewed stories on the site over the past three days, updated every 60 minutes
A First Family That Just Won't Quit
As Solid as Maine's Rockbound Coast, the Far-Flung Bushes Come Together from Texas and All Points of the Compass


Over the course of George Bush's political career—through elections lost and appointments gained, to the ultimate triumph of elevation to the White House—the five Bush children have ridden loyally beside their old man. The sailing hasn't always been smooth, but none of them—not George Walker, 42, John Ellis (Jeb) 35, Neil Mellon, 34, Marvin Pierce, 32, nor Dorothy Walker (Doro), 29—has ever asked to be put ashore. "You've got to have a close family in politics because sometimes it can get pretty ugly," admits George, the firstborn. "When that happens, you circle the wagons."

As their father's staunchest allies, the Bushes share a common family trait, Jeb has said: "We're all thin-skinned." When rumors began swirling concerning the new President's alleged extramarital dalliances, the kids, said Barbara Bush, simply "went wild."

Now that they are parents themselves, say the younger Bushes, their appreciation of their parents has grown. They can understand even better than they could as children the grief George and Barbara felt when their second child, Robin, died of leukemia in 1953, two months shy of her fourth birthday. The elder Bushes still keep a portrait of the little girl on their dresser. "When I was growing up," says Dorothy, "Dad would tuck me into bed at night, and he would tell me about Robin, and we'd both cry. They had her for four years. I look at my 4-year-old and think what it would be like. You would never forget, never."

But mostly the Bush children's memories are sunny. At Christmas, Dorothy remembers, "Mom made us each stockings of felt, with sequins and appliqués. She still has them, and we all treasure them. When we woke up on Christmas morning, the stockings would be filled and sitting at the end of our beds. And before bed, each of us would pick a piece of furniture where our gifts would be."

The Bush children consider themselves lucky to have grown up with George and Barbara as parents. Even today Jeb speaks without embarrassment of "idolizing " his mother and father. "Both my parents are role models," says Marvin. "They have a tremendous number of qualities I'd be proud to have—thoughtfulness, sensitivity to others, humility and, most of all, a sense of the importance of family and friends. When you become a friend of the Bushes', you're a friend for life."

As parents, George and Barbara respected their children's individuality, the kids say. "Never once growing up did I feel pressure from either of my parents to be something I'm not," says Marvin. "That to me is one of their greatest accomplishments. All their children are extremely different, and they appreciate us for who we are."

So for the Bush family, Inauguration night promised to be especially sweet, a celebration of both a great electoral victory and their sense of having achieved it together. For their first night at the White House, George and Barbara invited more than two dozen family members to sleep over. Some of the grandchildren would be toting new Polaroids to capture the event for posterity. "My dad knew nobody was going to out-family him," says the President's youngest son, Marvin. "There are just too many of us."

Not since the Kennedy years has such a large political clan invaded the White House. In fact, there are already rumors that two of the Bush sons may seek the governorships of their respective states, but chances are there won't be football games on the White House lawn. By all accounts, the Bushes, en masse, promise to be a fairly sedate bunch—at least as far as First Families go. "I don't think you'll see us write any books, and there's already a Busch beer," says Marvin. "We're not out doing outrageous things. We're very mainstream." With a wry smile, he adds, "We'll probably bore people to death."

GEORGE: IN DAD'S FOOTSTEPS

When George Bush, fresh out of Yale, left New Haven with his bride, Barbara, in 1948, they packed their firstborn, 2-year-old "Georgie," into the family Studebaker for the long trip to the oil fields of Texas. In retrospect, says George, "moving to Texas was one of the greatest things my dad has ever done, because he shunned the path that everyone expected him to take." For his part, "Little George," as he came to be known, was content to follow in his father's footsteps: to Phillips Academy in Andover, Mass., and to Yale, then into the service, where he flew Air Force fighters instead of Navy bombers. After earning a graduate degree from Harvard Business School in 1975, he returned to Midland, Texas. There he went into the oil business and met his future wife, Laura Welch, the daughter of a local contractor.

Growing up in Odessa, Texas, and later in Midland, George thought of himself as belonging to "absolutely an ordinary American family." His father, he recalled in a 1980 interview, "was strict about using good judgment, respect for my mother, and moral questions like prejudice, and that you don't renege on your word." But though the elder Bush could be firm, he was never vindictive. Young George recalls that he once quit a summer job on an offshore oil rig a week earlier than he had promised so that he could spend time with his girlfriend in Houston before going back to college. When his father found out, he summoned his son to his office in Houston.

"When you love and respect a guy as much as we love and respect our dad," says young George, "the words 'Son, you've really disappointed me' are very tough. I felt terrible about it. But three hours later I got a call from Dad asking me and my girlfriend to go to the Astros game with him. He made his point, but he never let it linger."

During his 18 months with the presidential campaign and the transition team, George proved a powerful if low-profile figure, plugging leaks and scrutinizing potential appointees. Now settled in a Dallas suburb with Laura and their 7-year-old twins, Barbara and Jenna, he is on the board of an oil firm and refuses to confirm or deny rumors that he will make a run at the governorship in 1990. George ran unsuccessfully for Congress in 1978, but has learned from his father what to make of defeat. "Here's a guy who lost two elections in Texas and is now the President of the United States," he says. "It's a pretty interesting lesson for me and others in my family who are politically inclined."

JEB: HABLAMOS ESPAÑOL

It is Saturday afternoon when Jeb Bush, his Mexican-born wife, Columba, 35, and their three children pile into the family minivan and head for the Bowlomat near their ranch house in residential Miami. At the shoe-rental counter, Jeb orders five different sizes, then begins checking the ball racks for lightweight models the kids can handle.

"People think we should have a swimming pool full of gold," says Columba. "They don't understand we're just as normal as can be. I cook and clean. Jeb wakes up every morning and goes to work. We just kind of hide out down here."

In fact Jeb has become fairly prominent in Florida. After a stint as a Republican leader in Dade County, he served as State Secretary of Commerce from 1987 until last September, when he left to devote more time to his father's campaign. Now back at the Miami real estate firm he co-founded in 1981, he says he is "trying to focus on succeeding in my business" and not thinking about running for Governor in 1990. Columba is skeptical. "Jeb's a born politician," she says. "I don't think he's going to get away from it."

Growing up in Midland and Houston, says Jeb, "we were taught not to sit on the sidelines." He and his two younger brothers published a weekly neighborhood newspaper, which they sold for a nickel a copy. During his senior year at Andover, while his father was a freshman Congressman, Jeb spent a trimester in Mexico studying Spanish and Mexican culture. A classmate fixed him up with Columba Garnica, the daughter of an avocado farmer, and it was virtually love at first glance. In 1974, after Jeb earned a Latin American Studies degree from the University of Texas in just 2½ years, he and Columba were married. Columba, who didn't meet her future in-laws until she and Jeb were engaged, says the elder Bushes "were really, really nice to me, especially Mrs. Bush. She's always been like a good friend." Jeb and Columba's children—George, 12, Noelle, 11, and Jeb, 5, whom their grandfather referred to during the GOP convention as "the little brown ones"—were baptized Catholics (Bush is Episcopalian) and often speak Spanish at home with their parents.

Last Christmas, Jeb, acting as an unofficial envoy, toured the earthquake destruction in Yerevan, Armenia, with 12-year-old George. "We saw a town completely devastated, children mangled and bruised," says Jeb. "George has always had a composure and gracefulness about him, but he went beyond that this trip. There's a lot of deprivation and suffering in this world. I want my kids to know that if they're successful in life, they have to give back, that greed and avarice aren't traits to be proud of."

NEIL: A CAMPAIGN DIVIDEND

Nearly a decade ago, Neil Bush admitted to a reporter that he had never seen more of his father than when he helped manage the elder Bush's 1980 New Hampshire presidential primary campaign. "As a kid," he recalls, "Mom was the enforcer. She was always there. My father was the ultimate authority whenever there was a conflict which couldn't be resolved at the mom level."

It wasn't always easy being uprooted to follow his father's jobs, and the 1966 move from Texas to Washington, after George Bush was elected to Congress, was especially tough on 11-year-old Neil. "There I was with a heavy Texas accent, white socks and a crew cut," he says. "I had a terrible first half year. I got zapped into D.C. before I could enjoy any celebrity [from his father's election] in Houston. In D.C. I was just another kid on the block. And my parents wouldn't let me get away with being swell-headed. No airs, no posing."

Neil went to Tulane University in New Orleans "because I wanted to assert my independence," he says. He earned a bachelor's degree in international relations, then a master's in business. Neil worked in his brother George's 1978 congressional race and logged long hours in all of his father's national campaigns. Nine years ago, in New Hampshire, he gave his spiel to a local Republican who promptly inquired, "Are you married?" When Neil said he wasn't, the woman introduced him to her friend, Sharon, a pretty 27-year-old schoolteacher. "Sharon really didn't care about those primaries, and to me it was nice to have a nonpolitical girlfriend," he says. "Less than a year later we were married."

In 1981 Neil settled in Denver, where he founded an oil-exploration firm the following year—"just before the oil business collapsed," he says with a laugh. He and Sharon live with their kids, Lauren, 4, and Pierce, 2, in a capacious seven-bedroom brick house in the Country Club section of Denver. "They are lovely people," says one of their neighbors. "I just wish they weren't Republicans."

MARVIN: THE LITTLE BROTHER

When Marvin, the youngest of the Bush sons, became critically ill with ulcerative colitis in 1986, he had emergency colon surgery and was fitted with a colostomy bag. The Vice-President, recalls Marvin's wife, Margaret, 29, "all but moved his office into a hospital room near his son. He refused to leave until he was sure Marvin would be okay."

Two years earlier Margaret had awakened in the night frighteningly short of breath. She had pleurisy, an infection of the lining of the lungs. A half hour after Margaret awoke, "Barbara was at the house, and she carted me off to the hospital," says her daughter-in-law. "She stayed there the next 12 hours, as if there was nothing else in the world she had to do."

It isn't surprising that Marvin and Margaret sound almost reverential when discussing George and Barbara Bush. "They've always been very involved parents," says their son. The youngest of the Bush boys has often turned to his parents for advice. "I talked to my mom and dad before I asked Margaret to marry me," he says. He had met her when they were students at the University of Virgina. "I was fairly young, 24, and I wanted to feel comfortable and get some reassurance with what I was planning to do. They said I'd better marry Margaret because the chances were slim I'd find someone as special again. That turned out to be excellent advice." The couple also consulted the elder Bushes before they adopted their daughter, Marshall, in 1986. (Margaret is unable to bear children as a result of a childhood illness.) "They were very encouraging and supportive," says Margaret. "Now we're trying to adopt another child."

Growing up, Marvin says, "I guess you could say I was the classic little brother, always trying to emulate my brothers, always trying to hang around. Sometimes, in a particularly feisty mood, I'd accuse my parents of adopting me, just to get their attention. It never worked."

As Marvin remembers it, "There was always a sense of chaos in and around our house when I was growing up. It was always the focal point for all the other neighborhood kids. There were always at least 10 or 15 people around. And my parents welcomed that chaos. They liked that their place was a madhouse." But amid the bedlam there were firm codes of conduct. "I think the major offense you could commit as a kid in our family," says Marvin, "was to take advantage of an insecurity or a weakness in somebody, or if you poked fun at somebody and hurt their feelings. My parents just wouldn't stand for that."

After his 1981 marriage, Marvin settled in Virginia, where he is now a financial adviser. He is optimistic that the Presidency will not prevent the clan from gathering in Kennebunkport next summer and in seasons to come. "My parents have found a tremendous amount of solace from being there," he says. "My dad always points out to the grandchildren a particular rock that juts out of the water a way off the coast. At high tide it resembles a ship. Dad tells them that when he was a boy he'd go out and put a flag on the rock, so it would look like a U.S. carrier. Now it's a tradition among the grandkids to do the same thing. They love the fact that they're doing something that their grandfather did when he was their age."

DORO: DADDY'S LITTLE GIRL

She is the shy one. In the presidential campaign, Doro admits, "I wept through practically every speech I made. I cry when I'm happy and when I'm sad." Still, by Election Day, she had proved herself a trouper. "My brother George," she reports, "says I went from being a shrinking violet to being a pretty good campaigner."

To be a Bush you have to have a sense of humor, Doro says. When she was in third grade, her father, then a Congressman, called home one time and Doro didn't recognize his voice. "He said, 'Hello, little girl,' " Doro recalls," 'this is the phone company, and we are fixing the phones. I want you to hold the phone away from you, because soot will be coming out of it.' I believed him, and when my mother came in, I was standing there, holding the phone at arm's length. She asked what I was doing and I explained. Of course, she caught on right away. Dad thought that was very funny."

With her parents' blessing, Doro went to Boston College, where she earned a degree in sociology. On her summer vacation in Maine, after her sophomore year, a friend introduced her to William LeBlond, a rugged young man from New Canaan, Conn. "It was love at first sight," she says. "We were married two years later, right out of college." Doro's four brothers had always been highly protective of her and took a fraternal interest at once. "They gave Billy the once-over," she says. "They were impressed with his athletic ability, so that helped."

Billy and Doro have two children—Sam, 4, and Ellie, 2, who was seen in one memorable Bush TV ad running into her grandfather's arms. Doro works as a bookkeeper for Billy's construction firm near their home in Cape Elizabeth, Maine, but her priorities are much like her mother's. "My kids are the most important thing to me now," she says.

Doro runs about four miles every morning "to get out all this pent-up energy" she carries around within her. At night she loves to "crawl into a hot bath, then climb into bed with a book." Since the election, she admits, "I spend lots of time thinking about what I want to be. I'm kind of a late bloomer. I'm only now beginning to focus on this. But my dad gave me wonderful advice a long time ago. I'll never forget it. He told me, 'Just get interested in something, and life will sing.' "

—Susan Schindehette, and bureau reports


Advertisement
Treat Yourself! 4 Preview Issues
The most buzzed about stars this minute!