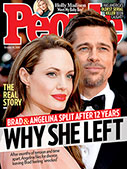 This Week's Issue!
People Top 5
LAST UPDATE: Tuesday February 10, 2015 01:10PM EST
PEOPLE Top 5 are the most-viewed stories on the site over the past three days, updated every 60 minutes
Ex-Sobersides Leslie Nielsen Hits a New Comic High in the Naked Gun


After 39 successful years of acting, more than 50 movies and almost 1,500 TV shows, Leslie Nielsen, 62, has to be the hottest non-name in all showbiz. Everywhere he goes he gets recognized—as the wrong person. He has been regularly taken for Bridges or Robert Stack or Peter Graves or maybe George Peppard. Such sub-star treatment might flatten a more fragile ego, but it doesn't faze Nielsen. "He has no ego," says Naked Gun producer Jerry Zucker. In fact, Nielsen finds the mix-ups refreshing. "It's a good thing," he says, in his sonorous voice, "lest we think we're doing something terribly important."

All this seems especially odd since Nielsen is the star of about the most popular movie around, alternately employing his familiar deadpan and mugging outrageously as Clouseau-esque cop Frank Drebin. Certainly no one else could play the police for pratfalls quite so convincingly. For most of his career, the long-faced Nielsen has appeared in cop roles, including the leads in TV's The New Breed and The Bold Ones. He launched himself as a comic in 1980's hilarious spoof Airplane! and shortly afterward created the fumbling Drebin in the short-lived series Police Squad. But long before his career swerve, Nielsen had come to regard his dour persona with less than total approval. "I began laughing at my old roles 15 years ago," he says. "I look at reruns and I say, 'Did you really take yourself that seriously? Did you actually play the role that way?' "

The typecasting as Mr. Stolid was particularly misleading because Nielsen, a free-swinging, 19-handicap golfer, is one of Hollywood's most avid pranksters. He carries a whoopee cushion almost everywhere. He loves to make faces at kids in airports ("They make faces back," he reports), and Ricardo Montalban, his Naked Gun co-star, says, "What's endearing is that he wants other people to have fun too." So when Airplane! and The Naked Gun landed in his lap, Nielsen was more than ready. "I wanted to act crazy in front of the camera for a change," he says. His stern visage intact until things go wrong, Nielsen is eerily at home as the dopey shamus. "Oh, Frank, I'm the happiest girl in the world," his Naked Gun sweetheart, Priscilla Presley, burbles at one point. "So am I," Drebin replies dreamily.

Despite his pre-Airplane! image, Nielsen has been a cutup since he was a boy in Regina, Sask., one of three sons of a Royal Canadian Mountie (Nielsen's older brother, Eric, stepped down as Deputy Prime Minister in 1986). A childhood case of rickets left Leslie's legs bowed at the ankles and briefly darkened his dream of being an actor ("The tragic disappointment was that I couldn't fulfill my wish to play Tarzan's son"), but he studied acting in Toronto and New York and broke into TV on Studio One in 1949. The next year he was in 46 TV shows and in 1954 moved to L.A. to make Forbidden Planet with Walter Pidgeon. Since then he has appeared in such big but less-than-classic films as Tammy and the Bachelor with Debbie Reynolds and The Poseidon Adventure with Gene Hackman.

Lighthearted as Nielsen acts, his life has not been carefree. He has never been embroiled in movie-town gossip, but he has made three notably unsuccessful tries at marriage. He wed singer Monica Boyer in 1950; they divorced in 1955. His 1958 union with executive secretary Sandy Ullman produced two daughters, Thea, now 28, and Maura, 26, and ended after 16 years. A 1981 union with a younger woman lasted just one year. Nielsen now lives alone in a comfortable hilltop ranch-style house with a dazzling view of L.A. and the Pacific, and he is close to his daughters, who train and show horses. "It takes two to tango, and it's easy to get out of step," Nielsen says of his nuptial misadventures. He is, however, friendly with one ex-wife, Sandy. "In fact, our daughters think we're more of a family unit now than when we lived together," he says. Notes Sandy, with some amusement: "We have matured. He didn't know or understand his daughters until they got driver's licenses."

"When we were young, he was sort of an enigma," Thea says. "We used to hear our parents fighting, and we'd leave notes around saying, 'Make love, not war.' It didn't do any good. But they get along better since they were divorced. And Dad doesn't keep anything in any longer—he's cried in front of me. He's my home base."

With the success of The Naked Gun, Nielsen has little apparent cause for tears. He's set to star in a sequel and hopes to resuscitate a one-man stage show about Clarence Darrow, which he performed on tour in 1979. He was even awarded a star on Hollywood's Walk of Fame recently. None of this means he is well-known. One critic wrote that Naked Gun was a hit "without help from box office names." But even that slight doesn't bother Nielsen. "At this stage of my life, I don't give a damn," says the great what's-his-name, and the prospect of a long string of slaphappy roles doesn't trouble him. "If they want to type me, let 'em," he says. "I just want to maintain whatever celebrity status I have, so they'll keep inviting me to golf tournaments."

—Joanne Kaufman, and Lois Armstrong in Los Angeles


I know who you are," exclaimed the fan, accosting Leslie Nielsen in a Toronto airport. "You're Lloyd Bridged" The snowy-haired star of the smash movie The Naked Gun just smiled and corrected his admirer. "Oh, I'm so embarrassed," apologized the fan. "Now I know. You play Lloyd Bridges!"
Advertisement
Treat Yourself! 4 Preview Issues
The most buzzed about stars this minute!