Archive Page - 12/1/12 39 years, 2,079 covers and 53,260 stories from PEOPLE magazine's history for you to enjoy
On Newsstands Now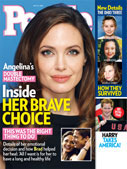 Angelina: Inside Her Brave Choice

New Details on the Ohio Three

Prince Harry Takes America!
Pick up your copy on newsstands
Click here for instant access to the Digital Magazine
People Top 5
LAST UPDATE: Tuesday May 21, 2013 06:10PM EDT
PEOPLE Top 5 are the most-viewed stories on the site over the past three days, updated every 60 minutes
After the End, a Beginning
There'll Be No Fade to Black for the Reagans; In Tony Bel Air, They're the Toast of the Town


If the last few weeks are any indication, private life will be anything but private for Citizen Ronald Reagan and his Adolfo-clad helpmate. The setting may have changed, but Ronald and Nancy Reagan are still playing to a crowd—one that, for the most part, is content to see them in soft focus. Besieged with invitations from Important Hostesses and inundated with requests for public appearances, the two will have no shortage of opportunities to hold court, Or, evidently, to rake in the profits. Random House is paying the former First Lady a reported $2 million for a collaborative autobiography—a work due in the bookstores this October, in which she will undoubtedly draw blood from her public enemies—and the Washington Speakers Bureau is shopping her around on the lecture circuit.

Reagan himself is expected to command up to $50,000 for an evening's oration, a fee that will make him the nation's highest-paid speaker, and he has closed a two-book deal with Simon and Schuster that could be worth as much as $5 million. (The first volume will be a collection of speeches; the second, an "anecdotal and impressionistic" memoir of his White House years.) Corporations want him as an éminence grise; TV networks as a sports commentator. And several movie producers apparently want him as a leading man. "The offers have been piling up," reports the Reagans' longtime friend A.C. Lyles, a motion picture producer. "One [proposal] was to play the lead in a TV series in which he'd be a former President of the U.S." While the project sounds fatuous, the money would not be; by one estimate, Ron could expect $75,000 a week for a half-hour show. There is little likelihood that he would actually go back to regular acting, however.

Still, with those opportunities it's no wonder that Reagan's mood is upbeat. If he chose, he could simply retire to his 688-acre, $2 million ranch outside Santa Barbara, where his combined gubernatorial and presidential pensions of $130,359 a year would easily see him through. He has no such intentions. "He's entering another stage of his career," says Lyles. "He's eager and full of spirit and energy."

Since they landed at Los Angeles International Airport on Jan. 20, the Reagans have been seen at old haunts such as Chasen's, dining with Old Guard Los Angeles companions like steel magnate Earle Jorgensen and his wife, Marion. Nancy's first solo outing was to the Bistro Garden in Beverly Hills, where she lunched on Jan. 31 with close friends Mary Jane Wick; her financier husband, Charles, who was director of the U.S. Information Service under Reagan, and Katharine Graham, chairman of the board and CEO of the Washington Post Company. Wearing a bright-yellow suit, the former First Lady arrived a few minutes late and was embraced by table-hoppers, including Eva Gabor, an old friend who was sitting with George Peppard.

The Feb. 6 fete that marked Reagan's 78th birthday was the most elaborate of the welcome-home events. Hosted by a half-dozen old Reagan friends, the celebration was held at the Bistro Garden and drew power couples including Bob and Dolores Hope, Jimmy and Gloria Stewart, Tony Martin and Cyd Charisse, and oilman-turned-movie mogul Marvin Davis and wife Barbara. Former Secretary of State George Shultz was on hand, as were onetime Attorney General William French Smith, Prince Bernhard of the Netherlands, Betsy Bloomingdale and Nancy's favorite couturier, James Galanos, who had designed her glittering red gown. After dining on rigatoni and tarragon chicken, the celebrants were entertained by lyricist Sammy Cahn, who wrote a musical parody for the occasion, and Marvin Hamlisch. Waiters then brought in Reagan's favorite lemon cake with white icing.

Earlier in the day, the Great Communicator had eased back to the speaker's podium, giving a pro bono talk at the University of Southern California, where he was greeted by a sympathetic crowd of budding conservatives. He made it clear that he would continue to campaign for favorite causes—including the line-item budget veto and the repeal of the 22nd Amendment, which limits a presidential tour of duty to two terms. "Two weeks ago I retired," Reagan said. "I didn't like retirement. It took all the fun out of Saturdays. For two weeks I tried private life...but that's not my style. So here I am saddling up and ready to ride again."

The former Chief Executive had prepared for his public debut by visiting Harry Drucker, the Beverly Hills barber who began caring for his coiffure 50 years ago. His appearance was heralded by a Secret Service agent who arrived an hour beforehand to check out Drucker's shop and the alley behind it. Forty minutes later, four more agents arrived in a van and took up strategic positions inside and out. When Reagan appeared, it was in a black limousine trailed by a station wagon that carried still more agents. Drucker found Reagan, who was in for a trim and a manicure (clear polish), in good form. "He's always very friendly," said the barber. "He likes to get out of the house, to get around."

Reagan has already begun putting in six-hour days at his new office in the Fox Plaza building, a sleek tower that rises above the old Twentieth Century Fox studios in Century City. Commanding a 180-degree view—from the glass and steel of downtown L.A. to the sparkling ocean-front in Santa Monica—the 34th-floor office is an understated enclave where security is tight. Visitors must be admitted by Secret Service agents who are posted behind a glass door, and incoming bags are checked. On his first day in his new quarters, Reagan had lunch à deux with MCA chairman Lew Wasserman, his agent during his Bedtime for Bonzo years.

Reagan's new staff includes four veterans from his Washington office, including executive assistant Kathleen Osborne, who has been with him since his days as Governor of California. Together his lieutenants are sifting through an avalanche of mail—as many as 3 million pieces are expected in the first month—and helping with plans for the $43 million presidential library that is to be constructed in the Simi Valley, 30 miles northwest of Los Angeles. They are also on hand to greet visiting foreign dignitaries, such as Japanese Prime Minister Noboru Takeshita and his party, who stopped off in Los Angeles on Reagan's birthday after a Washington visit with President George Bush.

Down the hall from Reagan's office is his wife's new workplace, the headquarters of the Nancy Reagan Foundation, through which she will continue her antidrug efforts. Nancy, who is still settling in, was spied recently in a nearby parking lot, popping the trunk of her car and taking out a big oriental rug, which she hauled upstairs to her office. With the help of cronies like Merv Griffin and hotel magnate Barron Hilton—who organized a $25,000-a-table welcome-home benefit that netted $1 million—she is conducting a drive to establish a drug-treatment center that will bear her name. The former First Lady also is setting up a round of appearances on behalf of her Just Say No campaign; earlier this month she met with L.A. police chief Darryl Gates and recorded an antidrug public service announcement for Kiwanis International.

Nancy is also keeping track of the couple's major-league social schedule. On Valentine's Day she will be the centerpiece at an Adolfo fashion show held by her old charity group, the Colleagues, at the Beverly Hills Hotel. A fund-raiser for the Children's Institute International, the luncheon is already a sellout. On Feb. 25, the Reagans will be honored by wealthy Arab businessman Sheik Mouaffak al Midani and his wife, Edith, who have scheduled a soiree at their Beverly Hills mansion, a piece of real estate valued at $40 million. Ron has penciled in a dinner at the Beverly Hills Hotel on May 17, when Prince Philip is expected to present him with the Winston Churchill Award, administered by an Anglo-American foundation that recognizes exceptional accomplishments.

When Nancy isn't in Century City or lunching around town, she's on the home front, where she spends hours on the phone with confidants such as Blooming-dale or William Novak, who lives in Boston. The house, which was purchased by a kitchen-cabinet consortium of old Reagan pals, including former oilman Henry Salvatori, is rented to the couple for an estimated $15,000 a month. A guardhouse has been erected at the end of the driveway, and surveillance cameras are mounted on the chimneys. Modest by Bel Air standards, the shake-roof California country-style structure has a mere 7,192 square feet. Two of the three bedrooms have fireplaces, as do the drawing room and the library. There are five full bathrooms. Servants are housed in a two-bedroom suite above the kitchen wing, the pool is equipped with his-and-her cabanas, and the greenhouse is full of orchids. From Washington, the couple brought the set of gym equipment that Reagan used daily. There is, alas, no beauty salon like the one that Nancy had installed in the White House, so Julius Bentgsson, her peripatetic hairdresser, is improvising for the nonce. "We wash her hair in the laundry tub," he says. "It has a good hose."

Though there have been reports that Nancy was dissatisfied with her new home, Bentgsson and others say it's just what she wanted. "She's very excited about it," he says. "She didn't want a big mansion—she wanted something comfortable with not too much [yard space]."

From the first, the demanding Nancy put her stamp on the place, which was designated 666 St. Cloud Drive when it was built in the early 1950s. Since the number 666 is associated with Satan in the New Testament Book of Revelations, she arranged for the address to be changed to No. 668. Decorator Ted Graber, who redid the White House family quarters for her, was brought in to give it the proper look.

The furniture, says Graber, is "a mixture of their favorite antiques and other comfortable pieces of no special period. I've designed and made some of the tables and chairs." The drawing room is done in yellow and Nancy's signature red, and the master bedroom in corals. Deep reds were used in Reagan's study, which is dominated by a mahogany desk.

In Bel Air the Reagans will be living among wealthy show-business peers. Their neighbors include Barry Manilow, Joan Rivers, Tom Jones, Elizabeth Taylor and Robert Stack. Up the street is a house built by movie magnate Louis B. Mayer and later lived in by Jerry Lewis. One of the first lavish housing developments in the expensive west side of L.A., the heavily wooded enclave is a refuge of rolling hills and high fences. Roads are circuitous, and interlopers often get lost. The neighborhood has its own country club, whose members include Hilton, Robert Wagner, Bob Newhart and James Garner.

Locals, and their servants, bring home the bacon from the Bel Air Market, which manager Ruben Martinez describes as "the kind of place where people come in carrying their portable telephones." The other favorite is Jurgensen's, a gourmet market that, like the Bel Air, carries rare tropical fruits and pricey ice creams along with the staples. On any given day, one might spot Barbra Streisand, Linda Evans or Sammy Davis Jr. patrolling its well-groomed aisles. "We've sent the Reagans gift baskets from our customers," confides manager Bill Tsukamaki, "but we haven't heard from them yet."

Thanks to their well-heeled friends (and the government, of which the ex-President has been occasionally critical) the Reagans won't have to worry about the price of bananas at the Bel Air. In addition to their agreeable living arrangements, the couple is enjoying the perks accorded all White House veterans. Reagan has been allotted $1.25 million for transition expenses, including $400,000 to cover the cost of transporting his papers to California on Air Force planes. Secret Service agents are always in attendance and have been seen chauffeuring Ron about town. The former President receives $150,000 a year for his office staff, and a government stipend covers office rental costs, office phone charges and some travel expenses. Keeping the former First Couple out of harm's way does not come cheaply: By one estimate, security for them, their new home and the California ranch will cost between $7 million and $8 million annually.

But to the Reagan faithful, even such enormous sums must seem trifling. Because in the end, it seems, America hasn't lost a First Couple; it has gained a pair of eternally popular demiroyals whose exploits are likely to entertain for years to come. As some taxpayers would see it, that alone is worth the price of admission.

—Michelle Green, and Doris Bacon in Bel Air


Advertisement
Treat Yourself! 4 Preview Issues
The most buzzed about stars this minute!