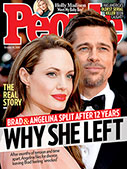 This Week's Issue!
People Top 5
LAST UPDATE: Tuesday February 10, 2015 01:10PM EST
PEOPLE Top 5 are the most-viewed stories on the site over the past three days, updated every 60 minutes
Elizabeth Hurley, British Ex-Punkster, Turns TV Heroine with a Christabel That Rings True


These days Britain's newest overnight sensation, the star of writer Dennis (Pennies from Heaven) Potter's latest TV project, Christabel, is your basic, plain brunet. The plainness, however, only extends to her hair color. Making her TV debut in the four-part, $7 million PBS series that began last week, Hurley, 22, is a stunningly fresh and elegant actress whose performance sets her squarely at the top of the newcomers-to-be-watched heap. She plays the part of Christabel Bielenberg, an Englishwoman (now living in Ireland) who risked her life to free her German husband from a Nazi concentration camp in 1945. "It's a funny situation for me because she's the age of my grandchildren," says Bielenberg, 79, assessing Hurley's performance. "But she plays it beautifully. She did her job very well."

News of Hurley's work in Christabel, which was shown in Britain last fall and will be seen in 30 countries, traveled quickly. When she came to Los Angeles recently looking into new roles, she found herself, with her actor boyfriend Hugh (Maurice) Grant, in Warren Beatty's kitchen. "I thought really" Hurley recalls with a Cheshire smile. "Here's Hollywood." Her impression? "Fizzy drinks," she says. "He had a fridge full of all the fizzy drinks you could see in the world. It was fabulous. We sat there and drank Cokes for an hour." That Warren. No work came of the play. "I was totally unright for Tess Trueheart," Hurley says of the part she was hoping to land in Beatty's Dick Tracy. "I can't think of anybody less like an ail-American girl than me."

No surprise. The middle daughter in a family of three, Hurley was raised in Basingstoke, a suburb an hour southwest of London. Her parents, an army major and a housewife, are "sweet and old-fashioned," she says. Elizabeth went to a Catholic elementary school, then spent a "miserable" year at a ballet boarding school. "Pointless my being there," she says. "I knew at 11 that I would never be a dancer."

By the time she entered her punk period, Hurley was attending high school and refusing, on moral grounds, to discard her nasal jewelry. Not even parental promises of an entry fee to driving school swayed her. "Of course, as a matter of principle, that was the only thing to ensure that I wouldn't take it out," she says. After graduation, Hurley took her tough look to the London Studio Centre, a dance-and-drama college where most students, she says, "wore their hair in a neat bun." She got the leads in productions of Cabaret and Grease but tired of the tuitioned life. After going AWOL to a Greek island, Hurley was expelled. A week later she won her first professional role, as "the pretty young piece" in a production of The Man Most Likely To..., which toured Asia for four weeks. "We were treated like royalty," Hurley recalls. "It turned my head horribly, but it was nice to give a good 'Yah Boo Sucks' to the headmistress."

Living nomadically in 12 apartments over the next four years, Hurley moved into commercial acting. She pitched for Schweppes and the National Westminster Bank before getting a part in 1986 in a Spanish movie, Rowing in the Wind. She returned hand in hand with the film's leading man, Hugh Grant. The Christabel audition came along a year later. "I just went to have a giggle," says Hurley.

"Elizabeth was the rank outsider, the most unlikely candidate, because of her lack of experience," says director Adrian Shergold. "But she was absolutely like the real Christabel. She really was that character." Weeks later, when Hurley learned she'd beaten several top British actresses to the part, she had forgotten which part it was. "I was so shocked," she says. "I couldn't believe my luck." After visiting the real Christabel ("I'm quite part of the family now"), playing the role was, in Hurley's words, "easy-peasy."

These days she's casting a choosy eye over scripts, recently turning down a Roger Vadim movie. "I don't like doing nothing," she says. "But you must find work of a nearly consistent level rather than go backwards." She will not, for example, be a "Miss Miniseries," as she calls fellow countrywoman Jane (War and Remembrance) Seymour.

On the domestic front, Hurley has been living happily with Grant for two years. "We don't want to be a media couple," she says, as Grant, 29, waves weakly from his bed, wan from a liquorish night before. As far as coping with alternating bouts of attention, "Obviously he dislikes it when it's for me, as do I when it's for him," Hurley says. "But we're even-steven now. We take turns playing the bimbo role on each other's film sets, grinning inanely. It's cripplingly embarrassing." Next on her agenda, Hurley would like to spend some time in L.A. and improve her American accent. Marriage plans? "Oh, I should think it's highly unlikely," she says breezily. "How could I settle down yet?" Chin up, Hugh, there's an addendum. "But I can't imagine not being with him either," Hurley says with a glance toward the bedroom, "so I guess that's something." With an actress on a steep climb, it may be the best a guy can get.

—Margot Dougherty, and Laura Sanderson Healy in London


Seven years ago, in a stab at putting her patrician upbringing in escrow, Elizabeth Hurley pierced her nose, spiked and painted her hair and spent a lot of time in punk bars dancing the nights, and mornings, away. "It was never as bad as it looked," she says today, curled in front of the fireplace in her boyfriend's London flat, looking unspeakably demure in a pastel cashmere sweater and black leggings. "I was young and rebellious and living in quite a horrid town. But in the end I just got sick of doing the roots of my hair every day. It got on my nerves, so I grew it out."
Advertisement
Treat Yourself! 4 Preview Issues
The most buzzed about stars this minute!