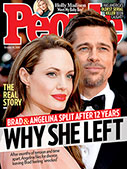 This Week's Issue!
People Top 5
LAST UPDATE: Tuesday February 10, 2015 01:10PM EST
PEOPLE Top 5 are the most-viewed stories on the site over the past three days, updated every 60 minutes
Still Reigning After All These Years
In a Loving Tribute on the Eve of Her 57th, Queen Liz Is Lionized by Her Hollywood Peers


But backstage, when she was presented by her friend Charles Bronson with a squirming 8-week-old collie puppy who began to lick her jewel-draped throat and cleavage, Elizabeth Taylor suddenly became herself again. "Oh, a girl after my own heart," said the star. "She likes diamonds, rubies and emeralds. We are going to get along fine."

Getting along in life is what Elizabeth Taylor has lately become most famous for. Through the vicissitudes of her privileged, sometimes self-indulgent life, through 19 major operations and bouts of hypochondria, through seven marriages to six different men, and through a litany of relationships with lesser lights, Hollywood's most durable glamour queen has somehow managed to hold center stage. In recent years avid fans, as well as the merely curious, have followed her weight gains and losses with as much fascination as they once did her passionate romances and tumultuous breakups. Over the last year they have followed with special interest her gutsy confrontation with the drug-and-alcohol addiction that has clouded her life.

It was perhaps largely to wish her well through her latest travails that many of Hollywood's most enduring stars gathered at the McCallum Theatre near Rancho Mirage for the second annual America's Hope Award, honoring Taylor just before her 57th birthday. (ABC will broadcast the taped tribute this Thursday, March 9.) More than a few remembered Liz from 46 years ago, when she was first pushed onto an MGM set by a hovering mother. "Show people like to help each other through troubles, and she's been through a tough time," said Ann Miller, who attended Liz's first wedding—to hotel heir Nicky Hilton. "It's been a lot of years."

Taylor's much-publicized stay late last year at the Betty Ford clinic was, of course, not her first. In 1983, not long after her initial visit to the facility in Rancho Mirage, Taylor sounded realistic: "The rate of cure at Betty Ford is about 75 percent," she said. "But it's not like seven weeks there undoes years of drugs and alcohol. You have to re-create what you learn every day. Staying clean becomes a dedication. And treatment at the center doesn't always work."

In her case, it did not. The past two years, which saw her battle off 60 lbs. after ballooning to 180, then write a successful book about the weight loss, also saw a frightening relapse into addiction. Physically drained and psychologically battered, Taylor voluntarily entered the Betty Ford clinic in November for a seven-week stay. Taylor once described her original visit as "probably the first time since I was 9 that nobody's wanted to exploit me." This time a friend described her as "paranoid and disoriented."

And this time the stakes were higher. After her 1983 stay, Liz had confessed to a 35-year addiction to sleeping pills and painkillers prescribed for her remarkably varied aches and infirmities. Now she was hooked once again, and this time friends were afraid she might overdose and die. Racked by back pain, she spent much of last year, according to a friend, "staying home, watching TV, taking pain pills and drinking Bloody Marys."

"This is very serious," said one friend. "The pain is so excruciating that she can barely stand it even with medication."

"They're watching over her," said another source. "She's a female version of Elvis Presley. And we all know how his life ended."

"If Elizabeth ever needed friends," observed an acquaintance, "it's now."

Her doctors might not have been included in that category. Last week an official confirmed that the California attorney general's office and the Los Angeles district attorney's office are investigating the allegation that physicians may have prescribed drugs for Taylor illegally or unethically. Though Liz is not the target of the investigation, the doctors could be facing criminal charges.

Back in November, Taylor was facing another problem besides her recovery. Her mother was lying near death in the Eisenhower Medical Center, just next door to the Ford clinic. Sara Sothern Taylor, 92, had been admitted during Thanksgiving week in serious condition with bleeding ulcers. With her mother semicomatose and near death, Liz was allowed several visits. "Elizabeth spent the afternoon with her mother, stroking her head, combing her hair and talking while her mother stared off into space," says a friend. "She was composed inside the room, but the minute Elizabeth returned to the wheelchair in the hallway, she broke down and cried hysterically."

Ordinarily, though, Taylor maintained a regal mien, keeping regular morning hair appointments at the Ford clinic's salon and refusing to appear even in the hallways without full makeup. She was, in short, conducting herself like Liz. "Even though she doesn't feel well, Elizabeth is still vain," says an acquaintance. "She's not about to go public without her hair [being done], and she'd never go out without darkening her eyebrows."

Miraculously, Sara Taylor recovered—as did Liz. "Sara's a tough old bird," said a friend. "And remember, Elizabeth is her daughter. They're two of a kind." But for Liz, the stay at Betty Ford proved to be something of a mixed blessing. Finding it difficult to battle all her addictions simultaneously, she sometimes wheel-chaired into the Eisenhower hospital cafeteria for carry-out sandwiches, complaining about the clinic's usual fare. Occasionally she was seen outside the Ford center wearing a large muumuu. Once off pills and booze, Taylor quickly regained much of the weight she had struggled to lose.

She also picked up a new man. This was no R.J. Wagner, George Hamilton or Malcolm Forbes—all of whom have served as Liz's pro forma escorts. Larry Lee Fortensky, 37, is a strapping 5'11" ex-truck driver with three arrests for drunk driving and one for marijuana possession. The Ford clinic, Liz has said, "is a great leveler. All kinds of people go there, including street junkies."

May Najem and her husband, Moe, proprietors of Mr. Philly's Restaurant in Stanton, Calif., 35 miles south of Los Angeles, have circled Jan. 20 on their shop's wall calendar. That was the day a dark-haired woman and a man pulled into their lot in an Aston Martin Lagonda. The woman, who ate a cheese-steak sandwich with grilled onions and mushrooms, wore elaborate silver jewelry and dramatic Western boots. "The first thing I noticed was her boots," says May. "At first I said to my husband, 'Look at those boots. They either belong to a drug dealer or a movie star.' Then we realized it was Elizabeth Taylor. She looked beautiful. A little heavy, but still beautiful. Of course, there were her eyes."

When Fortensky came in another time, driving Taylor's car, Moe was overcome with curiosity. "I asked him, 'Are you her bodyguard or her driver?' He replied, 'No, I'm her boyfriend—make that a friend.' "

A Stanton resident, Fortensky is a regular at the tanning parlor next door to Mr. Philly's. "Last time he was in here, he said he had to go meet Michael Jackson," says the parlor's owner, Bob Lieberman. "Larry's a nice enough guy. He never causes any trouble."

But there was evidently a time when he did. A member of Teamsters Local 420 (whose insurance policy covered his Betty Ford stay), Fortensky is serving three years' probation following a 1987 drunk-driving conviction. That happened only weeks after local police found him in a San Clemente parking lot, "very intoxicated" and in possession of a Baggie of marijuana. According to an arresting officer's report, Fortensky said, "I drink and do a little coke now and then, but I don't smoke marijuana."

Divorced in 1985 from his wife, Karin, Fortensky accused his wife of having a "violent nature [that] will result in physical harm to me or her in the event I am forced to protect myself." Karin, on the other hand, said in court papers that Fortensky had tried to choke her during a fight and that lab coats she wore to work "had been slashed with either a knife or scissors."

Since Taylor's release from Betty Ford last Dec. 10, she and Fortensky have attended Alcoholics Anonymous meetings together and visited her recovering mother at her home in Rancho Mirage's Sunrise Country Club. Fortensky has also reportedly been spending time at Liz's lavish Bel Air home—a far cry from the digs he's accustomed to. His residence, located in a middle-class Stanton neighborhood, is a small stucco ranch covered with flaked-and-peeling rust-brown paint and surrounded by a parched, nearly knee-high lawn. A pit-bull terrier standing guard over the place has chewed through the bottom of the front gate. "That mean dog has gotten out a couple of times," says a neighbor. "I'm scared of him."

As Larry Fortensky's presence attests, Elizabeth Taylor's liaisons are not always star quality. But even if this latest romantic venture should sour, it is unlikely to dim her glittery persona. If it should, Liz I would probably not give a damn. "What I do on the screen is my responsibility to the public," she said on the night of her tribute. "I have to be true to myself and live according to my standards. If they don't meet everybody's approval, that's too bad. It's my approval—and that of those close to me—that matters."

That couldn't have come as a surprise to those at the Hope Award ceremony, nor did it make any difference. As the title of a song performed by Dudley Moore and Carol Burnett put it: "How Could We Not Love Elizabeth?" The song's subtitle: "Warts and All."

"She's an earthy girl as well as a sophisticate," says Charles Bronson. "When we were on location in Monterey [making 1965's The Sandpiper], my wife had to go to the bathroom. Elizabeth and someone else held up a blanket. Elizabeth said, This is our bathroom. This is what we use on our beach.' "

"Elizabeth has never been afraid to tell us that we are human," says Gregory Willenborg, who was the executive producer of the Hope Award gala. "We have a lot of people that hide, that don't let us see their problems. Elizabeth has said, 'Here I am. Here are my problems, and you can learn from them.' "

It was evident on the night of the ceremony that Taylor was still having at least one problem. At a post-show party held at the nearby Vintage Club, she had to walk gingerly down a ramp for the handicapped to reach her seat on the main floor. "There has recently been significant speculation about my health," she said that night. "It's true this summer I fractured my back—a compression fracture of the first lumbar. It's taken a long time learning to live with it. But I'm fine now."

The 450 party guests took her at her word and applauded her courage. Many Liz stories were swapped that night, and much credit to a brave lady was paid. But it may be actor Robert Stack who best puts her life in perspective. "People make a lot of noise about the ones who grow up with terrific notoriety," says Stack, who first worked with Liz 40 years ago in A Dale with Judy. "I think you have to be in their shoes and be a movie star at 12. It's a highly unnatural situation—you're a star at an age when you should be in school. It's all tinsel and moonlight. And the fact that any of them survive it at all is remarkable. I take my hat off to Elizabeth."

—Susan Schindehette, Karen G. Jackovich and Doris Bacon in Rancho Mirage


Advertisement
Treat Yourself! 4 Preview Issues
The most buzzed about stars this minute!