People Top 5
LAST UPDATE: Tuesday February 10, 2015 01:10PM EST
PEOPLE Top 5 are the most-viewed stories on the site over the past three days, updated every 60 minutes
Thierry Roussel Tells His Story—of Love for Two Women and Little Athina


What outsiders have had to say about Roussel, 36, has rarely been kind or admiring. Widely portrayed as a bought husband whose motives for marrying Onassis consisted of cupidity and more of the same, he wishes now to offer his own version of Life with Christina. Those who knew the tortured Onassis may find it impossible to recognize the idealized picture that Roussel presents. But Thierry is determined to put himself on the record—to explain his affair with Swedish ex-model Gaby Landhage ("There's no shame in admitting that one loves two women") and to put himself forward as a suitable parent for his daughter Athina, now the richest little girl in the world.

Roussel's declaration is notable if only because it's his first response to the fire storm of publicity after Christina's death in Buenos Aires in November. Given custody of Athina, the 4-year-old whose inheritance could top $1 billion by her 18th birthday, the French venture capitalist has become the subject of endless speculation, little of it complimentary.

Roussel tries to lay all that to rest with a rosy rendition of his connubial joys. When, as a young man, he met Christina in 1972, he says, he was already in love with Gaby Landhage, who later bore him two children. "As I got to know Christina," he says, "our friendship turned into unrestrained adolescent love—until the day her father, on Skorpios, let us know he'd like to see us married. I refused the idea of having to make a choice. Christina was the fire; Gaby was the calm. I loved them both passionately."

Roussel and Christina went their separate ways for 12 years. By the time he heard from her again, he says, she had been through three husbands and he had separated from Gaby. "I was spending Christmas with friends in Kenya when Christina telephoned me from Saint Moritz," he says. "We called each other every day. I rediscovered the Christina I had loved. She said she'd gained a lot of weight; it was her obsession. I told her, 'It's not serious. Take hold of yourself. Be happy to be alive, and you'll again be what you were.' " Onassis came to live with him, he says, "casually, like a student on vacation, doing whatever she could to make me happy. It was a euphoric period for both of us."

Married on March 17, 1984, the newly-weds "wanted to create a real family," says Thierry, "with her as mother and wife, me as husband and head of the family. But for both of us the problems came from the outside world. Our love and closeness bothered a lot of people.

"We went through a difficult period during our five years together," Roussel continues. "That's when I saw Gaby again, realizing that I still loved her, that I loved them both." He says that when Gaby became pregnant with his son, Erik, in 1984, he suggested a divorce but Christina refused. Instead, says Roussel, "She became Gaby's friend. They saw each other often." He and Christina were finally divorced after Gaby became pregnant again, with his daughter Sandrine in 1986, but he insists there were no hard feelings. "Christina and Gaby wanted the children to grow up together," he says.

Athina, Thierry vows, will be raised "with all the love a father can have for his daughter, and even more because I'll try to compensate for the emotional loss caused by her mother's tragic death. I wish to bring Athina up as if Christina could come back one day and say to me, 'Nothing has changed. It was a bad dream.' " Setting the record straight, he says, is part of that mission: "Athina will soon be able to read, and she'll want to understand who was her mother, who left her so suddenly. If I don't defend her memory, Athina will suffer the consequences later."

To skeptics, Thierry seems more concerned with protecting his reputation than with defending Christina. "What he doesn't want," says London Daily Mail columnist Nigel Dempster, who is writing a biography of Christina, "is for Athina to grow up and discover her father was a mint-condition gold digger."

Other Roussel watchers note that Thierry can ill afford to antagonize the already hostile Onassis clan; his share of Christina's estate is a comparatively modest $1.42 million annual stipend, and he has but one vote on the five-man, family-controlled board that directs Athina's financial affairs. Since the estate has yet to be settled, positioning himself as a solid citizen seems only politic. Not only has he tried to corner public sympathy but he has surrounded himself with a fleet of lawyers and is trying to obtain full documentation on the Onassis empire. "The Greeks are pulling all the strings and making decisions without consulting Thierry," reports one friend. "He wants to protect his daughter's inheritance [and] ensure that the conditions of Christina's will are respected."

Despite the mercenary reputation he is at such pains to dispel, Thierry is said to be a dedicated father who, with Gaby, has established a loving home for Athina. The couple, now living in a rented house near Saint Cergue while they look for a new home in Switzerland, are expected to marry soon, and Gaby receives high marks as a mother. "She's definitely the domestic type," says a friend, who finds them "a wholesome little Swiss family."

Basking in the warmth of the household, Athina, of course, is oblivious to the intrigues unfolding around her. At last report, her most consuming interest was one that any preschooler might share—riding the new yellow bike that she got for her birthday in January.

—Michelle Green, Cathy Nolan in Paris


It is Thierry Roussel as the world has never seen him: earnest, sentimental, nearly poetic about his late ex-wife, Christina Onassis, and their few years together. "Christina was a woman of many faces," he says, "with as common denominator an immense heart. She could live all passions, living each minute with intensity and serenity, without ever worrying about what outsiders said."
Advertisement
Today's Photos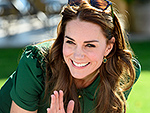 Treat Yourself! 4 Preview Issues
The most buzzed about stars this minute!