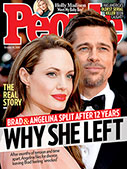 This Week's Issue!
People Top 5
LAST UPDATE: Tuesday February 10, 2015 01:10PM EST
PEOPLE Top 5 are the most-viewed stories on the site over the past three days, updated every 60 minutes
Melissa Gilbert's Kid Sister Sara Has Her Own Hit with Roseanne


If Gilbert, 14, feels at home on TV, it's because she was practically programmed for the small screen. Her grandfather, Harry Crane, was the writer-creator of one of TV's great sitcoms, The Honeymooners, which also happened to be a vehicle for a true television heavyweight, Jackie Gleason. And Sara's big sister, Melissa, starred in Little House on the Prairie for nine years. Big brother Jonathan, 21, also appeared on the show. That the littlest Gilbert is able to hold her own with the big noise from the Lanford, Ill., prairie, the setting for Roseanne, is no surprise to the series' star. "She's a little bit twisted," says Barr, "just like me."

Sara's mother sees it in slightly different terms. "Sara is very independent," says Barbara Gilbert. "Melissa wasn't. She still isn't. Sara is easily the most independent of my children."

"Yeah," Sara confirms with her blunt good humor, "I'm the loudmouth."

"Melissa," Mom continues, "was just like the perfect little girl with her little bows and lace and dollhouse. She was very feminine."

"I'm more like Dennis the Menace," says Sara. "I'm a tomboy."

Which is just what Roseanne producers were looking for in Darlene, who is described in the show's press kit as a "female Huck Finn," in whose heart "baseball, worms and fishing hold glorious sway."

Actually, Sara is more into electric guitar, boys, acting and the '60s. "I like the Beatles best," she says while showing a visitor her bedroom, which she plans to furnish with a lava lamp, a wave machine and a huge peace symbol. "I like groups that have been good constantly, like Pink Floyd and the Rolling Stones. But I like '80s music too, like Guns N' Roses and Tracy Chapman. I'm just not a Top 40-type person."

Sara's parents split up when she was small, and her mother raised the kids in a five-bedroom Encino home. Sara often sees her father, Harold Abeles, a lawyer who still lives nearby. At 6, Sara recalls, she "went with Melissa when she got a star on the Hollywood Walk of Fame. I told my mom then that I wanted to be an actress too."

A series of commercials (including one for Kool-Aid) and dramatic roles (such as in the 1984 CBS TV movie Calamity Jane) proved the youngest Gilbert's aptitude. Despite Mom's wait-and-see attitude—"If she could get a ride to auditions, we'd let her go"—Sara was an enthusiastic beginner. Until she suffered a setback. "I'd been up for the new Facts of Life show," she says. "I went back five times, twice to the network, which usually means you've got the part. When I didn't get it, I was sad. They told me I didn't have enough experience to do a series."

So when Roseanne came along, Sara played it cool at first. "I was depressed about the other one and not too enthusiastic about this one," she says. But Mom loved the script and solicited the opinion of Grandpa Harry. "It's a hit," the Honeymooners vet said.

Once Sara warmed to the part, she auditioned in a basketball uniform. "Roseanne said she chose me herself," says Sara. "She thought I was funny. She thinks I look like her. I do, too. We both have full cheeks. When they told me I got the part, I started jumping up and down."

Now Sara thinks acting is "fun." And besides, she gets to skip school—where she nevertheless maintains a B-plus average, thanks to private tutoring. She wants to study at the Juilliard School after she graduates high school, but first she hopes to make a few self-improvements. "I have so many faults," she says. "I always say 'you know' and I wish I could quit."

As for boys, Sara says, "I like them to be nice and cute and funny." One thing they can't be, of course, is "Top 40."

Despite their differences—goody-goody versus minx—Sara gets on toppingly with her older sister. "Everything is hunky-dory between us," she says of Melissa, who is 24, married and soon to be a mother. "We're close. We talk about clothes and guys and what's going on."

But Melissa's TV show was set "too many years ago" for Sara's taste. "It's not my style. I don't want to do something that goes back before the '50s and '60s."

Melissa says she gets a big kick out of Sara's success, and that said success hasn't caused any proverbial spoilage in her sister. "Sara is no obnoxious child star," she says. "If she does become a little snot, she's going to get it from me."

No way that will ever happen, Sara insists. "With me," she says, "what you see is what you get."

—Steve Dougherty, David Hutchings in Los Angeles


Roseanne Barr may be the most formidable TV mom of all time. But tiny tyke Sara Gilbert, who plays Roseanne's youngest daughter, Darlene, in the ABC hitcom, isn't afraid to go toe-to-toe with the intimidating star. On a recent episode, when older daughter Becky (Lecy Goranson) appeared for a date in too-too much jewelry and a slathering of makeup, Roseanne cracked wise, as usual. "Well," she said, "working the lounge tonight?" Becky mustered the typical teen retort, "Mother, no one tells you how to dress." The zinger was reserved for impish Darlene. "Somebody should," she said.
Advertisement
Treat Yourself! 4 Preview Issues
The most buzzed about stars this minute!