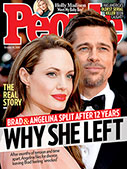 This Week's Issue!
People Top 5
LAST UPDATE: Tuesday February 10, 2015 01:10PM EST
PEOPLE Top 5 are the most-viewed stories on the site over the past three days, updated every 60 minutes
Raising An Uncommon Furor in the Commons, Powerful Brits Heed An Indian Love Call


Her timing was impeccable. The controversial new movie Scandal had just furnished poignant reminders of the saga of Christine Keeler, the call girl whose dalliance with War Secretary John Profumo and a Soviet spy helped topple Prime Minister Harold Macmillan's government in 1963. Whether or not the connection was justified, many Britons saw discomfiting parallels between the nocturnal mischiefs of Keeler and Bordes. Fretful Conservative Party legislators discussed the affair in whispers, and opposition politicians noisily demanded an inquiry into whether Bordes's purported Libyan connections posed a national security risk.

Meantime, Pamella herself appears to have played the roiling scandal to the hilt. "I'm fascinated by rich, famous or powerful men," she told London's Sunday Sport, in what the paper touted as a "world exclusive" interview. "In the last five years, I may have made love to possibly 20 men for money...usually when I was broke." But she has staunchly denied that she ever spilled any British state secrets during pillow talk—if indeed she ever knew any secrets worth spilling. Her low-level House of Commons security pass, after all, gave her access only to public areas such as the research library and canteen.

Which raises the possibility that Pamella's story is just another teapot tempest, albeit a racy one. Some cynical Britons even suspect a publicity ploy. Given that Pamella's celebrity value soars with each new allegation about her romps with the rich and famous—she is now reportedly asking $1.75 million for the film rights to her story—some wonder if the "scandal" may have been orchestrated by Bordes herself.

To hear friends and family tell it, Pamella Singh Chaudhery always displayed an instinct for the main chance. Born to a middle-class family in the northern Indian state of Haryana, she attended an elite girls school where she earned a reputation as a self-deprecating loner. She began neglecting her studies and hanging out with bad company. "I tried to stop her from going down the wrong path," Pamella's widowed mother, Shakuntala, told Today, a British newspaper. "On one occasion I had to beat her with a dog chain because she was always coming home late at night."

Perhaps weary of such extraordinary discipline, Pamella packed her bags at 19 and wound up in Bombay, where she captured the 1982 Miss India crown. At that point, recalls a former schoolmate, the once "mousy, quiet, submissive" Pamella "had become a sophisticated, chic woman who looked down on people. She said it was her intention to climb the social ladder."

Pamella soon did just that. In 1984 she went to Paris, where she met and married French record producer Dominique Bordes. But Bordes, 47, recently disclosed that they wed, he said, so Pamella could live in Europe. "She told me she would do anything to stay in France and escape the restrictions being imposed by her family," he was quoted as saying in the Daily Mail. "There was something about Pamella that made you want to take care of her.... Looking back, it was pretty ridiculous."

After three months of marriage, Pamella decamped for London, where she was seen out and about with, among others, Sports Minister Colin Moynihan, as well as editors from the Sunday Times and the Observer. Around this time she added an extra l to her name; spelling it "Pamella" apparently seemed more exotic. Unbeknownst to her new friends, Bordes was also reportedly turning tricks, for which she demanded fees of $900 a day or $3,600 a weekend. Last December she landed a job as an unpaid research assistant to Tory MP David Shaw. At that point, Bordes said, she retired from the oldest profession. "All the people I met at the Commons didn't know what I did," she said, "and I never had any sexual contact with any of them." Besides, she added, "I am not a call girl in the normal sense of the word. On a few occasions I have gone to bed for money...but in the main I have just had a series of rich boyfriends who have showered me with gifts."

In a rare show of discretion, Bordes has said she will not reveal the names of her former clients. "I'm not prepared to ruin their lives as other people seem happy to ruin mine," she declared. If she hoped that her silence would win her some sympathy, Bordes may be sorely disappointed. "I would not have Pamella back even if she begged me," her mother has said. "As far as I am concerned, she has cut herself off. She has brought this all upon herself. She has no excuses."

—Paula Chin, and the London bureau


It all began two weeks ago, when Pamella Bordes, 27, a former Miss India employed as a legislative researcher by a member of Parliament, allegedly offered her body for money to a London newspaper reporter. A high-priced hooker working the House of Commons was enough to set Fleet Street tabloids baying, and from there the Pamella Affair only got worse. Within days came charges that Bordes had dabbled in dangerous liaisons with both a cabinet minister and Ahmed Gaddaf al-Daim, a high-ranking Libyan intelligence officer who is a cousin of Col. Muammar Gaddafi. By the time the heavy-breathing tabloid press had reported Bordes's claim to a friend that "my secrets could bring down the government," the glamorous daughter of an Indian Army war hero suddenly had the attention of all Britain.
Advertisement
Treat Yourself! 4 Preview Issues
The most buzzed about stars this minute!