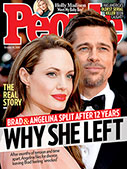 This Week's Issue!
People Top 5
LAST UPDATE: Tuesday February 10, 2015 01:10PM EST
PEOPLE Top 5 are the most-viewed stories on the site over the past three days, updated every 60 minutes
Suing for Cash and Charging Abuse, the Mother of His Son Gives Bill Hurt a Big Chill


Like many a coup de foudre, however, this one brought as much heartache as happiness. The live-in relationship ended in 1984, 3½ stormy years after it began, and when it was over, Jennings had custody of their year-old son, Alex. Since then, Hurt has taken it upon himself to provide an apartment for Sandra and Alex as well as $2,000 a month and the payment of all her Visa bills. But two weeks ago, as his Oscar nomination for The Accidental Tourist hung in the balance and on the heels of his wedding to 27-year-old Heidi Henderson (daughter of Skitch), Hurt was summoned to court. The reason: To respond to a suit filed by Jennings, in which she asked for $16,000 a month in maintenance and support and alleges that he physically abused her. While neither Hurt nor his lawyers will comment on the suit, Jennings is telling her own version of the story at full volume. She is a determined woman who encourages the suspicion that money is the least of the things she wants from William Hurt.

The Sandra Jennings who met Hurt in 1981 was a performer whose career held real promise. She had shone ever since she began taking dance lessons at the Boston Ballet School. At 17, she had been accepted into the New York City Ballet, and had worked her way into small solo pieces. "She was an up-and-coming dancer, very talented," says Leslie Bailey, who worked for the ballet's press office in those years.

These days, there is nothing of the dynamic danseuse about her. Her baggy black pants and sweater make her look even less trim than she is; she chainsmokes Camels, and there are dark circles under her hazel eyes. She finds herself, in the words of one friend, "getting hurt and used by people all the time."

By her account, at least, that was the theme of her relationship with Hurt. The two moved into his apartment on Central Park West in the fall of 1981, and she says the fights began almost immediately. "He had to go to Europe for Body Heat publicity. It was during the dancing season, and I couldn't go, and he was really mad at me. So he would call me all the time and say he was jealous because he knew I was probably having affairs."

Hurt, she claims, was having his own flings at the time "and putting his guilt on to me. When he came back, I found a love letter in his pocket. He told me he [had taken a lover] because I was a lesbian." According to her, the charge was bizarre, baseless and "very sick."

As Jennings tells it, the fights became more frequent as the relationship wore on, and she began to suspect that Hurt (who completed a month's stay at the Betty Ford Center in 1986) was an alcoholic. "He'd have one drink, and he'd have a personality change. He was abusive verbally and he used to spit at me and he used to throw things at me, but he never hit me until after Alex was born. I think he was jealous of Alex."

Jennings says the couple tried to work out premarital agreements after Alex's birth in January 1983 but could never come to an accord. In court papers Hurt says he never discussed marrying her. By 1984 they were seeing a marriage counselor, says Jennings, "because of his womanizing and his abuse—which he was never fully honest about." Hurt, she adds, has "always fully denied" his abuse.

Several of Jennings's friends confirm that she often complained of violence. "Sandy told me that he hit her the day after Alex was born," says one. "He'd lash out, hit her once in the face, she'd flip out, and then he would beg forgiveness and cry. This was the pattern." Another close friend reports that after sharing a cab with Hurt and Jennings, "Bill got out, laid down on the sidewalk and started rolling around and ranting. I looked down at him and said, 'Oh, get up.' He said, 'How do you know what's in my id?' I had no answer for that. He was itching for a fight, and he appeared to be drunk, so I left."

Jennings is also alleging that Hurt abused actress Marlee Matlin, who lived with him in 1986. Linda Patrick, Alex's baby-sitter, says she saw the bruises on Matlin. "She showed me her side, her ribs," says Patrick, who often went to Hurt's apartment to pick Alex up. "It was all black and blue. She told me Bill beat her and kicked her and did it in front of Alex." A week after this incident, according to Jennings, Alex said to her, "Marlee made my daddy hit her."

Linda Patrick, who has been Alex's baby-sitter since 1985, says Jennings's son was exposed to other forms of disturbing behavior. She remembers particularly an incident in May 1986, when Alex was 3: "I was making lunch while Bill was drinking. Bill was saying to Alex, 'Nobody really likes Alex. They just like your money. I'm the only one who loves you.' " Two months later, Patrick says, Hurt "was drunk and started telling Alex how much he loved him and that if anything happened to him he'd kill himself. Then he started crying. It was too much weight to put on a child."

By Jennings's account, her lawsuit was prompted as much by her concern for Alex (who sees his father every Wednesday night and every other weekend) as by her resentment against Hurt. While the building that she lives in is posh, her sparsely furnished two-bedroom apartment (which Hurt owns) is not. "I want Alex and I to live in a comparable lifestyle to Bill," she says. "Alex says to me, 'Mom, at Dad's house I have my own bathroom, and Daddy has a yacht, so why are we so poor? I'm going to steal some money from Daddy.' "

If Jennings's account of the relationship is accurate, the extra money may be needed to hire a child psychiatrist. "As long as this has been going on," she claims, "Bill has been filling Alex's head with bad things about me. He says, 'I'm a very sick man, but your mother is too, because she lived with me.' "

—Michelle Green, Victoria Balfour in New York


It began, as romances do, on a high note: When William Hurt, a 31-year-old actor, and Sandra Jennings, a 25-year-old dancer with the New York City Ballet, met in Saratoga Springs, N.Y., on a summer night in 1981, the attraction was immediate and intense. Both were involved with other people, but—as Sandra tells it—Hurt became besotted with her. The very next day, she says, he told her he was in love with her and that they should make "serious changes" in their lives so they could be together. "He said, 'We are going to spend the rest of our lives together,' " Jennings remembers.
Advertisement
Treat Yourself! 4 Preview Issues
The most buzzed about stars this minute!