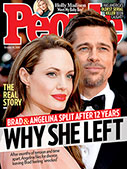 This Week's Issue!
People Top 5
LAST UPDATE: Tuesday February 10, 2015 01:10PM EST
PEOPLE Top 5 are the most-viewed stories on the site over the past three days, updated every 60 minutes
Meet the New Patti D'Arbanville, Star of Wiseguy and Wired, No Longer Just Don Johnson's Ex


By making it, not incidentally, she may also be making a major comeback. Now 37, D'Arbanville has lived on the edge for years. She has kicked heroin and alcohol. She has weathered two broken marriages and a series of failed relationships. She has survived a career that, despite fine work in such films as Midnight Cowboy, Rancho DeLuxe and Time After Time, has been eclipsed in the public eye by her liaison with Don Johnson. "That," she says, "is about to change."

This spring D'Arbanville is one of Hollywood's busiest working girls. With Wired due in August, Patti is currently featured in her "big break," a co-starring role with Deborah Harry and Glenn Frey in CBS's Wiseguy, playing a record exec's wife in an attention-getting series of episodes examining corruption in the music business.

Based in Santa Monica, D'Arbanville is currently living in a hotel room in Vancouver, where Wiseguy is filmed. While she's busy shooting, her son, Jesse, 6, is staying with his father, Johnson. Patti misses the boy but feels Johnson deserves equal time. "Hey, I've had Jesse all the time Donny was doing Miami Vice," she says. "He needs his dad too."

Johnson says D'Arbanville is "an extraordinary mother. You couldn't ask for better." Meanwhile, Johnson's new home in Los Angeles is fairly crowded, with Jesse, fiancée Melanie Griffith and her son, Alexander, 3, all in residence. "It's a '90s kind of thing," says Johnson of the arrangement.

Maybe so, but the mother of his child still seems a distinctly '60s kind of woman. Her father, George, a bartender, and mother, Jean Egan, an artist, now separated, lived in Greenwich Village but never married. "And they wonder where I get it," quips Patti. At 15, when her parents split, she dropped out of school and spent her days playing chess in a Village café. She appeared in two Andy Warhol movies, Flesh and L'Amour, and was the subject of two songs by ex-lover Cat Stevens, "Wild World" and "Lady D'Arbanville." During much of the '70s, she flip-flopped between Europe and the U.S., going where the parties and the roles were best. She began to drink heavily. In 1975 she married French actor Roger Mirmont and became a junkie. "I didn't want to be an alcoholic," she says, "so I decided to do drugs." By 1977 D'Arbanville was estranged from her husband and bottoming out. A friend visiting her house, she says, "noticed that all my spoons were bent and asked me if I was happy with my life. I said, 'No.' " A recovering addict, the friend "literally sat on me for a week," says Patti. "I quit cold turkey. It was a nightmare."

The heroin was over with, but the days of addiction were not. Patti joined a recovery program to combat her drinking problem. But in 1980 she married actor-singer Steve Curry and fell off the wagon. Through her steady drinking, she says, "I was sabotaging my career a lot."

Her life began to turn around precisely on Jan. 17, 1981, when D'Arbanville—separated from Curry—met Johnson at an L.A. restaurant. "I saw this gorgeous guy," she says, "and I ran after him. saying, 'Hey you.' It turned out to be Donny. I said, 'So, Donny, how many times have you been married?' He said, 'Three.' I said, 'Say hello to No. 4.' Right to the [bleep]ing point." Johnson ditched his date, Tanya Tucker, and spent the night with Patti. "One month later," she says, "I was pregnant." The couple planned to marry that fall, but D'Arbanville changed her mind. "I didn't see the point," she says. "Besides, there were areas in which we didn't get along."

Drinking was one of them. Shortly after becoming pregnant, Patti sobered up. "Donny didn't," she says. "As I got back into the rhythm of life without drugs and alcohol, we grew further apart." Johnson recalls finding "the AA Big Book on my side of the bed night after night," he says. "I'd come home drunk and have to move it to go to sleep."

Johnson eventually stopped drinking with D'Arbanville's help, and it was another kind of vice—the TV show—that ended their four-year relationship. Miami Vice took Johnson to Florida in 1984, and the couple split a year later as a result of what D'Arbanville calls "irreconcilable distances." The couple share custody of Jesse. "I love, love, love Donny," says Patti, "but I was never passionate about him, and he was never passionate about me. We were brought together to have Jesse." The two talk on the phone constantly. "We spend a lot of time protecting each other," says Johnson. "I send flowers to Patti if she's in a bad mood, or just for fun. She'll do the same for me."

Tender feelings aside, Patti is adamant that she and Johnson "weren't meant to live together. We are two volatile human beings who like getting our own way. We don't mix." On the other hand, D'Arbanville is "thrilled" about Johnson's engagement to Griffith. "They were born to be together," she says. "You can tell the minute they walk into the room."

Johnson is no slouch when it comes to complimenting his ex. "I don't know how anyone in the world can't be attracted to Patti," he says. "I always thought she was like the female version of me."

After the split from Johnson, D'Arbanville took time off to be with Jesse, so her personal income has dropped. But she still has enough to keep her comfortable in a three-bedroom house, which she shares with her father, George, 73, and her brother, Phillip, 34, a production manager and writer. "As usual," she says, laughing, "I'm surrounded by men."

Although her favorite stress-reduction technique while making Wired was to "go on the beach and make love for hours," there's no steady sandman in her life right now. But she knows what she wants—"a gorgeous guy to give me a gorgeous baby"—and she knows she can get it. "I could see why someone would fall in love with me," D'Arbanville modestly notes. "I'm [bleep]ing great."

—Margot Dougherty, Vicki Sheff in Los Angeles


Patti D'Arbanville remembers the first time she shot up on the set of Wired, the controversial book-turned-movie of John Belushi's life. "It's like when you have a sex scene," says the actress, tangled up in a lotus position facilitated by black-and-white-striped spandex pants. "It was a closed set. I had filled the syringe, and as I held the needle against my skin, I looked at myself in the mirror and I broke down. I cried like a baby." Playing the role of Cathy Evelyn Smith, the woman who injected tragicomedian Belushi with a lethal dose of heroin and cocaine seven years ago, D'Arbanville's past came hurtling back. An ex-addict and onetime friend of Smith's, Patti says she turned down the role five times before accepting it. Drug-free for 11 years, D'Arbanville finally decided to sign on "because Wired," she says, "is an enormous anti-drug statement."
Advertisement
Treat Yourself! 4 Preview Issues
The most buzzed about stars this minute!