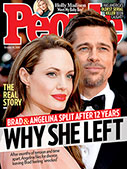 This Week's Issue!
People Top 5
LAST UPDATE: Tuesday February 10, 2015 01:10PM EST
PEOPLE Top 5 are the most-viewed stories on the site over the past three days, updated every 60 minutes
Every Mother's Nightmare Comes True When a Hospital Nursery Mix-Up Sends Two Babies Home with the Wrong Parents


Four miles away, the child Rose Kirks thought was hers awakes from a fitful nap to the sight of a musical mobile with daisies, puppies and ponies circling over his crib. Wasim Maillet shifts his gaze to the young couple standing over him and gives them a long, searching look, almost as if his parents were strangers. Nicolas Maillet, 34, and Firdowsa Ahmed, 25, cannot hide their disappointment. Bending down to embrace his baby boy, Nicolas explains, "He gets confused."

He's not the only one. Officials at L.A.'s Kaiser Permanente Medical Center still cannot explain how two babies born at the hospital on the same February day were sent home with the wrong mothers. They insist they will eventually determine "exactly how it occurred" and say "safeguards in place are more than sufficient to eliminate any likelihood of a similar occurrence."

On this much everyone can agree: Both women checked into Kaiser on Feb. 11. For Kirks, 30, a housewife, and Milligan, 46, a store manager, the baby was to be their first after 15 months together. At 1:33 P.M., she gave birth to a 9 lb., 3 oz. son, Nicholas. Although her child was not due for nearly a month, Firdowsa was already in labor. Born in Addis Ababa, Ethiopia, she had wed her husband, a parking-lot cashier, in Cairo in May 1985, then joined him in L.A. a year later. At 12:40 P.M., she delivered a boy child, Wasim, who weighed in at 7 lb., 7 oz. Sometime after the two births, nurses fastened identity bracelets to each child's left ankle and wrist.

From there, things get complicated. Firdowsa and Rose were apparently given the wrong infants, and neither woman noticed the error. "When somebody at the hospital says, 'Here is your baby,' you have no reason to suspect anything," says Meshesha Biru, a friend of the Maillet family. "You take it for granted that this is your baby."

For 23 days everyone did just that. Kirks got the first hint that something might be amiss on March 6, when she had to show her son's hospital wristband to get him a Social Security card. "I looked at it for the first time," she recalls. "It read 'Boy, Maillet.' " Milligan's sister, Elaine, immediately assumed the worst, but Rose refused to consider that the child she had been cuddling and nurturing for nearly a month could belong to anyone but her. Two days later, as she was leaving with the baby for a scheduled pediatric visit, she told the family, "I'm going to take the bracelet in with me to satisfy you all. Because I know this is my baby." But when Rose showed a nurse the plastic bracelet, her assurance crumbled. Alarmed, they measured the baby, who came up 3½" shorter than he should have. This wasn't the child Rose had delivered.

At that point, Nicolas and Firdowsa were still bobbing along in the afterglow of Wasim's birth. Then, on March 9, Kaiser's Dr. Mark Haendel called with a cryptic request: He needed her, the baby and Nicolas to come in for blood tests—immediately. Terrified, Firdowsa recalled the precautionary AIDS test she had received at the hospital because she was African-born. The family went into a high panic. "I thought she had AIDS," Nicolas recalls, "and I was crying and yelling at her: 'What's wrong? Do you have AIDS? Do you have anything?' "

When they were told that their boy appeared to be someone else's, Nicolas and Firdowsa were dumbfounded. Nicolas went home to retrieve the identity anklet, which he had cut offafter they brought Wasim home. He ripped out dresser drawers, dumping the contents on the floor. Dropping to his knees, he dug the band from the jumble and held it aloft. There, in black and white, were the words "Boy, Kirks." "I looked at it and thought, 'Oh, my God,' " Nicolas remembers. "I was in shock."

Kirks and Milligan had meanwhile been wrestling with their own disbelief. "I had so many mixed feelings," says Rose. "I didn't know what to do." The couple was asked to come to the hospital, where rueful officials confirmed there had been a baby swap. Their real son was brought in. Says Rose: "I said, 'That's my baby!' I recognized him by his fat cheeks and his hair."

Firdowsa did not instantly take to the original Wasim. "I didn't know whether he was mine or not," she says. "But he was so tiny. He looked like he needed help." She immediately breast-fed him. When the couples were introduced, Firdowsa burst into tears at the sight of the child she had thought was hers. "She couldn't say a word," recalls Rose. "She just cried."

Firdowsa remains overwhelmed and still dreams of "the other baby." "When he cried, I held him to my chest and he slept with me," she says, tears welling. "I gave him my love. I know him." And there is an additional bond. "In the Islamic culture," she says, "if I breastfeed any child, he is as much my son as my own boy."

The babies probably won't suffer any psychological damage from the mix-up, says psychiatrist Justin Call of the University of California at Irvine. But for the mothers, this has been a "psychologically traumatic experience." Firdowsa, for instance, does not think she could bear to see Nicholas Kirks just now. Rose and Tommy, however, remain hopeful that the love both couples unwittingly shared for the boys will one day bring them together. "I'm happy I've got my baby," says Rose. "But I would like to keep in touch with the Maillets because their baby is a part of us too. Maybe our sons can celebrate their first birthday together."

—Montgomery Brower, Jack Kelley in Los Angeles


Five-week-old Nicholas Brian Kirks slumbers contentedly, his thatch of black hair and his plump cheeks peeking out from under a blue baby blanket. His mother, Rosetta "Rose" Kirks, has covered him despite the warm day, a precaution against the sniffle he picked up during the month since he was born. Rose and her fiancé, Tommy Milligan, don't know where or how Nicholas caught his cold, or, in truth, much else about their son. That's because until a few days ago another Los Angeles couple was rearing Nicholas as their own.
Advertisement
Treat Yourself! 4 Preview Issues
The most buzzed about stars this minute!