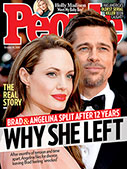 This Week's Issue!
People Top 5
LAST UPDATE: Tuesday February 10, 2015 01:10PM EST
PEOPLE Top 5 are the most-viewed stories on the site over the past three days, updated every 60 minutes
Jana Taylor Gives New Focus to the Lives of Inner-City Kids


By the end of Taylor's six-week photography class, however, a transformation had taken place. Jana Taylor's young students had begun to see their world through different eyes—and through the lens of a camera. The cracked plaster of their welfare apartments had not been painted, and roaches still scurried over kitchen linoleum at night, but "they told me they found beauty," says Taylor. "They see it in the way light hits the kitchen table, the smile on their mother's face, the way dirt makes a pattern on the floor, and birds singing out the window."

And they had the pictures to prove it: scores of remarkably affectionate photographs of chubby baby sisters, favorite pets and dolls—even still lifes of plastic laundry bags. Those photos, says Taylor, 37, are proof that "true beauty is inside the heart. Everything is in the thinking, and what we really take pictures of is what's in our own mind."

It is a lesson Taylor has been teaching since beginning her after-school photo classes for latchkey kids three years ago. For the students who attend, instruction goes far beyond f-stops and shutter speeds. "I want my children to realize how loved, needed, worthwhile and innately talented they are," says Taylor. "I tell them not to plug into the negativity around them, not to make a monster out of it. My message to kids is, 'Be who you are. Who you are is great.' "

Taylor, along with fellow L.A. photographers Doyle Gray, 43, and Terry Lee, 30, now teaches 50 students at three urban classrooms each week. Her course includes lessons in camera skills, composition, the use of light and shadow, props and even makeup. But always it is attitude rather than artistry that Taylor emphasizes with her students. "I make them promise that they will never pick up a camera and look through a lens unless it's to see something beautiful," she says. She can be firm, instructing a youngster to wash his dirty hands before handling his camera. But "she treats them as equals," says fellow teacher Doyle Gray. "She tries to find out what they think, what they like and what they want to do." As one 8-year-old student, Carmen Herrera, puts it: "I get to express my feelings in the pictures."

And so, armed with 35mm cameras donated by corporate sponsors, Carmen and her friends have suddenly found small beauties among the ruins. Their photos have found their way to the Los Angeles County Museum of Art, the L.A. Times, L.A. Daily News and CBS-TV's Nightwatch and will soon appear in the magazine American Photographer. To the students, the acceptance is nice—but not what really counts. "If someone tells you that your pictures are ugly, forget 'em," says 14-year-old Rafael Flores, echoing Taylor's teachings. "You took them. You like them. It's your world."

That kind of go-it-alone confidence is something that Taylor herself learned behind a camera. For her, though, photography was less a window on the world at first than an escape hatch from its troubles. Born in Far Rockaway, N.Y., to a tailor and a housewife, she had begun her career as an actress while still in her teens. She did guest roles on Mod Squad, Get Smart and scores of other TV shows, had a four-year run on General Hospital and acted in movies as disparate as Hells Angels on Wheels and Judgment at Nuremberg. Then, at 22, she married businessman Louis Perretta and three years later bore a son, Michael. "I decided to be a mother at home," she says. "You know, that image of the white picket fence."

When her marriage dissolved after seven years, she decided to return to the screen. But movies had changed. "I had hoped to be a serious dramatic actress, and I was put into sexpot roles," says Taylor unhappily, recalling a particularly galling movie in which she was asked to appear nude. She refused, then watched her part get cut to almost a cameo. "It was the most horrendous experience of my life," says Taylor, who suddenly realized that her future in films was less than she wanted. She decided to quit.

During her marriage, Taylor had taken up photography as a hobby. Now, with no income and a 3½-year-old son to support, she turned to it in desperation. With lights and developing equipment contributed by friends, she set up a studio and darkroom in her Santa Monica garage and set about establishing herself as a children's portraitist. Struggling at first, she gradually built an upscale client list that included Punky Brewster actress Soleil Moon Frye, the offspring of football's Joe Namath, comedian Martin Mull and actresses Farrah Fawcett and Tracey Ullman.

Now Taylor's half-day portrait sessions fetch up to $3,500. When she exhibits, "I blow up my photographs of children very big and hang them high at expositions," she says, "because I want people to look up to children. They deserve it."

In 1987 Taylor moved her studio out of the garage and into a well-lighted, redbrick loft in Venice, a few blocks from one of the schools where she teaches. At night, she retreats to a two-bedroom Santa Monica beach house that she shares with son Michael, now 12. With its many windows, its white wicker and pine furniture and its sparse decor, it offers a serene setting for the hour of prayer and meditation that Taylor, a devout Christian Scientist, engages in each morning.

Her aim now, she says, is to expand the after-school photo classes and the work of the American Child Foundation, an organization she started six years ago to introduce children to drama, writing, music and even filmmaking. Juggling a commercial career with her commitment to the children of the slums isn't easy, she admits, "and at the end of the day I drop dead. But I get back what I give. Confidence. Beauty. And joy."

—Susan Schindehette, Jacqueline Savaiano in Los Angeles


For most schoolchildren, the assignment would have been simple enough: Describe for me, said the teacher, something beautiful where you live. But for Jana Taylor's 11-to 18-year-old students at the Para Los Ninos Daycare Center in Los Angeles, the task was daunting. Outside the green walls of the inner-city schoolroom lay only the detritus and despair of skid row: overflowing Dumpsters, charred and abandoned warehouses, broken windows, battered souls. For many, the scene behind their own doors was every bit as bleak. "They told me that nothing was beautiful in their homes," says Taylor, a former TV actress-turned-professional photographer. "Absolutely nothing."
Advertisement
Treat Yourself! 4 Preview Issues
The most buzzed about stars this minute!