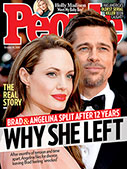 This Week's Issue!
People Top 5
LAST UPDATE: Tuesday February 10, 2015 01:10PM EST
PEOPLE Top 5 are the most-viewed stories on the site over the past three days, updated every 60 minutes
In Loyalties, Carl Bernstein Digs Up a Past Best Remembered


Although Woodward and Bernstein's Watergate reporting won the Pulitzer Prize for the Post, neither their 225 Post articles nor their best-selling books—All the President's Men and The Final Days-mentioned the accusation of bias. Bernstein's new book, Loyalties: A Son's Memoir, suggests that the incident was left out not because it was trivial, but because it was too important, and its explanation too complex, to be treated in passing. Ten I years in the making, Loyalties is part McCarthy-era history, part Bernstein-family saga and partly a son's very personal account of coming to terms with his father. Criticism of the book's style, and content, has been passionate and divided. TIME loved it; the New York Times panned it—twice. The Kansas City Star found self-indulgence; veteran reviewer John Leonard read a book that "opens the mind and breaks the heart."

Bernstein says that he was trying to show how the McCarthy era affected one family—his. "I think there is a vague perception about McCarthyism," he says. "It didn't just happen to the Hollywood 10. It happened to thousands of ordinary people. There was a purge in this country. The civil service was purged of liberals, communists, everyone to the left."

According to Bernstein, his parents, Al, now 79, and Sylvia, 73, were both leftist activists, the sort of people whose activities, he argues, were in the forefront of the civil rights movement. Carl recalls accompanying his mother on a march to plead for clemency for convicted spies Ethel and Julius Rosenberg and to sit-ins at segregated Washington lunch counters, where he was spat upon and called a "nigger lover." His father helped organize the United Public Workers of America, a left-wing union representing federal employees. Both parents joined the Communist party in 1942 and drifted away in 1947. "[Their] experience was not about overthrowing the government," says Bernstein. "Some people at a certain point in our history saw the Communist party as the vehicle to coalesce a group and take action around the antifascist movement, the labor movement and the movement for rights of black people."

The Bernsteins were kept under FBI surveillance for 35 years. The Bureau, Carl later discovered, even monitored the comings and goings at his bar mitzvah in 1957. But the FBI's 2,500-page file on the family includes, he writes, not "a single word about any remotely subversive activity, about any suggestions of disloyalty to the country, about any instructions from Moscow or from the CP."

The consequences of membership proved catastrophic. In 1947 President Harry Truman issued Executive Order No. 9835, which decreed that a person who is perceived to be disloyal couldn't hold a government job. Between 1947 and 1954, more than 8,000 government employees had been identified as suspected subversives and given the option of losing their jobs or going before "loyalty boards" in hopes of proving their patriotism. Many found that notion repugnant and refused. Al Bernstein lost his job when his union, accused by the government of having Communist connections, collapsed in 1950.

Loyalties' most dramatic scene—which Bernstein likens, in impact, to the moment in Final Days where Nixon and Henry Kissinger drop to their knees and pray in the Lincoln Room of the White House—occurs when Bernstein interviews political veteran Clark Clifford, a Truman adviser in 1947. Clifford makes the startling admission that the loyalty question was a trumped-up issue, created to help Truman win the 1948 election. "The President [thought] the so-called Communist scare...was a lot of baloney," Clifford says in the book. "The whole thing was manufactured." In other words, says Bernstein, both incredulous and angry, Truman "made the whole goddamn thing up."

Unable to find suitable work, Al was reduced to running a Laundromat in a poor Washington neighborhood. Old friends stopped calling, and some wouldn't allow their children to associate with Carl. The sense of dislocation and loss was so severe that, 35 years later, Al contributed only sporadically, and reluctantly, to his son's research. "One of the joys of the past few years has been the feeling that all that is behind us, that the troubles are over," says Sylvia in Loyalties. "If you center on this, I think it's going to shatter my life again." His parents have not talked to the press about the book. Explains Carl of his motives: "I've set out in this book to defend my parents, though they have doubts about the wisdom of my undertaking. I also mean in this book to defend a period of our history from the pseudohistorians and ideologues."

Loyalties may also mark the professional resuscitation of Bernstein, who, one writer noted, seems to have been trapped in "a fog of celebrity" since Watergate. He has dated, among others, Bianca Jagger, Elizabeth Taylor and Margaret Jay, then-wife of Britain's ambassador to the U.S. The Jay affair occurred during Bernstein's marriage to author Nora Ephron, who responded by writing Heartburn, the vitriolic roman à clef that became a) famous for its description of the philandering husband as "capable of having sex with a Venetian blind" and b) a movie starring Jack Nicholson and Meryl Streep. Bernstein is delighted that the film, which he refers to as Howard the Duck, Part II. flopped. During the same complex period, Bernstein briefly checked himself into a hospital for depression and exhaustion and worked for 14 trying months as ABC-TV's Washington bureau chief. "The job is not worth a pitcher of spit," Bernstein says now. "The whole thing made me nuts. No matter what I put on the air, people were more interested in my personal life."

Nowadays, says Bernstein, things have quieted considerably. He lives alone in a $4,500-a-month Manhattan apartment and sees Max, 9, and Jacob, 10, his sons by Ephron, several times a week. "Nora and I have respect for each other," he says. Mirabile dictu, Ephron has even come out in praise of Loyalties. "I like it," she says. "I think it's a wonderful book."

Equally important to Bernstein, who first contracted to write Loyalties in 1977, it is also a finished book. "I've chucked out a lot of old baggage," says Bernstein, who now plans to write a book about the press. "I'm ready to do some real reporting."

—Steve Dougherty, Sue Carswell in New York


Shortly before the Watergate hearings began in May 1973, Bob Woodward, who with fellow Washington Post reporter Carl Bernstein helped topple the Nixon Presidency, got a call from a senatorial aide. "You're not going to believe this," said the aide, "but the Justice Department sent somebody down here today to convince us that the reason for the Post's vendetta against Nixon was that Bernstein's mother was accused of being a Communist by the [House] Un-American Activities Committee when Nixon was on the Committee. Isn't that wild?" Well, yes and no, thought Bernstein, upon hearing the news. It probably wasn't wild that Nixon would resort to red-baiting. And the stuff about Bernstein's mother wasn't wild either—she had been a card-carrying Communist whose refusal to testify before HUAC made the front page of three Washington papers in 1954. To Bernstein, the wild thing was that the Justice Department, in its zeal, "hadn't done their homework," he says now. "Their information was screwed up. Nixon was Vice President by the time my mother was before the Un-American Committee, and they hadn't looked at their files."
Advertisement
Treat Yourself! 4 Preview Issues
The most buzzed about stars this minute!