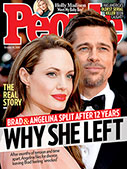 This Week's Issue!
People Top 5
LAST UPDATE: Tuesday February 10, 2015 01:10PM EST
PEOPLE Top 5 are the most-viewed stories on the site over the past three days, updated every 60 minutes
Gaining Fame as Dear John's Hunk Lout Is No Sweat for Jere Burns


Actually, his character on Thursday night's Dear John—a sitcom about a self-help group of newly divorced singles—is significantly less loathsome than some of the psychotic dementos Jere Burns used to play: a rapist on Hill Street Blues, a criminal on Crime Story and a body collector on Max Headroom. So in a way, playing what one critic described as "a man on the make with all the subtlety of Godzilla destroying Tokyo" actually represents a step in the right direction.

"I always think that people must be so relieved to meet Jere [pronounced Jerry] and see how intelligent and easygoing he is," says his wife, Melissa. "It's so different from what they see on television. I'll be sitting there watching the show with Jere, and I'll laugh at Kirk. There's no connection between the man sitting next to me and the guy I'm watching."

Far from the cheesy lothario he plays opposite Judd Hirsch's character, Jere seems every bit the devoted family guy. On a recent Ventura afternoon in the swimming pool, as he sorts out his three kids from the household's golden retriever, Burns is the happy home-lifer—with a touch of lunacy. When 4-year-old Jake slips from his mother and falls on the pavement, Jere rushes to examine the scrape, then turns to his wife: "Honey, don't trip him like that. It's funny on the grass, but it's not funny on the flagstone."

From the sound of the audience's laughter in the Dear John studio, it seems as if Burns, 32, has always been a riot. But according to Melissa, 33, Burns's comic light has been hidden under a bushel until now. "Jere played the heaviest characters you could find," she says. "But there was this thing lurking in the background. The world didn't know that comedy was his ace in the hole."

In fact, the deck was stacked sometime in childhood. Says Burns: "Even as a little kid, there was a certain amount of competitiveness around the kitchen table to see who could get my father to laugh." Growing up in Cambridge, Mass., the eldest of four boys (Dad was a cap-and-gown manufacturer, Mom was a housewife), Burns landed his first bad-guy role in the ninth grade in The Came Mutiny. Dad wasn't laughing when Burns decided on a two-year precollege hiatus, but before enrolling at the University of Massachusetts in 1976, Jere racked up real-time experience—lifeguarding on Cape Cod, bumming through Europe and driving a cab in Boston. He got held up a few times doing that, he recalls. "They'd put a gun to your head and tell you to give them your money. You would give them all your money...then change your pants."

A comparative literature major at U Mass, Burns also studied theater, but "the acting department seemed a little too precious and special. I'd just stay over in the lit department, smoke cigarettes and pretend I was an intellectual."

In 1982 Burns and Melissa, who'd met in college, got around to marrying, just after their daughter was born. A fledgling acting career in New York short-circuited when Jere moved to L.A. in 1985. "I had no desire really to live out here," he says. "But I had an enormous desire to work. At the time, TV seemed like a fun departure from off-Broadway and making $98 a week. Also, it was sunny, and there weren't as many fat people out here. Rear ends were a lot smaller on this coast."

Three weeks after his arrival, Burns landed his first role, as the pathological rapist on Hill Street. Now, six years into his acting career, his chiseled blond looks are finally sparking interest. Melissa recalls that, seated in the audience during Dear John's first taping, she overheard two girls in front of her cooing, ' "Ooh, look! There's the stud!"

Burns wouldn't mind becoming a mega-big success, although his motives are not material. "What I'm working for doesn't have a lot to do with money or fame," he says. "It has to do with having choices. It's freedom—the ability to say yes when you want to say yes, the ability to say, 'I'll do it tomorrow. Today, I'm swimming with my kids.' "

—Susan Schindehette, Kristina Johnson in Los Angeles


He is every woman's worst nightmare: the lascivious shark in a gold chain, loud sport shirt and polyester suit, hell-bent on targeting the nearest broadski or femme. He is Kirk Morris, easily the biggest, funniest, sleaziest slime ball on prime-time TV, and as played by Jere Burns, he's the main reason NBC's Dear John has become one of only three new series to crack the Nielsen Top 10.
Advertisement
Treat Yourself! 4 Preview Issues
The most buzzed about stars this minute!