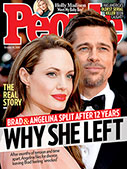 This Week's Issue!
People Top 5
LAST UPDATE: Tuesday February 10, 2015 01:10PM EST
PEOPLE Top 5 are the most-viewed stories on the site over the past three days, updated every 60 minutes
Penelope Miller Hopes a Hot Scene with Don Johnson Means She Won't Be Stood Up by Stardom Again


Though the public may not recognize her, producers can't stop dialing her number. In the past four years, Miller has appeared in two Broadway hits—Biloxi Blues and the recent revival of Our Town—and four major motion pictures. In June, Marlon Brando is scheduled to lumber once again from semiretirement to co-star with Miller—"Pene" (pronounced Penny) to pals—in The Freshman. But first, Miller, 25, can be seen in some celluloid-melting scenes with Don Johnson in Dead-Bang, a cop-versus-cop-killer thriller released two weeks ago. Johnson himself concurred with director John Frankenheimer's decision to cast Miller, who impressed the Miami Vice star when she appeared on his show as the sister of a girl killed in a snuff film. "There was one scene that was scantily written," Johnson says. "She handled it with such ease. The role in Dead-Bang was difficult to cast. I think a lot of actresses are afraid they will be construed as an arm piece for Don Johnson. Pene overcame that folly completely."

"This is my first real love scene in a movie," says Miller of her half-clothed encounter with Don onscreen. "The scene goes by really quickly. But I was nervous because I'm against nudity in film. It's more important to show a connection between two people."

Despite the gossip columns, she says there was no off screen romance with Johnson, who was dating Barbra Streisand during the Dead-Bang shooting. "The tabloids did a whole number on us," Miller says. "I mean, we were friends and we did things together. But people think immediately, 'Oh, they must be having an affair.' It's ridiculous." On the other hand, she says, "when you're thrown together on location, it's conducive to those things happening. So you have to practice restraint."

For Miller, making sensible decisions in affairs of the heart is something of a family tradition. Her father, actor-turned-screenwriter Mark Miller, dated Grace Kelly for two years before marrying Pene's mother, journalist Bea Ammidown. "I remember, each year Princess Grace would send us Christmas cards from Monaco with pictures of her family," says Miller, whose parents divorced in 1975. The middle of three daughters, Pene says she was always stagestruck. "Kelly Coleman [Dabney's daughter], my sister Marisa and I built a stage in my backyard and we would put on skits. At my birthday parties, instead of Pin the Tail on the Donkey, I would have talent shows."

The trend continued. Active in an ambitious theater program at L.A.'s Paul Revere Junior High, she appeared in productions of Ionesco's The Bald Soprano and George S. Kaufman and Moss Hart's The Man Who Came to Dinner. She continued her thespian ways through high school, then quit Menlo College after her freshman year to turn pro. "I decided to get a life and moved East," she says. While waiting for her career to take off, she worked as a waitress at Tavern on the Green in New York's Central Park. Fired from the restaurant for insubordination—she had a tiff with a martinet manager who caught her sneaking a peek at a private party—Miller decided to concentrate on her real talents. She starred in a deodorant ad and three Guiding Light episodes before winning the plum role of Daisy in Neil Simon's Biloxi Blues, which opened on Broadway in 1985. "That was the break point in my career," says Miller, who dated co-star Matthew Broderick briefly during the play's Tony-winning run. Before reprising her Biloxi role for Mike Nichols's 1988 film, she appeared as the suburban teen stranded in the big city in Adventures in Babysitting. Though that cult comedy became a video hit, it did nothing to save Miller from anonymity: "I had to be real nerdy, so I greased my hair and looked dumpy." Nor did her role as Pee-wee Herman's school-marm-turned-vamp fiancée in Big Top Pee-wee bring fame. Nonetheless, Miller found Paul Reubens to be "a real cool, very hip guy. He looks like he'd be fun to kiss. He's got nice lips."

Concerning her own adventures in osculation, Miller says she is "open to a relationship when the right person comes along" but for the moment is sans serious sweetie. That allows even more time for her hobby, watching favorite old movies on the VCR in her Greenwich Village apartment. A couch potato with a purpose, she pays particular attention to the actresses whose work she admires, including Claudette Colbert, Carole Lombard, Bette Davis and Ingrid Bergman. "I'd like to mix comedy and drama and play offbeat, touching and funny characters," says Miller. "I want to always challenge myself." That's a tall order, but one Miller feels she can handle. "If Meryl Streep can do it," she says, "I can too."

—Steve Dougherty, Sue Carswell in New York


Sometimes there is no justice. Take the case of Penelope Ann Miller, a fine actress who can get no fan recognition. "In Big Top fee-wee's and Biloxi Blues I had dyed my hair," says the redheaded Miller. "I got all dressed up for the premieres, but because I look so different in real life, people didn't know me when I stepped out of the limousine." Does it bother her? "It's a little disconcerting," she says. That's all? All right, she admits, "it's embarrassing. At the Pee-wee premiere I could hear people screaming, 'Well, who is she?' "
Advertisement
Treat Yourself! 4 Preview Issues
The most buzzed about stars this minute!