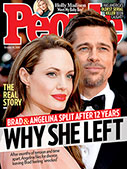 This Week's Issue!
People Top 5
LAST UPDATE: Tuesday February 10, 2015 01:10PM EST
PEOPLE Top 5 are the most-viewed stories on the site over the past three days, updated every 60 minutes
The Littlest Witness May Testify About Her Friend's Killing


One of the first injured was Jennifer's uncle, 24-year-old John Edmonson, who caught two bullets as he scooped up three children and sprinted for the front door. The rest of the kids scattered, screaming, including Peaches. A bullet hit her in the chest. Jennifer saw Peaches fall and started toward her when she, too, was felled, by a shot in the back. In the time it took Ward to empty his gun, two of Jennifer's cousins were hit. A witness said Ward was trying to reload when a Miami Police Department cruiser arrived.

Though cops say Ward confessed to the shootings, he has pleaded not guilty to all charges, including the murder of Peaches Wiley and four counts of attempted murder. His day in court is scheduled for April 24, and Jennifer Royal will probably testify against him. If convicted he could be sent to the electric chair. Only 4 years old, Jennifer is one of the youngest witnesses ever called in a U.S. trial. But she has no doubts about what happened. "That bad guy shot Peaches in the chest," she says. "When I heard him shoot, I run for the door. He shot me. I fell on the ground."

According to some reports, Ward came gunning for the Royals right after they provided refuge for a boy who was fighting with Ward's nephew. The attack shattered the security in Mrs. Royal's yard. "I didn't bother nobody," she says, "and nobody didn't bother me—I thought."

Yet the incident may have been all but inevitable. At the time of the shooting, the Royals lived in a 16-square-block area sometimes referred to as Germ City. Drug dealers, prostitutes and addicts are just part of the local fauna, and violence is always at hand. "You can be a good, decent, honest person, but if I you live in certain neighborhoods, I you can get shot," says Dade County State Attorney David Waksman, who is prosecuting Ward. It doesn't much matter how old you are. In Dade County last year, 44 children were killed by guns, nine of them underage 12.

Jennifer managed to escape that fate, but she has a two-inch scar next to her spine, and it is impossible to tell what emotional damage she may have suffered. But for now, all who have met her marvel at her apparent resilience. "She's unusual for a child this age, because she's verbal," says Claudia McCoy, a clinical social worker at the Children's Psychiatric Center in North Miami, 'it's so important with a trauma that you work through it and get it out."

McCoy used play therapy with puppets to help Jennifer express her turmoil. "The big thing she experienced was the fear of the man coming back," says McCoy. "So we talked about jail. Then we built a jail, and we put the puppet in it. She was relieved when we did that." McCoy and Jennifer also talked a lot about Peaches. "Her mom had told her Peaches was in heaven," says the social worker. "And we talked about a place where there's no pain, where Peaches can run around and play with other children."

Although a judge will decide whether Jennifer is competent to testify, Waksman says, "I don't think we'll have any trouble." The prosecutor also does not believe the child will be traumatized by facing Ward. "She may not even recognize him," he says. For her part, Jennifer appears to understand her obligation to testify honestly. "I know the truth" she says. And she doesn't make things up. "You might get a whuppin'," she explains. "I don't lie."

With half a dozen witnesses ready to take the stand, Jennifer's story is not expected to make or break the case against Ward. "But one of my jobs is to convey to the jury what happened," says Waksman. "It's one thing to have an adult say four kids got shot. Hopefully, the jury will feel the shock when they see her pull up her shirt and show them where she got shot."

Carrie Royal has moved out of Germ City, and when Jennifer comes to visit now, things seem safer. (Jennifer lives nearby with her parents, Keith Maddox, 22, who was in jail for auto theft at the time of the shooting, and Margariette, 19, plus four younger siblings.) Yet she still harbors fears of "the bad guy" and has devised a scheme to prevent him from hurting her again. "When he get out, I'm gonna buy him some cookies," she says. "I'm gonna buy him whole bunch of cookies." Looking down at Jennifer, Carrie Royal says, "She is so precious. She can talk. She can sing. She loves to go to church. She thinks Grandma can change the world. I can't change it, but I try. I just pray and do the best I can."

—Montgomery Brower, Cheryl Harrison Miller in Miami


Jennifer Royal calls him "the bad guy," a pretty good description of Michael Ward on the day she encountered him. Seventeen children had congregated in Grandma Carrie Royal's front yard in Miami's Liberty City neighborhood last July 5. Jennifer and her friend Chelsea "Peaches" Wiley, 8, were under a cherry tree, playing ring-around-the-rosy. Up the street came Ward, his hand wrapped in a green towel. He stopped just outside the front gate and screamed, "I'm going to kill any m----- f----- that moves," recalls Grandma Carrie. With that he pulled out a .357 Magnum and "just started shooting."
Advertisement
Treat Yourself! 4 Preview Issues
The most buzzed about stars this minute!