People Top 5
LAST UPDATE: Tuesday February 10, 2015 01:10PM EST
PEOPLE Top 5 are the most-viewed stories on the site over the past three days, updated every 60 minutes
Two Good Pals Laughed Together, Then Shared the Joke in a Smash Comedy, the Kathy & Mo Show


Welcome to the comic universe of Kathy Najimy, 32, and Maureen "Mo" Gaffney, 30. Eight times a week, Najimy and Gaffney populate the stage at Manhattan's Westside Arts Theatre with the dozens of diverse characters they have created and brought to life. In addition to the scheming cherubim, there is the single mom and the drunken cowboy on the make; the aunt who learns to accept her nephew's homosexuality ("Hell, I got used to the microwave oven..."); the mourning sisters fed up with tuna casseroles ("Why is it when someone dies everyone wants to stuff the grieving family?"). It's called The Kathy & Mo Show: Parallel Lives, and its good-natured skewering of everything from romance to religion has made it this season's off-Broadway smash. HBO plans to film it before the show ends early next year, and the critics are smitten. "Screamingly funny," declared Clive Barnes when the revue first opened in January. "Kathy & Mo [are] a cult on the way to becoming an institution."

Even cult figures, of course, start out as regular people, and both Kathy and Mo were once mere children growing up in "large, lower-middle-class families in San Diego," says Kathy. The daughter of a butcher-postal worker and a housewife, Kathy discovered the stage when she recited a poem about Abraham Lincoln to the PTA in second grade. "From then on," she says, "applause was in my blood." After four years studying drama at San Diego State University, she emceed at a local café that served as a showcase for female singers and comedians. Mo, the daughter of a Navy chief petty officer and a sales clerk at a clothing store, got into theater work after high school. She tended bar while acting at San Diego's Old Globe Theatre and founded a feminist improvisational troupe called the Hot Flashes. She and Kathy met when her troupe performed at Kathy's café in 1982, but they did not form a comedy partnership until a year later; Mo's apartment caught fire one night and she ended up at Kathy's house at 3 A.M., making up poems and telling jokes. They discovered that they shared a feminist sensibility ("It's tough for women to be taken seriously anywhere, except maybe in the maternity ward," says Mo) as well as a biting sense of humor. "She was the funniest person I'd ever met," Kathy says. Mo returns the compliment, sort of. "I think if somebody makes you laugh, you want to be their friend," she says. "Otherwise, you're the butt of their jokes."

Within a month of that fateful evening, Najimy and Gaffney had come up with two characters who would later be featured prominently in The Kathy & Mo Show: Madeline and Syvie, aging Jewish-mom types who sign up for a women's studies course expecting needlepoint and macramé and get "Women in Terrorism" instead. Other characters followed, characters Kathy and Mo based on people they knew or simply invented from scratch. At first it was all just for fun, but then, Kathy later told a reporter, "For a lark I said, 'If we ever get two or three weeks, let's just do this show.' " They pulled together the first version of Kathy & Mo in 1984 at San Diego's Old Town Opera House. They moved to New York in 1985 and polished their routine, which won enthusiastic reviews at clubs around the city. Kathy made ends meet by working for the phone company; Mo found work as a bartender. When off-Broadway called, they didn't hesitate to answer.

Today, after five years of working together almost constantly, Kathy and Mo admit they do get on each other's nerves now and then. ("But I've stopped sticking a hot poker through her heart," says Kathy. "I have to consider her needs too.") Their living quarters, at least, are separate: Mo, who recently began dating actor Geoffrey Sharp, 28, lives alone in lower Manhattan; Kathy dates pianist John Boswell, 28, and lives on the Upper East Side with her female mutt, Al Finney.

But even when they are not performing, appearing in talk shows or discussing future projects with interested TV and movie execs, Kathy and Mo can often be found together. They while away their spare hours in bars, theaters and restaurants, paying close attention, always, to the human comedy that surrounds them. What kinds of things can they learn from plain old people watching? Tune in to their show's second act, where the two angels return to earth a few millennia post-creation to see what's become of their handiwork.

"It didn't turn out so bad, except for those Ice Capades," says angel Kathy. "That male ego thing certainly took off."

"And what about the women?" asks angel Mo.

Answers Kathy: "They're pissed."


The place is Heaven, the time Genesis is. Onstage, two winged angels are deciding how the world will work, giving about as much deep thought to their task as a pair of preteens plotting Barbie's wardrobe. "You came up with that great sex idea," says Angel No. 1, "which I love." Childbearing is next on their agenda, and they decide, for no particular reason, to let women do the honors. "But don't you think the men will be jealous?" asks Angel No. 2. Putting their haloed heads together, they hit on a solution that seems fain Make giving birth as painful as possible, supply men with giant egos—"and then just hope for the best"
Advertisement
Today's Photos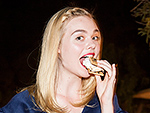 Treat Yourself! 4 Preview Issues
The most buzzed about stars this minute!