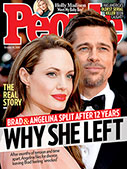 This Week's Issue!
People Top 5
LAST UPDATE: Tuesday February 10, 2015 01:10PM EST
PEOPLE Top 5 are the most-viewed stories on the site over the past three days, updated every 60 minutes
Buzz Off, Big Bird! Pack It In, Pee-Wee! the Big Names on Little Lips Are Sharon, Lois and Bram


In the kindergarten world, Sharon, Lois and Bram are the hottest thing since high-top sneakers. To their legions of miniature admirers, they must seem positively ancient, yet Sharon Hampson, 46, Lois Lilienstein, 52, and Bram Morrison, 48, have tapped into the tot market with all the appeal of sugarcoated breakfast cereal. Sales of the Toronto-based trio's nine albums—including the highly successful One Elephant, Deux Eléphants—have put them ahead of fellow Canadian kiddie king Raffi in their own country, and they're close to overtaking him in the States. They are now winding up a six-month, 60-city North American tour that celebrates their 10-year anniversary. Thirteen new episodes of their half-hour Elephant Show are now airing on cable TV's Nickelodeon network, two new videos have just been released, and a revised version of their book of singing games, Elephant Jam, is in the wings. Clearly, the trio have hit the mother lode in the kiddie entertainment biz; their concerts alone last year grossed more than $1 million.

The singers believe they earned this huge success the hard way. "There are no three people with as much experience with children as us—on the floor, nose to nose with children," says Bram, an amiable man with a bearlike appeal. "We've really done our homework. We know kids and we respect them." The kids, in turn, respond—gleefully singing along to SL & B's trademark "Skinnamarink": "Skinnamarinky dinky dink, skinnamarinky doo"—and the gestures—"I [point to your eye] love [point to your heart] you [point to your friend]." And adults—whether red-faced or enthusiastic—tend to sing along.

Not only do Sharon, Lois and Bram enjoy rinky dinky dooing, they wouldn't have it any other way. Says Sharon: "They never ask people who do adult concerts if they miss doing children's music." Bram agrees. "People assume working with children is second-rate," he says. "This is our first choice."

Bram's Toronto duplex is a shrine to the SL&B mascot, Elephant (who appears in their stage and TV shows in the form of Paula Gallivan dressed in an elephant suit). Reach up to Bram's door and the knocker is a brass elephant. Accept a cup of coffee and it comes in an elephant mug. There's even—don't tell the kids—a small African carving of mating elephants. His apartment, which he shares with his community-worker wife, Ruth (her two children, whom he adopted, are grown and living nearby), is a dozen blocks from where Bram grew up. The son of a houseware manufacturer and an art gallery owner, he took his guitar to the coffeehouses that sprang to life in the '60s with his generation. Bram toured with Alan Mills, a Burl Ives-style Canadian singer he regards as his mentor. In 1974 he was performing with a special program designed to bring folk music into schools when he encountered former acquaintance Sharon, a singer and mother of two, and met Lois, a pianist, singer and mother of one. They borrowed $22,000 from family and friends to make their first record. "It was to be a one-shot thing," recalls Bram. "The notion that we would do a record a year for the next 10 years did not exist."

Certainly, Lois Lilienstein never expected the effort to lead to a profitable career. Her earliest musical influence was a father who sold insurance in Chicago by day and played the piano by night—"weddings, bar mitzvahs, any kind of celebration." Although she majored in music at the University of Michigan, she married, settled into family life and gave up any professional aspirations. When her husband, Ernest, took a teaching position at York University in Toronto in 1966, uprooting Lois and their 2-year-old son, David, from their Chicago home, she and another parent started leading a music hour at David's co-op nursery school. "The director thought we were good enough to be paid," recalls Lois. "Ten dollars a day—that is, $5 each!" Recalls David, now 25 and working for a San Francisco publisher: "She was a great mom, always singing and playing the piano and making great things in the kitchen—especially her brownies."

Sharon Hampson's life—despite an early fling as a "pre-blue jeans folkie"—also doesn't stray far from a '50s ideal of suburban motherhood. The younger of two girls born to Toronto garment workers, she says she was so innocent when she discovered the Montreal coffeehouses that "people looked after me." At a folk convention in Denver she met her husband, singer-composer Joe Hampson, and concentrated on homemaking for most of the years when her two children were growing up. The experience didn't hinder her management abilities—it was Sharon who led the original partnership with Lois and Bram. "Those were exciting days," she says. "We had the same philosophy about music—that anything is possible. When you see 5,000 people singing 'I love you'—kids, parents, grandparents, siblings—this has got to be good therapy."

Indeed, that blend of warmth and sincerity and the desire to make their listeners of all ages feel good is key to their success. "We're not actors or cartoon characters," says Lois. "We're exactly who we are."

—Tim Allis, Julie Greenwalt in Toronto


The cheers have finally faded at Montreal's art deco Theatre St. Denis. The three stars, elated by the jubilant response from an initially restless audience, retreat backstage, another sold-out concert in the bag. After catching their breath, they head out to meet their adoring fans. The little people. No kidding. Average height: 3'6". Average age: 4.
Advertisement
Treat Yourself! 4 Preview Issues
The most buzzed about stars this minute!