People Top 5
LAST UPDATE: Tuesday February 10, 2015 01:10PM EST
PEOPLE Top 5 are the most-viewed stories on the site over the past three days, updated every 60 minutes
Success Brings Cartoonist Jim Benton a Pile of Funny Money


Benton is 26, and if his taste for toys seems a little bit goofy, well, that's okay. After all, his amiable, puckish view of the world has catapulted him from a fledgling illustrator to one of the most visible cartoonists in America. Although his work does not appear in any newspaper funny pages, in the last eight years Benton's characters have festooned more than 10 million T-shirts and sweatshirts as well as coffee mugs, key rings, pins, pens and greeting cards. The best known of his creations is the cartoon series "Misters," comic drawings of bumbling Everymen who botch up feeding the baby, barbecuing the steaks or anything else they try. "All men have a propensity for getting themselves into trouble," says Benton, "and that trouble can become a Misters T-shirt."

It can also become a gold mine. While his Misters paraphernalia pile up millions of dollars in retail sales in department stores and novelty shops, Benton can sit back and collect up to 6 percent (depending on the product) in licensing fees. At times he seems embarrassed by all the success. "I earn six figures, and a couple of them are zeroes," he says, just a bit sheepishly. True, he has indulged himself with a new Rolex watch ("only a sports model, not one with diamonds or anything") and a new car (a Nissan Pathfinder), but he still lives in a rented town house just a half mile from his parents' home in Birmingham, Mich. "My life-style hasn't really changed," he says. "The only thing that's different is that I can buy more toys than I used to."

Despite his newfound wealth, Benton still works about 10 hours a day, doing much of his sketching in the evening after 7 P.M. He seldom looks far for inspiration. Typically, his "Mr. Video" cartoon (pictured above) came to him after watching some home movies. "My brother wanted to film his kids swimming," he recalls. "He mixed up the on/off sequence, so the camera was off when he pointed it at the kids and on when he set it down. When he played it back, all the footage was of the ground and his shoes. Now, this guy was at the top of his class in dental school."

No dummy himself, Benton was an A student when he decided to leave Western Michigan University after three years. His father, who owned and managed apartment buildings, and his mother, a housewife, realized early that their son preferred drawing to anything else. "We'd go out to dinner when he was 2," says his mother, Dorothy, "and he'd be squirming around. I'd say to him, 'Do you want some pencils and paper?' and he'd drop like a stone into his chair." Eventually Mom devoted a kitchen wall to her son, letting him doodle away happily with erasable grease pencils. Sometimes he'd get up at 6:30 A.M. and pedal his bike to a nearby print shop where he collected discarded paper. "Mom still has a lot of my early artwork," he says. "On the back is a misprint of someone's letterhead."

By age 8, Benton had decided that line drawings would be his life's work. "All my fine art had a cartooning quality to it anyway," he says with a shrug. "A fine artist is just a cartoonist with longer hair." After taking an art job in a print shop, he met Mary K. Hart, a commercial graphic artist 18 months his junior, who became his steady girlfriend. He also hooked up with businessman Pat Hill, and the two became partners in a printing business. When Hill founded a distribution company for printed sportswear in 1982, the machinery was in place to market Benton's offbeat creations.

Two years ago the artist added a new character to complement his "Misters" series. Twenty-seven "Ms." cartoons have appeared so far, including a "Ms. Executive," a "Ms. Mom" and a "Ms. Crazed Shopper" in the now-familiar foul-up vein. Still on the drawing board are plans for a regular cartoon series for newspapers. The problem, Benton says, isn't one of inspiration. "I have great ideas," he insists. "I jot them down, but I always lose them." Oh, well, that sounds like the makings for a "Mr. Cartoonist" drawing at least.

—Susan Reed, Maria Leonhauser in Birmingham, Mich.


There's just something about Jim Benton's home that doesn't suggest the Serious Artist. Maybe it's the plastic skeleton dangling from the lamp over his drawing table, or the stuffed flamingo resting under the vampy Elvira calendar, or the Ronald Reagan puppet, the Lost in Space windup toys, the dinosaurs, or maybe the Pee-wee Herman doll peeking out of the giant, high-top sneaker. "Sometimes I take my nieces and nephews over to Jim's house," says Benton's girlfriend, Mary K. Hart. "They see all his toys, and they're jealous. They're 6 and 7 years old."
Advertisement
Today's Photos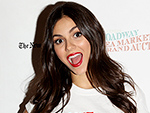 Treat Yourself! 4 Preview Issues
The most buzzed about stars this minute!