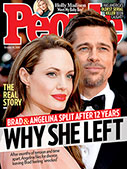 This Week's Issue!
People Top 5
LAST UPDATE: Tuesday February 10, 2015 01:10PM EST
PEOPLE Top 5 are the most-viewed stories on the site over the past three days, updated every 60 minutes
A Video Romp in the Buff Gives Heartbreaker Rob Lowe a Little Too Much Southern Exposure


And how. Before the festival ended, Lowe was winging homeward to face a lawsuit, possible criminal charges and a fire storm of controversy ignited by a very blue video. In that grainy tape, portions of which aired on Fox TV's A Current Affair and the syndicated Entertainment Tonight, Lowe or someone bearing an uncanny resemblance to him stars in two separate steamy encounters: one with a 16-year-old Atlanta girl, identified as Lena Jan Parsons (known as Jan), and her 23-year-old friend, Tara Seburt; the other with an unidentified man and woman.

Critics are taking the tape seriously indeed. Parsons' mother, Lena A. Parsons, filed a personal injury suit May 12 alleging that Lowe "used his celebrity status as an inducement to get females to engage in sexual intercourse, sodomy, and multiple party sexual activity for his immediate sexual gratification, and for the purpose of making pornographic films of these activities."

Fulton County District Attorney Lewis Slaton says that Lowe has been the focus of a criminal investigation for weeks. Although the age of consent in Georgia is 14, he could face prosecution under a law that prohibits the use of anyone under 18 in a pornographic movie. If charged and found guilty, he could face up to 20 years in prison and a $100,000 fine.

Lowe's lusty troubles began last July, when he attended the Democratic National Convention with a passel of young celebrities—Ally Sheedy, Judd Nelson and Justine Bateman among them—recruited to brighten the Dukakis campaign. On the night of July 17, he allegedly picked up Parsons and Seburt at the nearby Club Rio, an upscale Atlanta night spot favored by the young and restless. Lowe then reportedly took them back to the Atlanta Hilton and, with what appears to be their cooperation, taped the ensuing sex scene. "Look at this when you're done," the man who appears to be Lowe says at one point, "and see what you look like."

One person who looked—and didn't like what she saw—was Lena Parsons, who was shown the tape three days later by Jan's adopted brother. She promptly included it in her bitter divorce case, which alleged that her estranged husband, John C. Parsons, had engaged in adultery, devil worship, drug abuse and sodomy. The papers characterize Jan, who works part-time as a trainee at Super Hair Three-13, as having trouble in school and problems with marijuana and alcohol. In sworn affidavits filed Aug. 25 in Cobb County Superior Court, friends of Jan Parsons state that girlfriend Tara lived at John Parsons' house and shared a bed with Jan, with her father's consent. Two affidavits mention the sex tape, with a teenage neighbor stating that "on or about [the] 4th day of August 1988 Jan Parsons came over to my house and told me that she had had sex with Rob Lowe and to come over and see the videotape of the sex scene...She was going to use the film to blackmail Rob Lowe for two million dollars."

In March, when the divorce was finalized and custody of Jan was given to John, Lena filed her civil suit against Lowe, seeking as yet unspecified damages.

District Attorney Slaton has not been as quick to press criminal charges against the actor, pointing out that statements by Jan's friends contained in the divorce papers could be used in Lowe's defense. The actor, who has hired a local attorney, was expected to be interviewed by Slaton in Atlanta.

Before leaving Cannes, where he was drumming up interest in his next project, titled, ironically, Bad Influence, Lowe told a reporter, "It all sounds so absurd to me. It's ridiculous, but I am unable to say anything more. I haven't got my lawyers with me." Changing planes in London, he stated, "I am not worried about the allegations." A source close to the case holds a different view: "I think Rob Lowe is going to have an awful lot of difficulty explaining his conduct. I think a Georgia jury isn't going to like it."

The tape meanwhile has created a sensation in Atlanta—where low quality, high-priced pirated versions have reportedly been screened in nightclubs and are being hawked to interested buyers for $5,000. In Hollywood, where interest is also intense, fellow actors are wary of commenting on Lowe's predicament, but speculation about his future is rampant. "I don't think this will help Lowe's career," says Hollywood Reporter business editor Martin Grove. "If he is found guilty of having sex with a minor and making a videocassette of it, I would say it would have a very damaging effect on his career."

It also wouldn't wash well with the political aides who had recruited Lowe for that fateful Atlanta appearance. One Dukakis worker ruefully recalled that the handsome actor, a ladies' man who over the years has charmed Melissa Gilbert, Princess Stephanie, Cornelia Guest and Fawn Hall, "wowed the young women everywhere he went." (As for older women, Lowe has recently been linked by gossip columnists with Jane Fonda, who denies that they're anything but fellow political activists.) Asked about the videotape, another Dukakis campaign official offered what may well be Lowe's own point of view: "We're hoping," he says, "that it's all a bad dream."

—Steve Dougherty, Joyce Leviton in Atlanta and bureau reports


Advertisement
Treat Yourself! 4 Preview Issues
The most buzzed about stars this minute!