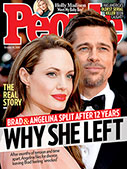 This Week's Issue!
People Top 5
LAST UPDATE: Tuesday February 10, 2015 01:10PM EST
PEOPLE Top 5 are the most-viewed stories on the site over the past three days, updated every 60 minutes
Of Hearts, Flowers and Wedding Bliss
Television Stars Delta Burke and Gerald McRaney Profess Undying Love—and Prove It by Tying the Knot in a Spectacular Fete That Recalls the Hollywood Nuptials of Old


Or, more correctly, Mac and Delta have each other. Forget the jolting split-ups of the Hayden-Fondas, the Irving-Spielbergs and the Eastwood-Lockes. In a welcome boon to a romance-starved town, Burke, 32, of CBS's Designing Women, and McRaney, 42, formerly of CBS's Simon & Simon, tied the knot in a massive, glitzy ceremony such as, in the words of Jared Snyder, one of the two best men, "Hollywood hasn't seen in years."

Extravagant as the nuptials were, style was the least of it—the newlyweds swear that the union of their Dixie lineages will never go asunder. "Everybody thought we were crazy. They didn't trust us or believe us," says Delta. "But we both knew right away this was the one."

"All my friends tell me I look younger and happier since I've known her," beams McRaney. "I'm more vital and in better shape physically than since my mid-20s."

Storybook wedding, storybook romance. The couple met, in true Hollywood fashion, at a publicists' luncheon in March 1987. "There's something about Southerners," says McRaney, recalling that meeting. "We're just more physical. When we were introduced, we started to shake hands, but that just didn't seem like enough. So we hugged each other. I kept trying to catch glances at her during lunch, thinking I was being terribly subtle about it. It wound up with me staring at her through a good deal of the festivities."

Smitten, but not quite knowing how to proceed, McRaney sent a dozen white roses (Burke's favorite flower) with allusions to their Southern roots (his in Collins, Miss., hers in Orlando, Fla.). He landed a guest role on her top-rated TV show that June. During the first of two episodes, in which McRaney played Delta's ex-husband, they shared an onscreen kiss that, says Mac, "went on for a long time. I didn't know then she hadn't had a date in a year." Two dates later, at Trader Vic's, he popped the question. "After a few of those rum drinks, I got up the nerve. Sure, logic was telling me it was a bit soon. But I had a gut feeling that this woman will be my friend for the rest of my life. I still think she's about the most beautiful creature God ever put on the earth."

And he treats her that way. "Delta told me how good he was to her," says Women co-star Annie Potts. "Crates of white roses started coming to the set every day. After work he met her at the the door with a hug, then he ran a tub for her, gave her a back massage, cooked her dinner and served her a drink on a silver tray. She told me this, and I said, 'Delta, what do you do for him?' She said, 'I enjoy it.' "

To hear the couple tell it, at the time of their meeting neither was seeking romance. "I was not looking for a wife," says McRaney, who was separated but still married to Wife No. 2 at the time he met Delta. "I'd decided 'never again' for me. I wasn't angry or bitter about anything. I just thought I wasn't very good at it."

As for Delta, "I figured I'd turn into the crazy woman down the street with all the dogs and a stack of newspapers so deep you can't find the body for days. And then I met him, and it's so weird, but right off the bat you knew."

"Delta was not quite trusting of our brethren before she met Mac," says Women co-star Jean Smart, who met husband Richard Gilliland on the show and is four months pregnant with her first child. "She went, 'Who needs it?' But it was amazing to see someone who was so defensive around men so instantly fall in love."

According to McRaney, his sweetheart bears little resemblance to Designing Women's princessy Suzanne Sugarbaker. "Once Delta makes up her mind to do something," he says, "she cannot be pried loose from that with a crowbar and the aid of two healthy men." Also, "She is not vain in the least. I have been led to believe she used to be terribly concerned about her appearance and that she would never leave without full makeup and dress, the whole nine yards. She's not like that anymore. My favorite picture of her is sitting cross-legged, in a robe and nightgown, by the fireplace in the den of my parents' house."

Friends have noticed a change, too, in McRaney. "He's always been like the big lovable basset hound that's asleep on the couch," says his friend, actor Jared Snyder. "You just love and adore him, but you wish he'd get up and do something once in a while. He has life now. Thunder struck him when Delta came along."

This is not to imply that large clouds shadowed their courtship. Oh, maybe a few squalls. McRaney's office is decorated with a buffalo head, a boar head and stuffed pheasants, all trophies of an avowed hunter and fisherman. "Delta is not exactly the outdoorsy type, but she's learning," he says. "She'd never go out and shoot anything on her own, but she understands my doing it."

He extracted other sacrifices. "I don't sleep with the dogs anymore," says Delta, referring to Stella, the poodle, and Blanche, the Maltese. "It was hard to wean me off of that."

If anything, the two feel their shared heritage gives them much in common. "Some of our best trips have been spent down South," says McRaney. "We were up in the master bedroom suite of an old place in Louisiana, just stepped out onto the veranda and sat down for a bottle of champagne. I lit up a cigar, we toasted each other, and in the light of a full moon, the riverboat Natchez came around the bend of the Mississippi. I was gone."

"I think both Mac and Delta feel like they were born in the wrong time," says Smart. "They appreciate old-world things and they love beauty and graciousness. Gerald picked her up the other day in his beautiful, old restored MG convertible. They both looked like they stepped out of The Great Gatsby."

With a love story like that, the couple was bent on a wedding celebration to match. The nuptial festivities included an opulent Saturday afternoon bridesmaids' tea, a Saturday evening outdoor fiesta rehearsal dinner at the couple's Pasadena home, the wedding itself and the care and feeding of 68 Southern relatives and guests—for a reported price tag in excess of $250,000 for the whole shebang.

The celebration's go-for-broke tone was set a year ago when Mac bought Delta's four-carat Tiffany engagement ring for an estimated $50,000 plus. "I asked to see their big, fat diamonds," says Delta, "and the lady said they didn't call them that." After trying on a three-carat, she put her little foot down. "Three is as low as I can go. Four is my lucky number. I had to wear this ring for the rest of my life. I put this one on, and it was so heavy, I said, 'Oh, honey, I feel engaged with this ring.' "

At the Saturday tea, the house was flower bedecked: roses and peonies interwoven with white satin ribbon on the stairway, a cone of roses and ferns above a formal dining table set for 12. Wearing a pink puffed-sleeve dress with ruffled bodice, Delta dispensed music boxes, painted fans, lacy fingerless gloves and pearl-and-diamond earrings to the bridesmaids. She also explained her dining room drapes, whose green taffeta fabric looked remarkably similar to the bridesmaids' gowns. "I want you all to know," she said, "that the drapes are made of the fabric left over from the bridesmaids' gowns—not the other way around."

As her soon-to-be husband retreated to his "hunt room," the bride-to-be savored the scene: "Just about everything to do with this wedding will be pressed and preserved," she said. Added Susan McRaney, Mac's niece: "I'm going to give up my job and open a Delta Burke souvenir stand."

Saturday night's fiesta was no less spectacular. In the backyard of the couple's 60-year-old, two-story colonnaded gray stucco house, serenaded by a Spanish guitarist, guests sipped strawberry margaritas and supped on guacamole and quesadillas. A huge cake, topped with a giant pink fan, was wheeled out. In the garden Delta and Mac planted a white rosebush (what else) to symbolize their love.

Believe it, the Sunday evening wedding was anything but anticlimactic. The musicians included a nine-piece ensemble, a jazz quartet, a 12-piece dance band, a bagpiper and eight trumpeters who heralded Delta each time she made an appearance. Such celebs as Valerie Harper, Markie Post, Dwayne Hickman, Hal Holbrook and Tim Curry listened as Presbyterian minister Dr. Vahe Simonian asked, "Who gives this woman away?" Jean Burke, Delta's widowed mother, replied firmly, "She gives herself, with my blessing."

"This is an old-fashioned kind of wedding, the way people used to do things," Delta's mom explained. "Delta figures she's only going to do this once." The guests repaired to dinner in the Crystal Room, where they formed a joyous circle around a five-tiered lemon wedding cake topped with bride and groom dolls. Tim Reid, a former Simon & Simon cast member (the other Simon, actor Jameson Parker, was on a movie location), gave voice to what many were thinking. "If they aren't soul mates, then they're the closest thing to it."

"They were made for each other," added Reid's wife, Daphne. "Hollywood be damned."

After a honeymoon in France, West Germany, Austria and Italy (they've hired a driver who speaks the requisite languages), the couple plan to be homebodies, quietly, in Pasadena. "Both of us love a fire in the fireplace," says Delta. As for kids, the two say there are no immediate plans. "I'm okay once they're walking around," says the new Mrs. McRaney. "But carrying them around in me and getting them out, that gives me pause." "I've got three children," says Mac, whose daughter Jessica, 22, was in the wedding party. "Delta is still curious. But she has plenty of time to worry about it. It's nothing we have to rush into."

In the meantime, their intention to play for keeps is even apparent on their front doorstep. The welcome mat bears a heart flanked by two birds and the words, "Est. 1989. The McRaney Home."

—Susan Schindehette, Lois Armstrong and David Hutchings in Los Angeles


Advertisement
Treat Yourself! 4 Preview Issues
The most buzzed about stars this minute!