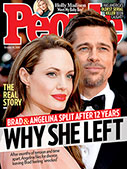 This Week's Issue!
People Top 5
LAST UPDATE: Tuesday February 10, 2015 01:10PM EST
PEOPLE Top 5 are the most-viewed stories on the site over the past three days, updated every 60 minutes
Even for Cable, His Lunatic Talk Show Is Cheap, but It's Paying Big Dividends for L.a.'s Mr. Pete


TV doesn't come any smaller. And yet who does Mr. Pete deliver tonight but a star of the first magnitude, Roseanne Barr. The night before, Barr had been flipping through the channels when she caught Mr. Pete trading barbs with Steve Allen. She liked what she saw, called Mr. Pete's home number—which he gives out on the air—and asked to appear on the show. And so here she is in the Century Cable studio, looking like a humongous ice-cream sandwich in her full-length mink coat and vanilla Beverly Hills Polo Club sweatsuit.

Wearing his tacky smoking jacket and TV-shaped sunglasses, a sort of cross between Soupy Sales and Groucho Marx, Mr. Pete paws the fur coat. "Roseanne," he says, "you're so Hollywood."

"I'm rich now," replies Barr, "and hardly have time to care about little people like you." The rowdy, squeezed-in audience hoots.

"But you do have time to go out and buy that really expensive rat jacket," says Mr. Pete.

"It's actually road kill," says Barr, punctuating her one-liner by ringing the bell on the desk—a gimmick Chaconas admittedly swiped from the old Steve Allen show. "Actually," Barr adds, "it's a whole bunch of Bob Barker toupees." Ding, ding, ding.

The bells are ringing louder and louder for Mr. Pete. He may have lost the battle of wits with Barr, but he's winning the war of popularity against the astrologers, fitness fanatics and monosyllabic intellectuals who compete with him on cable. Called the "clown prince of underground television" by the L.A. Herald Examiner and the "Pee-wee Herman of Public Access Cable" by the Hollywood Reporter, Chaconas has managed in his two-year stint to become a cult favorite of such confessed admirers as Allen, Barr, George Carlin, Dick Clark and Flip Wilson. Now Mr. Pete is being seen in Manhattan, and Chaconas is at "the top of the bottom of show business," as he puts it.

"I'm not doing anything except being myself," says Chaconas, who still serves gourmet meat loaf and swordfish tostadas twice a week at the Authentic Cafe. "I always got in trouble for being funny. I never expected to make money being funny." Even that may change. Viacom, a syndication powerhouse, has paid him $25,000 to develop a pilot based on Mr. Pete. Chaconas remains modest. "I'm just a guy," he says. "When will the charade end?"

Born in Erie, Pa., the second of five children, Peter was always the family wiseguy. When he was 5, the Chaconases moved to the San Francisco suburb of Los Gatos, where his parents still live. His dad, James, sold suits in a department store. His mom, Joan, cared for the kids, forever telling her loudmouthed son to lower his voice. After graduating from high school in 1968, Peter dropped out of San Jose State University in 1973 with only 15 units to go for a B.A. degree in criminal justice. "I hated school," he says, "but I was there to please my parents."

He always liked to sing, however, and in 1975, after working as a county bail clerk, Chaconas began landing jobs with clean-cut vocal groups that warmed up Vegas and L.A. audiences for the likes of Andy Griffith and Frankie Avalon. Chaconas went out as a solo warm-up act in 1977, occasionally tossing in jokes between the songs, and by 1978 he was ready to roll the dice on his own one-man show. He paid $1,000 to stage a one-hour gig at the Improvisation in L.A. Friends liked the act. No showbiz execs called.

"I lost confidence after the Improv," says Chaconas, who lives alone in a two-bedroom West Hollywood apartment. "I was very depressed. You start comparing yourself to your contemporaries and doubting that you'll ever do anything. For the next eight years I got stuck in a rut. I went to the beach by day and waited tables by night. I was tan and 21 for all those years." He also thought about suicide. "I'd sit and decide who my stuff would go to," says Chaconas. "My mind was full of black thoughts. It scared me."

At the urging of friends, he shook off his doldrums and revived his ambitions by popping for 30 minutes of cable access in 1987. Viewers were soon drawn by such offbeat, lunatic antics as devoting an entire show to a celebration of Spam. "I don't know what you're doing," George Carlin told Chaconas, "or why you're doing it, but don't stop."

He didn't, and he's feeling much better about himself as a result. When certain customers at the restaurant look up and remark that the waiter looks like Mr. Pete, Chaconas will be brave enough to ask, "Do you think he's funny?"

"So far," says Chaconas, "nobody has told me I'm a jerk. So I guess I'm doing okay."

—Ron Arias, Lorenzo Benet in Los Angeles


Little guys sometimes deliver big. Take Peter Chaconas, 38, a part-time waiter who hosts his own cable-access talk show in Los Angeles, Take a Break with Mr. Pete. Studio lighting is dim. There is no wall clock, no limousine to pick up guests. The production cost of the half-hour show is $35, and any fan who wishes to donate the money gets his or her name listed in the credits as executive producer of that installment. The entire set—backdrop, chairs, collapsible plywood desk—fits in the back of Chaconas's '68 Mustang convertible. To call the set garage-sale is not necessarily to put it down, but merely to describe its origins.
Advertisement
Treat Yourself! 4 Preview Issues
The most buzzed about stars this minute!