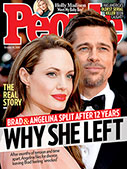 This Week's Issue!
People Top 5
LAST UPDATE: Tuesday February 10, 2015 01:10PM EST
PEOPLE Top 5 are the most-viewed stories on the site over the past three days, updated every 60 minutes
Some L.a. Law-Breakers Claim Steve Verret's Stand-Up Comedy Traffic Class Is Just the Ticket
It sounds ludicrous at first, but so did Earth Shoes, car phones and kiwi as a garnish. In time it will seem inevitable. In Los Angeles, where everyone drives and just about everyone wants to be a star, how could there not be a stand-up comedy traffic school? [P] Granted, even the students at this honest-to-goodness Department-of-Motor-Vehicles-approved institution—mostly excessive speeders and turners of illegal LPs—look unconvinced at first. Reluctantly they straggle into the standard-issue shoe box of a classroom on otherwise flamboyant Melrose Avenue, understandably put out at having to strap in for eight hours of driving-safety instruction. [P] But then Steve Verret bounds down the aisle, and it's show time, folks. Sporting a red bow tie and maroon suspenders, he begins his riff: "I would like to make an announcement!" barks the winsome grand hoo-ha of the World Famous Improvisation Traffic School, run by the Improv, one of L.A.'s premier comedy clubs. "I am not a police officer!" (Applause.) He tells the students that their first assignment is to meet three people in the class. (A pause.) "Take notes if you have to!" Verret, 28, part camp counselor, part cheerleader, part Don Rickles, works the room, teasing people and making quips. He pretends to give a latecomer a hard time, scolding her and insisting she'll have to go to another class. She looks truly upset until the class starts booing Verret and he relents. [P] Some of Verret's jokes deserve fines of their own ("Turn the baby seat around and when you're rear-ended you'll have a witness!"), but he's good at improvising and also does impressions, including a primal Southern deputy named Bobby Joe Don Bob. In a Cajun accent, Steve—a native of New Iberia, La.—regales the class with corn-pone tales of his uncle Boudreaux, who, when told that most accidents occur within a few miles of home, decided to move. Before the night is over, Verret will have divided the class into competing teams (one, the Speed Leaders, is headed by a woman who was clocked doing 27 miles per hour over the limit), invented pep-rally cheers and assigned colors for each team to wear on their second night of school. Pop quizzes are hollered, and the class hollers back. [P] At times Verret leaves the highway jinks aside to emphasize serious lessons about traffic regulations and drunk driving. "I joke to get their attention, then I get serious," he says. But the overall effect is a far cry from conventional traffic school. "I used to be a deputy sheriff," says Marian Goldberg, one of several Verret vets who actually come back to class just for the fun of it, "and I didn't want to sit and listen to a boring cop the whole time. The eight hours of Steve's class felt like four." [P] Verret's popularity is also helped by the fact that, in effect, the police hand out tickets to his show every day. California law allows errant motorists to avoid or reduce other penalties if they spend eight hours as road scholars. The schools are state approved and usually charge a fee of $25 to $40. In Los Angeles competition among the schools to draw students has led to such specialized institutions as pot-luck-dinner traffic schools, a singles traffic school and a traffic school that gives a lottery ticket to each new student. [P] For Verret, an actor whose ambition goes beyond driving school, a captive crowd is good practice. Unlike traditional stand-up comedy, which he has performed at the Improv and on the Wil Shriner Show, "the lights are on, so you can see people and play with the audience. And there's such a cross section of people to react to—janitors, actors, bankers—people of every age and background." [P] In fact Verret hardly thinks of what he does as work. Although his father was a CPA and his mother ran a nursery school, he took on such childhood jobs as harvesting sugarcane and hauling bricks. "Penny a brick, and we had to chip the mortar off them," he recalls. "What I'm doing now is easy." As for his gung-ho personality, he says, "[Back home! I was considered weird. Out here I blend in." [P] Traffic school presented some unexpected opportunities to Steve, who struggled in New York for three years, got a business degree and worked as a financial planner on Wall Street before moving to L.A. and managing an apartment complex. He signed with his current agent after the agent attended his traffic class. The school also became his vehicle for meeting women. One of them, veterinary student Lisa Lomond, 28, became his steady; he moved into her Brentwood apartment in January. "I picked on her the whole class," recalls Steve of their courtship. Lisa made the next move. "If he didn't call me back," she says, "I was going to get another ticket." [P] For all the laughs, Verret, who teaches three classes a week, takes his job to heart. "I spend a lot of time in traffic court and in the library doing research," he says. "And I practice what I preach." For a show-off who has only gotten one ticket—for speeding—in his life, his is not a bad gig. Says Steve: "This is a place where I can save lives and be funny at the same time." [P] —Tim Allis, Robin Micheli in Los Angeles [P]
Advertisement
Treat Yourself! 4 Preview Issues
The most buzzed about stars this minute!