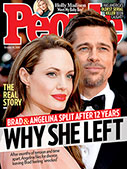 This Week's Issue!
People Top 5
LAST UPDATE: Tuesday February 10, 2015 01:10PM EST
PEOPLE Top 5 are the most-viewed stories on the site over the past three days, updated every 60 minutes
The Battle May Be O'er, but This Couple Brings It Back for Historic Site-Seers


But then, it is the Holts' business to persuade tourists that visiting places with names like Waterloo or Bull Run can be a lot more rewarding than spending two weeks at the same old boring beach—unless the beach was once code-named Omaha or Utah. "We are not your ordinary tour company," says Tonie, 56, a former British Army engineering officer who, with his 53-year-old wife, operates Major & Mrs. Holt's Battlefield Tours. From their HQ in Sandwich, England, the couple this year will work out the logistics for 44 tours, a third of which they will take themselves; the rest will be led by three other ex-officer-and-wife teams.

The Holts stoutly deny that their trips glorify war. "What we do is neither glamorous nor morbid," says Valmai. Adds the major: "The tours are meant to be fun, but the sadness, the remembrance is also very important. The bottom line is to remember that everywhere we go are places where men fought and died."

Still, the Major and Mrs. do admit to being "somewhat theatrical" by nature, so their tours are scripted from beginning to end and planned to the nearest five minutes. Their tour buses resonate with snippets of wartime radio broadcasts and the poetry and music of the conflict at hand. From a "tour box" come such artifacts as medals, battlefield dispatches, letters home and period magazines and newspapers. "It's no good being dry as dust and statistics," says Tonie. "Everything we do sets the scene and the mood. We try to involve people emotionally."

Once at the battle site, the Holts begin with a basic explanation of what happened there. "We make our people work—off the bus, into the trench line, back on the bus, into a museum—it's a full day," says Valmai. Still, everything isn't done to the lockstep cadence of the drill field. After a day's mucking about in Flanders Field, the Major and his Mrs. will make sure their travelers dine and sleep in first-class accommodations.

Surprisingly enough, Holt, who served 19 years in the British Army, didn't find his own military service especially stimulating. "Tonie thought he was going to see the world," his wife explains, but ended up being stationed mostly in Britain. And Valmai, who was a history and French teacher, had always preferred Tonie's military history textbooks to their "boring" social life on army posts. So in 1969 the couple decided to retire and write for a living, producing horror stories, radio pieces and a book, Till the Boys Come Home, based on their extensive collection of World War I postcards. A book club snapped up their work, then asked the Holts to plan a related travel tour. From that a business was born.

Today the Holts' computerized list has 25,000 travelers—they never call them customers. Prices run from about $250 for a weekend in Somerset studying Monmouth's Rebellion (1685) to more than $3,700 for a junket to the Falklands. Their most popular tours visit battlefields of World War I, especially those around the Somme River in France. Often the reactions of their travelers surprise even the Holts. "The sanest, least imaginative sort of people sometimes come to us after walking a battlefield and tell us that they've seen and heard the most incredible things—people talking, sounds of battle, flashes of scenes," says Valmai. "Sometimes we'll all cry, and people aren't ashamed to do that." Adds the major: "If we can have people feel for one brief moment that they're actually there during battle, whether at Jericho or Verdun, then we've achieved what we set out to do."

—Dan Chu, Laura Sanderson Healy in Sandwich


So you've already been through Disney World, and you'd just as soon stroll through a World War II minefield as meander down Mickey's main street again? Well, Tonie and Valmai Holt can reroute you from Orlando to El Alamein faster than you can say "Desert Fox." And if you're headed for Honolulu, say, why not continue on to Hue? In spite of what you saw in Full Metal Jacket, the Holts call Vietnam's ancient capital a beautiful spot "for the adventurous."
Advertisement
Treat Yourself! 4 Preview Issues
The most buzzed about stars this minute!