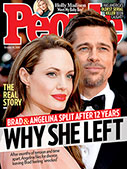 This Week's Issue!
People Top 5
LAST UPDATE: Tuesday February 10, 2015 01:10PM EST
PEOPLE Top 5 are the most-viewed stories on the site over the past three days, updated every 60 minutes
Voted Least Likely to Survive the '60s, Rocker Ginger Baker Now Faces 50 with a Smile


Alas, there are no plans to publish The Ginger Baker Miracle Drug Cure, though Baker, who hopes to see 50 this August, probably will get old before he dies. A junkie for 20 years, he hardly straightened out rapidly: By his own count, he took headers off the wagon a total of 29 times between 1964 and 1981, when he finally managed to kick a heroin addiction born in his early 20s. Weathered but clean, Baker has lived for the past six months on a 25-acre spread 50 miles northeast of Los Angeles, where he aims to hit the comeback trail. He has already drummed gratis for Cream-mate Jack Bruce's forthcoming solo album and plans to begin working U.S. studio sessions as soon as he is granted a work permit. In the meantime he would like to annotate his substance-ridden past a bit. Legions of former Methedrine-fueled Cream fans will be startled to hear that Baker, drug free for most of Cream's first year, was never a speed freak. "I've used speed occasionally," he says, "but never liked the effect."

Five when his father was killed in World War II combat in the Mediterranean, Baker was raised by his mother, Ruby, outside London. "We were very poor," he says. "My mother worked in a tobacco shop to support my sister and me. I didn't get my first drum kit until I was 16." Once so armed, he dropped out of school and quickly turned pro. He married in 1959 and began using heroin a year later. "I got involved with drugs for the music," says Baker. "I took some smack, and people told me, 'You play incredible.' So I took smack before every gig." Soon he was having trouble making "enough money to feed my wife and baby. I'd turn up to a gig stoned and they'd say, 'What are you doing?' I'd tell them, 'I'm taking smack,' and they'd fire me. I used to think they were idiots. And this happened continually."

Still, Baker was drummer enough to find work with Alexis Korner's Blues, Inc., a notable group that included such future stars as Jack Bruce and Rolling Stone Charlie Watts. Incipient Stone Mick Jagger, 19, sometimes sat in. "He was really shy," says Baker. "I was an evil person back then. I terrorized Jagger. I was a junkie and didn't know fear." Then, in 1966, Baker and Bruce teamed with 21-year-old guitar god Eric Clapton to form Cream. So named because each member was the others' favorite player, Cream rose fast, releasing four albums and the hit singles "White Room," "Crossroads" and "Sunshine of Your Love." Renowned as much for ego clashes as their wild, improvisational live shows—a TIME critic lauded their "exultant mastery that surpasses anything yet heard in rock"—Cream disbanded in 1968. "The band got horribly loud," Baker says. "I always asked them to tone it down. My ears were always ringing. I used to get this incredible buildup of wax in my ears—nature's way of protecting my hearing." He still hates loud rock and is vehement about heavy metal. "It's a disaster," says Baker. "It's gross f—-ing noise, and most of them can't even play. The other night I went to hear a metal band and was out the door during the first song. And you know what? The guy at the door offered me earplugs!"

In contrast to Cream, Blind Faith, the one-album super-group Baker formed with Clapton and Stevie Winwood in 1969, "wasn't loud at all." But Baker couldn't keep his own act together. "I got messed up with drugs again and had a long holiday to get straight. When I got back to England, Steve told me Eric had run off to form Derek and the Dominos."

After several successive projects failed—Air Force, another aggregation formed with Winwood, stalled after two albums, and a recording studio he built in Nigeria became a money pit—Baker retired and took up polo. Finally forced to sell his horses to pay back taxes, he moved to a remote village in southern Italy in 1982 to escape a drugged-out lifestyle. He was also briefly remarried. "She got bored with farming and me being straight," he says of wife No. 2. "Without drugs, I guess I'm not as exciting."

Not so, says Karen Loucks, the 26-year-old companion who shares the California home Baker bought last October after deciding to reenter the music business. "Our relationship is wonderful," Baker says. "He's fascinating," she says. With Cream royalties still bringing in up to $23,000 every six months, Baker tinkers around his ranch and keeps clean. "If you have a drug problem, Los Angeles is not the place to be. It used to be that I would hit L.A. straight and in 24 hours somebody would lay something on me. But I feel I can now handle this part of the world." As for the chances of a Cream reunion, he says, "Don't ask me." Though he's on good terms with Bruce, Clapton is "like a stranger. He's not the guy I knew."

After years of drug-enhanced difficulties, Baker is at last on good terms with his children by his first wife—Ginette, 28, Leda, 21, and son Kofi, 20, a drummer who recently formed a group in England with Bruce's son. "My relationship with them is great," says Baker, and he takes heart that his pharmaceutical-filled past may have one beneficial result. "I know none of my own kids will ever get f—-up on drugs," he says. "I know this because they had to suffer through me."

—Steve Dougherty, Lorenzo Benet in Los Angeles


Gaunt, cadaverish and a former heroin addict, drummer Ginger Baker, at the height of the '60s, had two claims to fame. First, as co-founder, with Eric Clapton and Jack Bruce, of the super-group Cream, he helped set the standard for a generation of hard rockers. Second, the British Baker was one of the few human beings—okay, living human beings—who could make Keith Richards look cherubic and healthy by comparison. That combination of factors led many fans, after Baker dropped from the music scene in the late '70s, to award him a premature honor. "People always put me as the drummer in the Dead Band with Jimi Hendrix and Janis Joplin," says Baker, who has grown accustomed to denying that he is deceased. "What people didn't know was that until 1964, I was getting high and thinking it was wonderful. After that, I was trying to quit."
Advertisement
Treat Yourself! 4 Preview Issues
The most buzzed about stars this minute!