People Top 5
LAST UPDATE: Tuesday February 10, 2015 01:10PM EST
PEOPLE Top 5 are the most-viewed stories on the site over the past three days, updated every 60 minutes
Aretha Franklin's Former Detroit Neighbors Want Her to Show a Little R-E-S-P-E-C-T


And maybe it does. Nestled on Sorrento Avenue in a mostly black, middle-class neighborhood in west Detroit the crumbling edifice belongs to none other than the Queen of Soul, Aretha Franklin. Perhaps she considers it a memorial to her humbler days in a lifetime of major lows and spectacular highs. More likely, she just doesn't give a damn about it.

Franklin lives in seclusion in nearby Bloomfield Hills, the second wealthiest suburb in America. She once dressed up as Queen Nefertiti as she entertained hundreds of guests who milled around white marble floors selecting the buffet of their choice—Southern, Mexican or Middle Eastern. But back in the neighborhood where the old house she bought is rotting away, they seldom dance on marble or dine at theme buffets. Mostly they work. And they resent the tangled, rotting presence that the Queen has bequeathed to them. She purchased the house in 1967 and lived there with first husband Theodore White for about five years. Her grandmother then occupied it but it has been empty for about seven years.

"I was here when Franklin moved in," says neighbor Millicent Lewis. "It was gorgeous back then. A doctor owned it and I know his heart has to be broken over this mess."

"It would be understandable if she had no money or clout but this is unforgivable," says paralegal Herbert Bell, who lives across the street "We've lived here 17 years and never seen the woman once. She has given us no respect."

Perhaps that word defines this bizarre tale as well as any. More than two decades ago, Aretha Franklin blended her gospel heritage with feisty blues and not only demanded but spelled out "R-E-S-P-E-C-T." The folks on Sorrento Avenue now want a kind of respect they consider just as important They have worked hard to get into $25,000-to-$50,000 homes that most treasure as much as Franklin likes her suburban palace. It is easy to imagine the slaps they have felt when they tried to preserve property values that a millionaire no longer seemed to care about

"When the grass was five feet tall," says Beatrice Cooper, who lives next door to the ghost house, "it looked so terrible that we decided to do something about it My husband cut it for years, until we heard through a nephew of hers that she wanted us to mind our own business."

In her lavish seclusion, Franklin hasn't spoken about this affair. She knew the mean streets early, and she was devastated by them in 1979, when her father, civil rights leader Rev. C.L. Franklin, was seriously wounded in a robbery at his home. He died after five years in a coma. During that time she was drawn back to Detroit but somehow her homing instincts led toward the rich suburbs.

Such a choice is entirely understandable, but there's not much understanding left on Sorrento among the people who keep tidy houses around the wreck Franklin left behind. Beatrice Cooper, whose husband cut the grass all those years, says, "We're just fed up. Our kids don't even like listening to her on the radio or watching her on TV."

There are also the photocopied signs recently posted around the front door of Aretha's house: TAKE CONTROL OF YOUR NEIGHBORHOOD BY SUING A. FRANKLIN IN SMALL CLAIMS COURT FOR $1,500 FOR DEPRECIATING THE VALUE OF YOUR PROPERTY.

Whatever else transpires in this battle, those signs may be the saddest At $1,500, the Queen of Soul has put respect into small claims court

—Pete Axthelm, Julie Greenwalt and Benita Alexander in Detroit


The paint has peeled almost out of sight, the yard is filthy and wildly overgrown. What once was a living room is now scarred with fallen blocks of plaster from the ceiling, and the garage is a virtual garbage dump. A yellowing, year-old poster from the city condemns the house as dangerous and unsafe. The condemnation order has been rescinded after minor repairs, but word did not reach at least one homeless man who slept on the whining back porch for months. The graffiti scrawled on the garage door is almost indecipherable now, but the imagination can't resist conjuring that it all might hide the secrets of some old blues song.
Advertisement
Today's Photos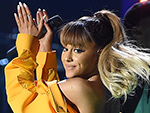 Treat Yourself! 4 Preview Issues
The most buzzed about stars this minute!