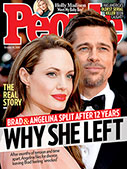 This Week's Issue!
People Top 5
LAST UPDATE: Tuesday February 10, 2015 01:10PM EST
PEOPLE Top 5 are the most-viewed stories on the site over the past three days, updated every 60 minutes
For Alison Doody in Indiana Jones, the Price of Stardom Was a Swim Through Fire and Rats


"Poor old Alison," says Last Crusade producer Robert Watts. "Within minutes of meeting Indiana [in the movie], she's down in this sewer. But she bore up to it well."

Doody, 24, is far more accustomed to playing rats. She was a gun-toting toughie in her first movie, 1985's A View to a Kill, with Roger Moore, and an IRA hit girl in 1987's A Prayer for the Dying with Mickey Rourke. In Last Crusade she's a coolly calculating art historian who beds both Indy and his dad. "Another baddie," says Alison, looking far from fierce in an ankle-length Ralph Lauren dress. "I was delighted. I admire the way the character manipulates. She uses Indy and she uses his father."

Dad, of course, is Sean Connery, whose idea of a good joke was to arrive on the Crusade set making fun of her name. "He'd sing, 'Alison Doo-dy Doo-dy Doo-dy,' " she says, genuinely amused. As for her other love interest, Doody reports, "Harrison was great. He used to make kissing sounds and say, 'I'm ready.' "

Alison should have anticipated such pranks. She won the attention-grabbing part after concluding her audition with Spielberg by getting so nervous she walked into a wall. "He thought it was quite funny," she says.

Untold millions will ultimately watch Alison's work on Crusade screens—and millions more on video. That's at least enough to let the Dublin-reared Doody thumb her nose at the American modeling agency that once rejected her glossies. Other than that, she admits, "I have no horror stories." The youngest of three children born to Patrick, a real estate investor, and Joan, a beautician, Doody reports, "I had a good childhood. My parents know nothing about the business, but if I'm happy, they're fine."

Alison certainly didn't let Mom and Dad know that on first moving to London at age 19 she unwittingly rented a flat in a red-light district. "I used to go out, and everybody would say, 'How much, love?' On days when they didn't say anything, I'd think. 'Do I look that bad?'''

She has since moved to a better neighborhood—one that has proved to be quite convenient. Alison met her current boyfriend—a 29-year-old actor she will identify only as Mark—a year and a half ago, while shooting a commercial in Egypt. "When we got back to London, he asked me to dinner," she recalls. "When he came to collect me, he pointed across the street and said, That's where I live.' "

They're spending plenty of time together now because, curiously, Doody has no future commitments. "I've been offered a few films," she says glumly. "But they included topless scenes or some really awful script like the baby-sitter who has an affair with the husband, then the wife, then the baby, then the dog—and I'm the baby-sitter." Still, she claims not to be worried. "I came away from this film saying I've done my best," says Alison, with the kind of icy self-confidence that gets her Crusade villain through pernicious plot twists and gruesome special effects. "If that's not good enough—then tough."

—Joanne Kaufman, Tom Cunneff in Los Angeles


A lot of movie ingenues have to tangle with terrible creatures—starting with paunchy producers making big, false promises. But the pretty young things who end up on a marquee with Indiana Jones must routinely battle even baser animals. As the feisty barkeep in Raiders of the Lost Ark, Karen Allen slipped out of co-star Harrison Ford's arms and into a pit of slithering snakes. As a guest at the Maharajah of Pankot's banquet in Indiana Jones and the Temple of Doom, Kate Capshaw lifted the lid on chilled monkey brains. But for Alison Doody, Ford's sidekick in the new blockbuster Indiana Jones and the Last Crusade, director Steven Spielberg reserved the ultimate urban torture—a subterranean swim through the slimy home turf of 6,000 rats.
Advertisement
Treat Yourself! 4 Preview Issues
The most buzzed about stars this minute!