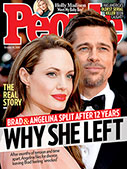 This Week's Issue!
People Top 5
LAST UPDATE: Tuesday February 10, 2015 01:10PM EST
PEOPLE Top 5 are the most-viewed stories on the site over the past three days, updated every 60 minutes
Ricky Van Shelton, the Pride of Grit, Va., Takes the Traditional Country Route to Stardom


So far he has cried himself a river of good fortune. His 1987 debut album, Wild-Eyed Dream, sold more than a million copies, rare for a country record. This year, Shelton seems headed toward his sixth consecutive No. 1 single with "Hole in My Pocket," a rockabilly tune from his latest long-player, Loving Proof. Thanks both to his talent and to the country music industry's love affair with awards shows, the 37-year-old singer has gathered a mantelful of trophies, including, this month, four—count 'em, four-Music City News Awards. But Shelton isn't in business for the laurels. Mostly he just loves singin', pickin' and bankin'. "I'm happy and alive when I walk up on that stage," he says. So much so that he'll play a slew of state fairs this summer. "Even though it's a real hassle eatin' dust and dirt," he says, "you have a built-in audience, and they pay well."

A brown-haired, green-eyed handsome man, Shelton may be the sexiest country star since Dwight Yoakam learned how to shrink his jeans. But Shelton's wife, Bettye, 36, doesn't seem to mind that her husband walks on the randy side of some fans. "I get lost in the crowd when he gets stampeded," she says. "But I enjoy it. I understand the reason the ladies act like they do, what makes them swoon when he's onstage. I think if they knew Ricky as well as I do, they'd be even 10 times crazier about him."

Bettye and Ricky have known each other ever since they grew up across the Staunton river from one another in, respectively, Altavista, Va., and Grit, Va. His parents, Jenks, a factory worker and part-time gospel musician, and Eloise, a housewife, allowed no country music, much less rock and roll, at home. They did let little Ricky sing at the Pentecostal Holiness Church, where he met Bettye Witt when they were teenagers. In high school, Shelton managed to sneak out of the house to sing rock and country at local fish frys. "I couldn't concentrate on school," he says. "I daydreamed. The teacher would be writin' on the blackboard, and all of a sudden the blackboard would just disappear. I was in another world, dreamin' about country music."

Reality, however, wrecked Shelton's dream of moving to Nashville, and he wound up wed to car payments and day jobs as a pipe fitter and tobacco puller. At night he gigged in local small clubs. "I never thought I wouldn't make it," he says. "I knew I'd be playing somehow, even if I had to win the lottery."

Bettye, who became his steady in 1979 and his wife in 1986, proved a better bet. In 1984 she encouraged him to move to Nashville, where she worked as a personnel manager while he kept house and hustled his music. Shelton's big break occurred when Bettye got a co-worker's husband to give a demo tape to a record company exec. That led to a recording contract, and in 1987 the singer's Wild-Eyed Dream came true. Says Shelton, who mines the same traditional country vein worked by Ricky Skaggs and Randy Travis: "I think the audience was really hungry for pure country music."

Now that Shelton, on the road 140 nights per year, is bringing home the platinum, Bettye is going to college to learn the economics of show business. "We don't want to be totally at the mercy of everybody else telling us what's going on," she says. Adds Shelton: "It scares us to think about putting everything in the hands of other people. We're gonna do this thing right, and after we secure our future, then we'll be reckless."

In the meantime, the couple share a small yellow frame house near Gallatin, Tenn., fish the local water hole and spend off days hunting for arrowheads in freshly plowed fields and for vintage autos wherever they can be found. Shelton already owns three 1958 Edsels, a '55 Buick, a '53 Ford pickup, a '53 Studebaker, a '50 Chevy and a '42 Pontiac. He also recently purchased a 150-acre farm northeast of Nashville.

Shelton figures that all that land and all those cars pretty much add up to a country boy's dream come true. "Now," he says, "I finally got my own junkyard."

—Steve Dougherty, Jane Sanderson in Nashville


By far the biggest human hit at the Houston Livestock Show, where he performed for an audience of 46,000, Ricky Van Shelton was stampeded by his female fans. At a Louisiana concert, women were thoughtful enough to pin their names and phone numbers inside their bras before tossing them onstage. In Midland, Texas, 40 rowdy fans rioted around his tour bus, rocking it back and forth until the singer was rescued by his crew. Shelton insists it's not his sex appeal but the emotion and sincerity of his singing that so excites the faithful. Whenever he's around a microphone, he says, "I just start cryin' out loud."
Advertisement
Treat Yourself! 4 Preview Issues
The most buzzed about stars this minute!