People Top 5
LAST UPDATE: Tuesday February 10, 2015 01:10PM EST
PEOPLE Top 5 are the most-viewed stories on the site over the past three days, updated every 60 minutes
Roberto Hernandez Battles His Arresting Similarities to a Wanted Man with the Same Name


The Twilight Zone troubles of Roberto Perales Hernandez began, unbeknownst to him, on Sept. 25, 1985, in Chicago, when police there arrested a man named Roberto Hernandez as he was allegedly in the act of breaking into a house. Authorities say that Hernandez posted $2,500 bail—and has not been seen since. Chicago police issued a warrant for him and routinely listed him in the national crime computer. They described him as follows: "5'8" tall, brown hair, tattoo on left arm, 160 pounds, Born Feb. 2, 1958."

The Hernandez who was wanted is not known to have a middle name, but he matches the identity of his unfortunate namesake in Los Angeles almost exactly.

Both men were born on Feb. 2, 1958. Both have tattoos on the left arm. And, except for one digit, their Social Security numbers are identical.

Naturally, Roberto Perales Hernandez was unaware of all this as he drove home on that February day three years ago to the one-bedroom apartment in Ingle-wood, where he lives with his wife, Alicia, 27, and their two children. An undocumented alien from Mexico who had been in the United States since 1976, he had been looking for work as an auto mechanic. That morning, he had finally landed a job. On the way home he stopped for a few beers. Police spotted his car weaving in traffic and pulled him over. When he failed an alcohol-level test, he was handcuffed and taken to a police station, where he spent the night.

The next morning, before going to court on the drunken-driving charge, Hernandez was told by a deputy sheriff that he was wanted on a fugitive warrant from Chicago. "I've never been to Chicago," Hernandez remembers telling the officer. "I've never been east of Las Vegas." Hernandez says the deputy's response was curt: "That's what they all say."

Although he told his story to a lawyer from the public defender's office, Hernandez says he was put in the Los Angeles County Jail for 11 days pending transfer to Chicago. "They wanted me to sign extradition papers to send me back to Illinois," he says. "No way."

Finally, on March 7, Hernandez was released. "I went home and figured everything was behind me," he says. Because of the time spent in jail, Hernandez had lost the mechanic's job. A few weeks later, though, his public defender told him the county, although not admitting any responsibility for his ordeal, was offering him $7,000. He took the money. After being sentenced to three years' probation and mandatory AA attendance for the DUI arrest, Hernandez figured his troubles with the law were over.

Two years later, however, the other Roberto Hernandez burst into his life again. Roberto Perales Hernandez—by then working as a school bus mechanic—was driving his sister-in-law's car in Hawthorne. "I was still on probation and trying to behave," he says. "I didn't want any trouble from anyone." Unfortunately for him, the car carried an outdated registration sticker, and he was pulled over. When police ran his name through the computer, they came up with two warrants. One was for an unpaid traffic ticket. The other was for the Chicago burglary. This time, Hernandez was handcuffed and taken to the police station.

"I'm back at the police station," he says. "I call my wife. She comes down with the $18 [for the old traffic ticket]. They say: "I'm sorry. He's wanted in Chicago for robbery." This time, Hernandez spent a week in jail before being released. And this time, for a change, he kept his job.

But Roberto Perales Hernandez is angry. He is suing the city, county and state for the second arrest, charging false imprisonment, deprivation of civil rights and—not surprisingly—the infliction of emotional distress.

He hopes that Chicago police catch up with the other Roberto Hernandez.

And, in the meantime, he is driving very, very carefully.

—Michael Neill, David Lustig in Hawthorne


Roberto Hernandez admits he was driving drunk on Feb. 24, 1986, when police in Inglewood, Calif., pulled him over. He also admits that he had an outstanding traffic ticket when he was picked up in Hawthorne, Calif., on March 15, 1988. He insists, however, that he has never, ever, been in Chicago and that he most certainly did not try to break into a house there in 1985. It's his malign shadow, the other Roberto Hernandez—the Midwestern Roberto Hernandez—who's wanted for that. In the meantime, the West Coast Roberto Hernandez keeps getting arrested for a crime he didn't commit, in a city he has never visited.
Advertisement
Today's Photos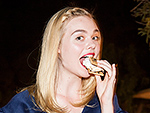 Treat Yourself! 4 Preview Issues
The most buzzed about stars this minute!