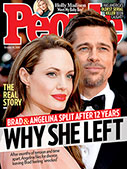 This Week's Issue!
People Top 5
LAST UPDATE: Tuesday February 10, 2015 01:10PM EST
PEOPLE Top 5 are the most-viewed stories on the site over the past three days, updated every 60 minutes
Three Nice Boys from Queens Shine as Black Shabbos, Heavy Metal's Henny Young-Men


So, you were expecting maybe Ozzy Osbourne? Taking their inspiration from Osbourne's seminal '70s metal band, Black Sabbath, and their stage monikers from some fantastic Yiddish-rock subculture, Shlomo E., Ozzy Bashevis Singer and Blind Bubba Berkowitz began life as three nice Jewish boys from Queens, N.Y., named, respectively, Brian Strauss, 29, Kevin Arthur, 29, and Bryan Snyder, 28. But when the trio don their black hats, long black coats and fake payess (side curls), they become Black Shabbos, the world's greatest Hasidic heavy-metal band.

Under the banner of its "1989 Live and Be Well Tour," Black Shabbos wields its shtik on the comedy club and college circuit, where it has worked as an opening act for Richard Belzer, Carol Leifer and stand-up acid guru Timothy Leary. Even he must have found the Shabbos boys a bit strange when they kicked into such signature tunes as "Reggae Rabbi" ("He eats bagels with dread lox..."), the rap song "Wrap It Up" ("We're coming into town/ But we have to stop jammin' before sundown...) and "Rock Me Sammy Davis," to the tune of "Rock Me Amadeus." The group's onstage patter is somewhat warped as well. "We started about 10 years ago as a not-so-successful doo-wop group called Sha-Na-Naces," says Strauss, stressing the Yiddish word for "pride." Later, "after the Yiddish invasion, we got into '60s psychedelic and changed our name to Pinchus Floyd." Adds Synder: "We were at Woodstock. Oy, we had a terrible time! I took some bad acid. Then I took some antacid and I felt much better." Ba-doom-boom.

Seriously, folks, the three met at Queens College, where they began to develop their comedy routine. "Some of the characters we did were Yiddish men," Arthur says. "We had been playing music together, and the two ideas fused." Their first audience was Snyder's father, Robert. "He would get annoyed at us, yelling, 'What's with the noise?' " says Snyder. "But we knew we were on to something when he would sneak into the room and say, 'This is funny. You should do something with this.' "

To the inevitable questions about taste, the Shabs insist they're no different from Don Novello's Father Guido Sarducci character. Besides, says Arthur, "The act is more about rock and roll and show business than about being Jewish." Says Carl Parisi, who recently booked the band for a B'nai Brith dinner in Manhattan: "I think the name comes off sounding a lot stronger than the act is. There's nothing serious about them."

Which isn't to say they aren't ambitious. Strauss, Arthur and Snyder, who all work day jobs in New York, are actively on the lookout for a record contract. After that, of course, will come the planned movies (Rabinnical Academy IV and Friday, I'm 13) and the cartoon series (He Man—Masters of Business Administration). Already, Arthur boasts, they're awash in that tawdry perk of rock and roll: armies of groupies. "Older women love our act," he says. "They love to pinch our cheeks."

—Steve Dougherty, Andrew Abrahams in New York


To the accompaniment of a screaming guitar, three wild and meshuga guys take the stage. They've got long hair. They've got black clothes. And most of all, they've got chutzpah. "Ladies and gentlemen," shouts the lead singer, "you know James Brown is the Godfather of Soul. Now, here on our stage, meet the Notary Public of Rock and Roll! On bass—Shlomo E.!"
Advertisement
Treat Yourself! 4 Preview Issues
The most buzzed about stars this minute!