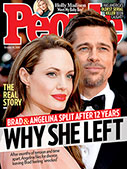 This Week's Issue!
People Top 5
LAST UPDATE: Tuesday February 10, 2015 01:10PM EST
PEOPLE Top 5 are the most-viewed stories on the site over the past three days, updated every 60 minutes
Red Army Vet Vladimir Kuts Joins Up with His GI Pals 44 Years After Battling the Nazis Together


"The last time I saw Willy, he was in a German staff car we'd commandeered," recalls Richard Fitzsinimons, 63, of Rutland, Vt. "We taught him how to drive, filled the car with rations and pointed him home. Over the years, whenever there'd be mention of the Soviet Union on the news, I'd say to my wife, Elaine, 'I wonder if Willy ever made it home.' "

Willy did make it home. And last month, 44 years after saying goodbye, he made it all the way to America as well. After a joyous visit with Fitzsinimons last month, Kuts, now 61, attended the annual gathering of the Fourth Infantry Division in Cherry Hill, N.J., where he was reunited with other members of the Fourth Reconnaissance Troop who had befriended him. The meeting was so emotional for Kuts that the first day, while sightseeing in Philadelphia, he collapsed in front of the Liberty Bell and had to be taken to the hospital for nervous exhaustion. Undaunted, he appeared the following evening before 1,200 veterans and their wives and regaled them with his story. Said his 27-year-old son, Yuriy, who acted as translator: "My father's happiest moment was when he made his first step on American land—because he never thought he could do it.

After leaving the GIs in 1945, Kuts crossed Soviet Army lines, where he was immediately suspect because he was wearing a U.S. Army uniform and driving a German car. After a lengthy interrogation, Kuts managed to convince officials of his curious tale and was inducted into the Soviet Army. But he was warned never to mention the business about being a U.S. soldier or he would surely be investigated as a spy.

Kuts knew to keep his mouth shut. His father was one of 30 million Soviets who were labeled "enemies of the people" during Stalin's reign of terror and sentenced to concentration camps before World War II. After he left the army, Kuts and his family moved to Norilsk in Siberia, where his father had been transferred. Schooled as an engineer, Kuts helped build the outpost into a city and was eventually given a comfortable position as an aide to the minister of distribution of goods. Retired, he now lives in Moscow on a pension with wife Nina, daughter Irina and a granddaughter.

Vladimir had told Yuriy about his short, happy interlude as a U.S. soldier-but swore him to secrecy as well. Then, early last year, after a mild heart attack, he expressed to Yuriy his desire to see his American friends one more time. In the spring of 1988, after learning that a group of U.S. veterans were visiting Moscow, Yuriy approached the men in their hotel and asked for help. He showed Jerry Genesio of Portland, Maine, the executive director of Veterans for Peace, a brown scrap of paper on which Vladimir had written a close approximation of Fitzsimmons's address. At first, Vladimir was furious when he heard what Yuriy had done. But he soon decided that he'd lived in fear long enough—it was time for him to tell his story. He did so last May in a letter to the Moscow News, a weekly that is translated into many languages, including English.

Meantime, Genesio quickly located Fitzsimmons, who also received copies of Vladimir's letter from Americans traveling in the Soviet Union. Veterans for Peace arranged last month's reunion, including a press conference at which Vladimir declared to his long lost friend: "Richard, we will do our best to stop war. Together, we show the meaning of true friendship." Afterward, as the two men sat under the peach tree in Fitzsimmons's backyard eating hot dogs and drinking beer, it was as if they had never been apart. Vladimir patted Richard's small paunch and joked. "Hey, capitalist." He pointed to Fitzsimmons's youngest son and remarked how much Collin, 27, looked like the Sergeant Fitzsimmons Vladimir remembered soldiering with.

That was only the first of many heady reunions. Company member William Riiska, 64, a Winsted, Conn., town clerk, took Kutson a whirlwind tour of Manhattan. Retired carpenter Robert Nystrom, 70, flew in from California for the gathering in Cherry Hill. "I wouldn't miss it," he said. "I've told people about Willy all my life. They never believed me." Kuts recognized Eugene Maley, 69—an advocate for ex-cons and the disenfranchised—as soon as he arrived. "I thought he was going to tear the door off the car when he saw me," says Maley. The former comrades-in-arms spent much of their time reminiscing, poring over snapshots from their war days, exchanging gifts and toasting each other with Pshenichnaya vodka straight up. Vladimir, whose English got better every day, also developed a taste for cheeseburgers with ketchup, soft ice cream and light beer—but he was not enamored with all things American. "I don't like baseball," he says. "To me, all this running and beating means nothing."

At first many veterans at the Fourth Division reunion were puzzled by Vladimir's presence. But after his heartfelt speech in which he thanked the U.S. Army for his freedom, there was long applause. Throughout the night, veterans of wars ranging from World War I to Vietnam came forward to shake Vladimir's hand. "I'm afraid for him this moment," said Yuriy, reflecting on the previous night's palpitations that had put his father in the hospital. "So much. So big. So many friends." Vladimir immediately got the drift of his son's words. "No problem," he told him in English. Then he put his hand to his heart and said, "Just fine."

—William Plummer, Yvonne Daley in Cherry Hill and Rutland


Vladimir Kuts was 17 in March 1945, when American troops liberated him, along with thousands of others, from a Nazi labor camp near Stuttgart, West Germany. Taken from his home in the Soviet Ukraine, Kuts had been in the camp for three years, and the emaciated teenager fell instantly in love with the soldiers who set him free. Later that night, Vladimir warned them of an impending German ambush, and the Yanks were able to launch a successful counterattack. After the battle, they invited the young Russian to join their ranks as a machine gunner and translator. They gave him a nickname, GI Willy, which he proudly carried the next several months until the Germans surrendered.
Advertisement
Treat Yourself! 4 Preview Issues
The most buzzed about stars this minute!