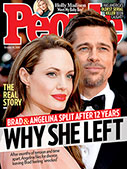 This Week's Issue!
People Top 5
LAST UPDATE: Tuesday February 10, 2015 01:10PM EST
PEOPLE Top 5 are the most-viewed stories on the site over the past three days, updated every 60 minutes
In a War of Nerves, First-Time Actress Thuy Thu Le Relives Vietnam in Casualties of War


In the film Thuy plays Oahn, a village girl who is abducted, raped and murdered by a platoon of American soldiers. Casualties of War, which stars Sean Penn as a deranged squad leader and Michael J. Fox as the soldier who tries to save Oahn, is based on an incident that occurred in the Central Highlands in 1966—the same year Thuy was born. Shot in remote sections of Thailand, the film was both physically grueling and emotionally demanding for Thuy. "I'd never been in front of a camera before and being in that role was even worse," says Thuy, who played the part wearing peasant pajamas and a long wig over her bobbed hair. "Some days I'd go back to my hotel upset. I'd think, 'Oh, God, what am I doing here?' "

Thuy (pronounced Twee) was not prepared for this cathartic experience when she auditioned for the role. An American living in Paris, she thought her Vietnam days were far behind her. But in February 1988, when she saw Brian DePalma's open casting call posted on the door of a Vietnamese restaurant in Paris's Chinatown, she answered it on a whim. "I thought maybe it would be a summer job as an extra. If I had known it was for a major role, I wouldn't have gone."

At the audition Thuy and dozens of other hopefuls were told to "just look scared and yell," she says. After seeing Thuy's performance on videotape, director DePalma, who had also held casting calls in New York, Los Angeles and London, came to Paris to make his final selection. "There was something about the electricity in Thuy's eyes, her passion, that was stunning," says DePalma. Several days after meeting with DePalma, Thuy was on her way to Bangkok for four months of filming.

Thuy's arrival in Thailand was almost as abrupt as her departure from Vietnam 14 years earlier. The youngest of 10 children, she was born in the province of An Binh. For most of her childhood the family lived in Saigon, where her father, Le Cong Chat, was minister of the interior in the South Vietnamese government and her mother, Huynh Thi Tam, was a fifth-grade teacher. On April 30, 1975, with North Vietnamese troops advancing on the city, Thuy, her father and two of her brothers escaped on a ship, leaving her mother, a sister and two brothers behind. (Her other four siblings had already left the country.) "There were bombs. There was chaos in the city. People were climbing on helicopters," recalls Thuy. "We didn't really know where the ship was going. Everybody was climbing on, and that's how I got on too."

The boat landed in the Philippines, and within a few weeks the family was bound for the U.S., where they settled in a refugee camp in Florida. Thuy then hop-scotched across the country as her father, who worked with other refugees, moved from one local welfare office to another, ending up in Silver Spring, Md. Thuy's mother was the last to leave Vietnam. In 1979 she joined one of her sons in Paris but never saw her husband again—Thuy's father died of cancer in 1981. After his death, Thuy moved to Wheaton, Ill., where she lived with one of her sisters and finished high school. Thuy joined her mother in Paris in 1986 and planned to return to the U.S., until love intervened. That year she met Phan Quang Binh, now 28, a medical student who had come to France via Laos with his family eight years earlier. Thuy was applying to colleges in France when she was cast in Casualties of War.

While she says the film's rape scene was "really intense," the hardest scene for her was the one in which she pleads with Michael J. Fox to help her escape, not knowing that he already wants to save her. "I'm speaking Vietnamese, and I have to let him and the audience understand what I'm saying," she explains. Says Fox of the scene: "Thuy didn't have a script. A lot of the pleading and what she said, Thuy just made up. That just astounded me. It was heart-melting."

Making the movie gave Thuy a new perspective on the war. "The title, Casualties of War, makes you think that everyone is a victim, not just the girl who was raped and killed," she says. "The soldiers were also victims, even if they were beasts. It was hard for them, you feel sorry for them."

Thuy would like someday to visit her homeland, but first there is the matter of finishing her college education in France and settling into her role as a newly-wed—she and Binh were married in December. Although she enjoys the attention she's getting from the movie, Thuy isn't sure she wants to pursue an acting career. "To tell you the truth, I don't expect any offers after this," says Thuy. "It was just this experience that I'm very grateful for."

—Mary H.J. Farrell, Cathy Nolan in Paris


Thuy Thu Le, 23, was too young to understand the Vietnam War when she fled Saigon with her family in 1975. It was only when the first-time actress returned to Southeast Asia to film this summer's Casualties of War that the horror of the conflict became clear to her. "We'd hear about what battle was going on where, who won, who lost, but at that time I really didn't care. I was little," recalls Thuy. "The movie made me understand how [the Vietnamese] were living and the fear they were feeling."
Advertisement
Treat Yourself! 4 Preview Issues
The most buzzed about stars this minute!