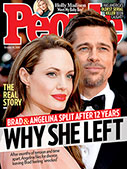 This Week's Issue!
People Top 5
LAST UPDATE: Tuesday February 10, 2015 01:10PM EST
PEOPLE Top 5 are the most-viewed stories on the site over the past three days, updated every 60 minutes
Ringo on the Rebound
The Fab Four's Drummer Shakes a 20-Year Hangover and Steps Out, with a Little Help from His Friends


Once and forever the lovable, sad-eyed, mop-top, Ringo, now 49 and a granddad, has finally put together a touring band he can feel comfortable with. He has also put behind him—he hopes—a 20-year drinking habit that left him a recovering alcoholic with an almost invisible career. By 1988, the drummer-singer-sometime actor was reduced to playing an 18-inch train conductor on Shining Time Station, a TV kiddie show.

Now he is, by contrast, once again living large. Lugging more old gold than a Spanish galleon, Ringo's All-Starr Band includes two former members of the Band, a lone Eagle, two employees of the Boss's E Street Band, an L.A. session whiz and super soloists Billy Preston and Dr. John, not to mention the newly sober Starr of the show himself. Never known for his pipes, Ringo sings out of tune now and then, but so far during the 30-city, 42-day tour, no one has stood up and walked out on him. "I get up and I give it my best shot," he says. "The audience isn't expecting Pavarotti."

For fans, Ringo reprising his Beatles hits beats Don Giovanni any day. "The incredible amount of love he gets from the audience is overwhelming," says actress Barbara Bach, 42, of Ringo (né Richard Starkey), her husband since 1981. "They just love Richie. All he has to do is go out there, and people are so happy."

The feeling is mutual. "This whole thing is a joy for me," says Ringo. "I'm not just stuck behind the drums. I'm up there doing my boogie. A lot of my songs are chorus songs like 'Yellow Submarine' and 'With a Little Help from My Friends,' so we seem to have a sing-along every night. And there's great camaraderie because we're all working for each other. Everyone gets the spotlight."

Which is something he has spent most of the past two decades ducking. The Beatles' 1970 breakup left Ringo feeling "absolutely lost," he says. "I wasn't interested in being in another band right away. I was hiding because of all those pressures." What does one do when one is an ex-Beatle? "You just sit around the house like everyone else does," Ringo says. "You go into London, or you go shopping or to the movies or watch the telly."

After his solo career peaked in 1973 with the album Ringo, Starr dropped into a lackadaisical life of scattered public appearances and an occasional LP Privately, he looked for answers in the bottom of a shot glass. "I had a serious drinking problem," says Ringo, whose cognac swilling was legendary. "I didn't work or do anything. I wouldn't go out, because you'd have to be in the car for 40 minutes without a drink."

Ringo did think about touring during all those years he holed up at his Hollywood Hills home. "Drunks are great talkers," he says. "We'd sit around for nights on end and talk about what we were going to do. And of course I'd get so bleed-in' drunk, I couldn't move. The result of being drunk was that nothing happened.

"Barbara fell into the trap because of me. She was an actress who used to go to bed at 10 at night and get up at 8 in the morning. Till we met. Then her career went the same way as mine. I did two records, a few shows. But working two days a year is not having a career."

Despite warnings from his mum—"she'd see me getting a bit crazy"—and Barbara—"every couple of months she'd try and straighten us out, but then we'd fall right back into the trap"—Ringo tippled to beat the band. "It got progressively worse, and the blackouts got worse, and I didn't know where I'd been, what I'd done. I knew I had the problem for years. But it plays tricks with your head. Very cunning and baffling is alcohol."

Bach and Ringo, who "don't do anything separately," he says, checked into the Sierra Tucson rehab clinic in Arizona last October for five weeks. "We went into rehab because we needed desperately a change," Bach says. "I got used to living at the bottom. But you get to a point where you realize, 'This isn't living.' "

For Ringo, it was tough putting the high life behind him. "I landed drunk as a skunk at the clinic," he says. "I drank all the way and got off the plane completely demented. I thought I was going to a lunatic asylum. Eight days in, I decided, 'I'm here to get help because I know I'm sick.' And I just did whatever they asked me and, thank God, it pulled me through. I can never thank that clinic enough."

Reentry wasn't easy. "You get very safe in the clinic," Ringo says. "I didn't want to leave. I didn't know if I could handle it. If any of my friends can't deal with me being sober, then I just don't bother with them. Because for me to live is more important than a friend getting uptight because I won't have a drink. If we go to a party now, Barbara and I usually leave around about 11:30, when everyone else starts getting rocky. Your life is changed completely around."

His family was the first to notice. "My daughter, Lee, says, 'It's great hanging out with you, Daddy. You're not drunk or watching telly.' It makes my heart glad."

Starr hopes the years of career stupor are behind him as well. "I lived that ridiculous myth: To be creative you have to have your brain twisted in some way. Since we've stopped, it's fabulous. I'm having fun, I'm on the bloody road again, and I actually notice what's happening."

Such wasn't always the case. "With the Beatles," Ringo says, "we did the job, sometimes in a strange state of mind, but we did the gig. I drank quite a bit. I didn't think it was excessive then. You had a day off, you'd party. You get caught up thinking it's a normal thing to do."

But boozing didn't begin with the Beatles. "Until I got to the clinic, I didn't realize I was from a dysfunctional family," Ringo says. "We had parties, everyone gets drunk and passes out, and that's part of life. My mother always told me that when I was 9, I was on my knees crawling drunk. A friend of mine's father had all the booze ready for Christmas, and we decided to try all of it. I don't remember too much. That was my first blackout."

Sober, Ringo has enjoyed watching his past come back into focus. "I was a fan before I was a Beatle," he says. Early rock crooner Johnnie Ray was one of his first heroes. "When I was 15, he was sitting on the top of Liverpool's Adelphi Hotel throwing photos down to the fans, and I thought, 'That's the job for me.' "

Promotions came fast. Ringo believes the Beatles became "monsters" thanks to a happy mix of talent—"the Lennon-McCartney songs were the most important thing about the Beatles"—and a quirk of history: "We were the first generation not to be called up in the army." America was conquered after a chance encounter, Ringo says. "We were getting off the plane in London from Sweden, and Ed Sullivan was coming in from New York. There were 12,000 kids around the airport. He booked us on the spot. We'd had two failed records in America, but he saw this crowd." Suddenly, Ringo's star was born. "America opened it up for me," he says. "I was 'the drummer' in England, and over here I was Ringo Starr, an integral part and one of the four. It wasn't just 'him at the back' anymore."

But not even being a Beatle ensures respect from the younger generation. Ringo, who last March moved to Monte Carlo with Bach and her children, Francesca, 21, and Gian Andrea, 16, keeps close to his brood from his first marriage: Zak, 23, Jason, 22, and Lee, 18. "Zak is a drummer, and the others have retired," he says. "They call it finding themselves. I call it retired. If I catch a band or buy a cassette, Lee will go, 'Oh, they've sold out, Daddy.' When I buy it, they've sold out. Lee told me about Jimi Hendrix like I hadn't heard of him. When Zak was 16, he played me Ray Charles. 'You've got to hear this, Daddy.' Ray bloody Charles! I showed him I had over 100 Ray Charles albums. They come up to me with these new acts that I've known since I was 20."

One act they'll never see is the Beatles. "There's no such thing as a Beatles reunion," Ringo says. "John is dead. It would be completely stupid for us to ever think of it as a Beatle reunion. The three guys who used to be in the Beatles could get together, but that's all it would be."

Besides, Ringo's All-Starr Band allows him "to get down in the front and sing to people and mess with the mike," something he never did with the Fabs. His new role sometimes gives him a touch of stage fright, but he swears that won't turn into high anxiety. "I used to drink when I got nervous," says Ringo. "Now I just stay nervous."

—Steve Dougherty, Victoria Balfour in Detroit


Advertisement
Treat Yourself! 4 Preview Issues
The most buzzed about stars this minute!