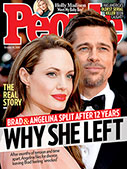 This Week's Issue!
People Top 5
LAST UPDATE: Tuesday February 10, 2015 01:10PM EST
PEOPLE Top 5 are the most-viewed stories on the site over the past three days, updated every 60 minutes
Jailed for a Rape That Never Happened, Gary Dotson Has His Name Cleared at Last


At her home in Harrisville, N.H., Cathleen Crowell Webb, now a 28-year-old mother of four, also breathed a sigh of relief. "It came 12 years too late and not a moment too soon," she said. "Every time I looked at my children, I thought of the suffering I caused the Dotson family."

In 1977 Cathy Crowell was a frightened 16-year-old, worried that she was pregnant by her boyfriend, David Beirne. She made up a rape story and stuck to it even when Dotson, whom she had never met, was jailed. Then in 1985, after becoming a born-again Christian, she came forward to confess it was all a fabrication. But the trial judge and Illinois Gov. James Thompson found her recantation unconvincing and refused to drop the charges. Finally, under public pressure, Thompson commuted Dotson's 25-to 50-year sentence to time served and paroled him.

Emerging from prison into the glare of media attention, Dotson proved ill prepared to handle his sudden celebrity—or the burden of still being presumed guilty. "I was living a nightmare I couldn't escape," he says. "I got sick and tired of trying to prove I was innocent, so I crawled into a shell, and then I didn't know how to get out of it." His marriage to Camille Dardanes, a 21-year-old bartender, and the birth of a daughter, Ashley, in 1987, seemed to compound his problems. Drowning his difficulties in booze, Dotson racked up a series of scrapes with the law over alcohol-related traffic offenses. A domestic dispute landed him in jail again in 1987. Thompson granted him a "last chance" release, but in December, Dotson was jailed again for violating parole.

Convinced that Dotson was being abused by the system, Chicago attorney Thomas Breen decided to try to clear his name. He petitioned the court to release evidence from the trial—Cathleen Webb's semen-stained underwear—for DNA analysis, which compares the genetic material in the sperm with that of a suspect. The results eliminated Dotson and found the semen compatible with that of Webb's old boyfriend, Beirne. Still, Governor Thompson stubbornly refused to act on the evidence. Breen turned to the courts, and Judge Fitzgerald ruled the DNA test admissible and overturned Dotson's conviction. Inevitably, Dotson's relief remains tinged with bitterness. "I feel like I've been chewed up by the system," he says. "The evidence that I was innocent was there, but people didn't want to look at the truth."

Dotson's wife filed for separation in April, but he looks forward to getting to know Ashley, 2. Now a part-time construction worker, he will start college this fall with a view to a career in counseling. After a year in a prison-mandated alcohol rehabilitation program, Dotson says he has gained new perspective. "I've taken a hard look at myself," he says. "And now that I'm cleared, no one else can dictate my life. I won't always have to be looking over my shoulder."

—Montgomery Brower, Civia Tamarkin in Chicago


For 12 haunted years Gary Dotson had prayed for this day. Standing in a Chicago courtroom, he heard Cook County Chief Criminal Courts Judge Thomas R. Fitzgerald pronounce the words of absolution: "You, sir, are discharged." Four years after the woman he had been convicted of raping recanted her accusation, Dotson, 32, was a free man with a clean slate. Amid cheers and applause, he smiled as his brother and sisters hugged him, jokingly pinching his arm to assure him he wasn't dreaming. "It's over," he said, "it's really over."
Advertisement
Treat Yourself! 4 Preview Issues
The most buzzed about stars this minute!