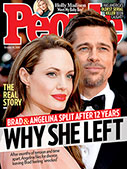 This Week's Issue!
People Top 5
LAST UPDATE: Tuesday February 10, 2015 01:10PM EST
PEOPLE Top 5 are the most-viewed stories on the site over the past three days, updated every 60 minutes
In Chicago, Two Angry Priests Declare a Holy War on Drugs


Tough words. But Father Pfleger and his colleague, Father George Clements of Chicago's Holy Angels Church, are showing they have the heart and gristle to back them up. Since last spring the two have waged a small-scale war on the drug dealers that infest the poor neighborhoods around their inner-city churches. Their strategy sounds simple enough: Put pressure on local stores to stop selling drug paraphernalia, in hopes of slowing drug consumption at least marginally. The reaction from the dealers has been anything but benign, and the two have received numerous anonymous death threats—so many that earlier this month the city of Chicago assigned Clements and Pfleger round-the-clock bodyguards. "The threats," says Father Clements, "are a sign we've been effective."

A longtime civil rights activist who marched at Selma and once advised the Black Panthers, Clements gained national attention eight years ago, when he started an adoption program for homeless black children. This year, concerned about drug trafficking in his parish, where, he says, "virtually no family has been left untouched" by the plague, he took action after becoming disgusted at the brisk business that local grocery and convenience stores were doing in cocaine spoons, marijuana roach clips and glass pipes for smoking crack. Says Clements: "I was outraged that so many children were going to the stores for candy and were faced with all that."

In May, Father Clements, 57, decided to do something—though not before recruiting Father Pfleger, 40. "He's very dynamic," says Clements. "I felt the campaign needed his impact." First the two clerics began dropping in at stores and asking them to remove drug paraphernalia from the shelves. "Many said okay," says Clements. "But a few weeks later they'd put [the items] back in. I finally got fed up with playing games."

At that point Clements and Pfleger printed up blue-and-white signs that read: SAVE OUR CHILDREN. WE DO NOT SELL DRUG PARAPHERNALIA IN THIS STORE. The priests told the store owners that if the signs were not posted and the offending articles removed, they and their parishioners would start a boycott. "I stood personally in front of the stores," says Clements, "and asked people not to go in." So far more than 400 stores have complied and put up the signs.

That success has not been achieved without cost. The threats come at all hours of the day and night, in the mail and over the phone. Father Clements says the worst that has actually happened to him so far was having the radio ripped from his car. Left behind was a note that read: THE FIRST OF MANY. YOUR FRIENDLY DRUG DEALER. The dealers also threatened to destroy Pfleger's home, where he lives with son Lamar, 16, whom he adopted eight years ago. "I am nonviolent, a pacifist," says Pfleger, "but if anyone touched Lamar, I wouldn't be nonviolent."

Neither, says Clements, would he. Clements has four adopted sons: Joe, 22, St. Anthony, 21, Friday, 20, and Stewart, 19. He says his boys are opposed to his crusade. "They're afraid it's going to reverberate against me. I'm very queasy about the way [the drug dealers and their sympathizers] are taking after my boys."

But not queasy enough to give up the fight. In June Clements and Pfleger visited he Good Deal One-Stop Distribution Co., a wholesaler on West 79th Street, to find out what sort of equipment was on display. When the two priests were refused entry, Clements beat so hard on the glass door that he shattered it, cutting his arm. He was sewn up at a nearby hospital, then he and Father Pfleger were charged with criminal trespass and damage to property. (The charges were dismissed when the store clerk failed to appear at the trial.)

The publicity, however, appeared to have a stimulating effect on the Illinois legislature. Shortly after the Good Deal incident, legislators moved to make it illegal for stores to carry drug paraphernalia. Afterward, says Clements with satisfaction, "House Bill 394 passed without one dissenting vote." Last week Gov. James Thompson signed the bill in a ceremony outside Clements's rectory.

In coming months, Clements says, he and Pfleger plan to march on neighborhood crack houses and carry their holy war to Washington, D.C., where they hope to convince Congress to adopt a federal law against the sale of drug paraphernalia. "I know this bill is no panacea," he concedes. "But it will increase the level of awareness and help rob the dealers of their legitimacy."

—William Plummer, Barbara Kleban Mills in Chicago


The white priest stood on the steps of his church on Chicago's west side and told his black parishioners that the crusade against drugs was entering a new phase. "We must drive the dealers and the drugs out of our community," said Father Michael Pfleger of St. Sabina's parish. He entreated his faithful to come forward and pass along the names and addresses of pushers. Then he spoke to the dealers themselves. "We know who you are and where you are," he said. "We intend to march on you in your homes, in the parks and back alleys, to turn you in to the police and finally to drive you from our communities. You are the minority, and we are the majority. We are not afraid of you. We intend to make you afraid of us."
Advertisement
Treat Yourself! 4 Preview Issues
The most buzzed about stars this minute!