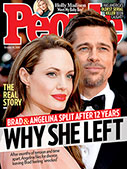 This Week's Issue!
People Top 5
LAST UPDATE: Tuesday February 10, 2015 01:10PM EST
PEOPLE Top 5 are the most-viewed stories on the site over the past three days, updated every 60 minutes
Playing All the Anglers, TV's Babe Winkelman Hooks a Huge Piscatorial Audience


Host of the syndicated TV show Good Fishing, which appears in 89 markets, Babe is America's hottest video angler. Each week some 2 to 3 million armchair anglers tune in for 30 minutes of easy-to-follow advice from the perfect master of things piscatorial. "I try to put it in simple terms," says Babe. "I know what the guy on the street wants." The show also has a certain gritty, down-home charm. He sometimes takes along his wife, Charlie, and their five daughters, and sometimes he snaps at them. "People like it real," he says. "They want to see me yelling at Charlie when she steps on my rod"

While fishing may be a relaxing pastime to most to the Babe, who has parlayed his boyhood passion for the sport into a $5 million empire, it's very serious business indeed. He has produced 69 best-selling videos and six books, such as Jig & Live Bait Fishing Secrets, which sell 100,000 copies a year. He also hawks official Babe Winkelman T-shirts, fishing vests, hats, sunglasses and decals.

Babe, born Donald, grew up on a farm near Duelm, Minn., and got hooked on fishing at age 6 on his first trip with his dad, a construction firm owner. "The lake was so clear, I could see the fish taking my bait," he recalls. "I was intrigued by the idea there was another world under that water." So intrigued was he, in fact that he struggled to graduate from Foley High School. He attended St Cloud State College, but only for about 15 minutes. "I gave my books to the guy at the next table and walked out" he says. "I wanted to learn about fishing, and they didn't teach that.

To keep himself in worms and stinkbait the Babe started his own construction firm. "I was hallway to being a millionaire at age 25," he says. "But I was stressed out, on Valium and working seven days a week." Worse, he was barely fishing at all. So Babe sold his company, opened a tackle shop and began demonstrating gear for manufacturers. The fringes were great lots of fishing. Starring in a TV commercial for an insect repellent led him into TV, and by 1980 he was making one-minute fishing shows.

Good Fishing, which began in January 1984, has been too successful. All that annoying merchandising so reduced the Babe's fishing that he recently slashed his staff from 34 to 15. "If I don't have my butt on the lake 150-180 days a year," he says, "I get unhappy." Just last month he caught his biggest fish ever, a 400-lb. sturgeon, on Idaho's Salmon River (he releases all his catches). His off-water time is mostly spent with Charlie and the girls, Tanya, 17, Jennifer, 16, Jasmine, 7, Donielle, 5, and Mackenzie, 2, who share a 40-acre spread north of Brainerd, Minn. Going fishing with the old man is not always considered a treat around the Winkelman household. "Once he started yelling at me because I read a book in the boat" Charlie says. "He said, 'We're here to fish, not read' " And what's he like when he's not fishing? "When he's not fishing, he's usually talking about fishing," sighs Charlie. "The man," she adds, unnecessarily, "is addicted."

Babe's plastic worm is now jigging nicely through a weed bed, in a seductive, bass-catching hula. Suddenly his rod bends double. He has found not merely a bass but a 3-foot-long lunker. "Good fish," says the man who considers all fish good. "I can't think of a thing I'd rather be doing. If the Lord said pick one thing—and one thing only—you could do with your life, I'd pick...fishing."

—Jack Friedman, Bill Shaw on Mission Lake


A great cloud of depression hangs over Mission Lake in northern Minnesota. The bass seem to have disappeared, and this has made the bass fishermen very, very despondent—except for Babe Winkelman, who's perhaps the most obsessive angler since Captain Ahab. Winkelman, 40, is determined to catch bass. "I believe I know where the fish are today," shouts Babe as he guns his $18,000, 17-foot bass boat across the glassy surface. "The weeds and bottom edges..."
Advertisement
Treat Yourself! 4 Preview Issues
The most buzzed about stars this minute!