People Top 5
LAST UPDATE: Tuesday February 10, 2015 01:10PM EST
PEOPLE Top 5 are the most-viewed stories on the site over the past three days, updated every 60 minutes
Karen Severson Swore She'd Find Her Best Friend's Murderer—Now She Stands Accused of the Crime


Before the lawmen could finish the story, Irene collapsed on her living room floor. Three days later she fainted again at Missy's funeral and was rushed to a hospital emergency room while her daughter's rose-covered casket was lowered into the ground.

Fortunately, Irene wasn't alone in her grief; Karen Severson, Missy's best friend, was there to lend moral support. Missy and Karen had grown up together, more like sisters than playmates. So when, after Missy's funeral, Karen asked to move in with Irene, a divorcée then living with two of her three sons, she welcomed her. Karen vowed to find the "animal" who had killed her friend, and she helped Irene try to track down clues. She lived with Irene for three months and remained close afterward, sitting up nights sharing memories of Missy.

Irene felt she might not have survived Missy's death if not for Karen. "She became like a daughter to me," Irene recalls. But Karen's support was not all that it seemed. All along, prosecutors say now, Karen knew exactly who killed Missy, because she was there when Missy died. It is nearly a year now since police charged Karen Severson and another girl with Missy's murder; their trials are set to begin next Monday (Sept. 18).

Karen had loved Missy, but she was also intensely jealous of her more attractive, more popular friend. Eventually, authorities say, that jealousy turned to hate and the hate to murderous rage. Irene theorizes that, by acting as her helpmate, Karen tried to hide her involvement, but could not hide it from herself: Karen came to believe that she was haunted by Missy. She claimed to have seen her ghost and to have felt a weird presence she insisted was her dead friend.

Missy Avila met Karen Severson when they were 8, after Karen's family moved into the house around the corner in the quiet community of Arleta, 20 miles north of Los Angeles. Missy was the first girl to befriend the shy, awkward Karen, inviting her home to play with dolls. They became fast friends, walking arm-in-arm to school and returning to jump rope or share secrets under the willow tree in front of the Avila home.

In junior high both girls fell in with a tough, drug-using crowd of kids. By the time Missy and Karen reached 10th grade, events had begun to sunder their friendship. While Karen put on weight. Missy blossomed into a petite, green-eyed beauty. She began spending more time with boys and less with Karen. At one point she was beaten up by a group of girls who accused her of sleeping with their boyfriends. Later, a girl told Missy that it was Karen who had spread the rumor about her. "Missy was so mad at the girl for telling her it was Karen's fault," Irene remembers. "She knew Karen would never do a thing like that."

During her junior year in high school, Missy began dating a boy named Randy, who loved her, though perhaps not as much as he loved partying. After a month she broke up with him. Randy soon took up with Karen, and the teenage lovers moved into an apartment that became party central. One afternoon, Missy told Irene, Randy pulled Missy onto his lap just as Karen walked into the room. Missy, Irene says, told Randy she wasn't interested, and later suggested that Karen dump him. "Karen was really upset because the guy she wanted didn't want her," recalls Irene. "He wanted Missy."

By September 1985, Karen had stopped speaking to Missy. Ten days before Missy's death, other youths say, Karen menaced Missy with a beer bottle in a neighborhood park. Friends separated them, but not before Karen pushed and slapped her former pal. Irene had heard about this fracas but did not connect it to her child's murder. Karen and Missy, after all, had often quarreled during their long friendship.

On Oct. 2, Missy told Irene she was going out with Laura Doyle, an old school friend. "When Laura got to the house, the girls were laughing and talking about boys," Irene recalls. "As they drove off, they seemed very carefree." Four hours later, Laura called the Avila house and asked to speak with Missy. Irene was puzzled. "I told her I thought Missy was with her," she says. Laura told her that she had dropped Missy off to talk with three boys in a blue Camaro while she drove off to get gas. When she returned, Missy, the boys and the car were gone. Two days later, hikers found Missy's body.

Over the next 28 months, police checked out leads on blue Camaros. Irene, too, drove the streets relentlessly, looking for cars that fit the description. Karen seemed equally obsessed with the killing. She visited Missy's grave two or three times a week, leaving balloons and flowers. She covered the walls of her bedroom with pictures of her dead friend and newspaper articles about her murder. She even began to frequent the scene of the crime, drowning her sorrow in beer beside the creek where Missy had died.

The end of the charade began when Karen suddenly and inexplicably announced that Laura Doyle wanted to change her story. Early last summer, Karen summoned Laura to Irene's house, where Laura haltingly told Missy's mother that she had lied. There had been no blue Camaro, she said; the truth was that she had dropped Missy off near an L.A. church to deliver $500 to a drug dealer.

While investigators pursued this new lead, Karen told Irene she was having visions of Missy. Sometimes the apparition floated over her bed at night. Once, while visiting Irene, Karen gasped and cried out that Missy was sitting on the sofa. After one of her visits to Missy's grave, Karen told a friend, her van wouldn't start. "Missy, let me go!" she screamed, convinced that the dead girl was responsible.

Finally, in July 1988, acting on a tip from Karen's friend Eva Chirumbola, police arrested Karen and Laura Doyle on first-degree murder charges. According to prosecutors, Karen and Eva, with Laura's knowledge, had followed Laura and Missy to the national forest. Eva says that she saw Karen and Laura shouting at Missy and pushing her toward the creek. Eva maintains that, frightened by the violence, she retreated to the car and saw no more. But, she testified at a pretrial hearing, Laura admitted that she and Karen had killed Missy. Laura's boyfriend had recently left her, and Irene thinks that, once again, Karen had planted the idea that Missy was to blame.

Both women have pleaded not guilty. "I know the details of what happened to Missy," says Karen, "but I'm not going to say." Karen, who now carries more than 200 lbs. on her 5'2" frame, still insists from her jail cell that "a lot of people were upset" that Missy had horned in on their boyfriends. "Missy wasn't as innocent as everyone thinks," she says. "When she moved in on my territory [Randy], I just couldn't take it anymore. But no matter what, I couldn't kill her."

Irene's grief is compounded by the shock of having intimately shared it with a woman implicated in her daughter's death. "She was Missy's best friend," says Irene, "but she was jealous of Missy's family, Missy's looks, Missy's popularity and even Missy's relationship with me." Missy's brother Mark, 24, agrees. "Karen," he says, "wanted to be Missy."

Yet if Karen had been seething with love and hate, jealousy and guilt, she somehow managed to keep it hidden. "We talked to Karen several times during the investigation," says L.A. Deputy Sheriff Bill Patterson, "and not once—I mean never—did we suspect she was in on the murder." Irene never suspected Karen either, for it was beyond her comprehension that someone so close to Missy—and to her—could have been involved in the killing. "Who knows, maybe Missy was haunting Karen to make her pay for what she did," says Irene. "If it's possible, then I hope to God she's haunting her each night in prison."

—Karen Kingsbury in Los Angeles


As soon as the sheriff's deputies pulled up in front of the house, Irene Avila knew the news would be bad. Her daughter, Missy, a pretty, popular 17-year old with waist-length auburn hair and a gorgeous smile, hadn't come home for two nights, and Irene feared the worst. The deputies confirmed it: Missy was dead. Hikers had found her body, facedown in a creek near a secluded path in the Angeles National Forest, 30 miles east of her hometown, Arleta, Calif. Someone had hacked off chunks of her hair, and there were bruises on her face and shoulders. She had drowned in eight inches of water, a heavy log on top of her neck.
Advertisement
Today's Photos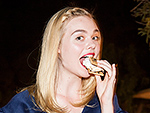 Treat Yourself! 4 Preview Issues
The most buzzed about stars this minute!