People Top 5
LAST UPDATE: Tuesday February 10, 2015 01:10PM EST
PEOPLE Top 5 are the most-viewed stories on the site over the past three days, updated every 60 minutes
A High School Football Record Gets Smashed in the Name of Law


"He's in a world of his own," says Bud Wright, coach of Law's team, the Sheridan, Ind., Blackhawks.

The boy's otherworldliness is even more obvious once the game starts. Against the hapless Hamilton Heights Huskies, the 18-year-old senior rampages for 318 yards on 23 carries, scores six touchdowns and kicks three extra points. This balmy evening Law seems unstoppable, and one play in particular, a 50-yard touchdown romp, illustrates his sheer speed and power. The 6'200-pounder bursts through the line with four defenders hanging on to various parts of his anatomy. He drags them for 10 yards, finally shakes them off, then streaks—he has covered 40 yards in 4.4 seconds—into the Hamilton Heights end zone.

Afterward, Huskies coach Kevin Roth is philosophical despite the 53-6 loss. "Right now, that kid is as good as a lot of running backs playing Division One college ball," he says. "High school kids just can't tackle him."

Indeed. Law has shattered, or is about to shatter, a whole host of U.S. high school records. Last season, in 14 games, he racked up 453 points, breaking a 35-year-old national scoring mark while leading the Blackhawks to their second straight state championship (with play-off scores of 83-6 and 85-0). Law's 66 touchdowns smashed another single season record. Now, with 131 career touchdowns and 881 points, he has just destroyed the all-time high school scoring mark of 127 TDs, and he's fast closing in on the 899 points set in 1953 by the legendary "Sugar Land Express," Ken Hall of Sugar Land, Texas. This season Law has averaged an astonishing 32 points a game and an equally mind-boggling 10 yards per carry for the 6-1 Blackhawks. The Blackhawks' only loss this season came, not coincidentally, on a day when Law was sick. He also catches passes, blocks fearsomely, kicks extra points and plays middle linebacker on defense.

Carrying the ball, Law is no dancer; he has always preferred power to finesse. "I'd rather run over someone than go around them," he says. "If someone has said something nasty to me, I might juke him just to embarrass him, but mostly I like knocking people over." Paradoxically, he is shy off the field. Ask him about his scoring records and his 250 college scholarship offers, and Indiana's finest turns crimson. "I don't think about that stuff," he says quickly. With his blond hair and aw-shucks ways, Law seems the Hoosier farm boy he is. He lives on a 1,500-acre family spread in Ekin (pop. 80), Ind., 30 miles north of Indianapolis. The cornfields stretch from horizon to horizon, and on clear autumn nights you can hear a dog bark in the next township.

Law surely inherited some of his ability from his dad, Donnie, a star running back for the Blackhawks (1966-69), but he has worked furiously to make himself the one-man juggernaut he has become. His summer conditioning program would leave most NFL players screaming for mercy. After eight grueling hours of chores on the farm, he lifts weights with his father for two hours every night; Brett can bench press 365 pounds, Donnie, who is 37,440. Then Brett drives to the football field and runs for 90 minutes. Often he plays mental games with himself, placing orange traffic cones on the field, visualizing them as hulking defensive players and deftly eluding their clutches. "Then when similar situations happen in a game, I can react without thinking," he says.

Aside from remarkable athletic ability, understatement may be the Laws' signal trait. Ask Donnie Law about his son's accomplishments and he just smiles. "I guess it hasn't sunk in yet," says Law, sitting at the kitchen table, sipping iced tea with Susie, his high school sweetheart and wife of 19 years. "Eric Dickerson and all those people couldn't break these records, but our son did. Would you like some iced tea?"

Obviously the Laws don't care to brag, or to let Brett's success change their lives. "We get letters and phone calls from coaches all over begging the boy to come to their school," Donnie says. "Brett doesn't look at them. I don't either." That job falls to Susie, who handles it with quiet efficiency. She politely tells all petitioners that Brett is busy with homework—he has a 3.5 grade point average—he's really exhausted and can't come to the phone just now. But he will consider all scholarship offers. Then she files the recruiting letters in cardboard boxes stacked neatly on the basement stairs. There are four of them.

All this, of course, may be just academic. Brett has seen the future, and it includes a Golden Dome. "I want to go to Notre Dame," he says. He made that choice back in fourth grade, and he has already made three visits to the South Bend campus. Sometimes, in his mind, he can hear the Notre Dame crowds cheering for him. "I like to visualize myself down on the field," he says. Then Brett Law closes his eyes. Until now, at least, these private visions have often been prophecy, and he is proof that the sweetest dreams can come true.

—Jack Friedman, Bill Shaw in Ekin


It is 45 minutes to kickoff and Brett Law—the most prolific high school running back ever—has entered his customary pregame trance. Sitting alone near the end zone, his eyes half-closed, he is busy visualizing football success: good moves, touchdowns, victory. He sees nothing else and hears nothing else, save for the heavy-metal sounds of Poison, which come blaring through his Walkman.
Advertisement
Today's Photos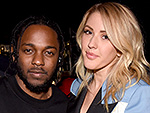 Treat Yourself! 4 Preview Issues
The most buzzed about stars this minute!