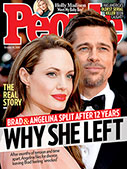 This Week's Issue!
People Top 5
LAST UPDATE: Tuesday February 10, 2015 01:10PM EST
PEOPLE Top 5 are the most-viewed stories on the site over the past three days, updated every 60 minutes


KRIS KRISTOFFERSON: SON NEVER SETS

TWO MUCH: Despite having six children (ages 2 to 27) from his three marriages. actor-singer KRIS KRISTOFFERSON hasn't yet discovered an antidote for the terrible twos. Kristotferson says of his youngest son. "John's moving into the terrible twos like a cyclone. Each kid seems to be a little more terrible than the last. I don't know if they're learning anything from their older brothers and sisters or what, but they seem to have a little bit faster moves and are able to get into trouble a little more quickly. The only thing that makes it easier for me now, "adds Kris. 53, with a laugh, "is that I have a young wife [LISA, above] who's taking care of him most of the time." Lest he be judged an aging sexist, Kris quickly explains that his work (he has two new movies, Millennium and Welcome Home) often keeps him away from his family, but says. "I'm real close now to changing the way I live because I miss seeing them so much."

MA, DONNA AND CHILD: After playing the nefarious Abby on CBS's Knots Landing for eight seasons, DONNA MILLS has left the show, but she has bequeathed Abby's evil nature to TONYA CROWE, 18, who plays her daughter Olivia on Knots. "She's a little young to be playing so heavy a villain," says Mills, "but she's a good kid. I have faith that she'll learn evil quickly and that after she's done a few truly vicious things, she'll become a character everyone will love to hate. Like mother, like daughter."

FACING FAGS: Murder, She Wrote's ANGELA LANSBURY spent some 20 years as a supporting player in the movies before becoming a leading lady on Broadway with the musical Maine in 1966. Even then, she still couldn't get leading parts in the movies. "People thought I was overweight, which I wasn't. I've weighed the same [147 lbs.] for years and years. People thought I was fat because I had this round face, and I think it was the round face that defeated me as an actress," says Lansbury, now 64. "I was 40 and doing Maine, and 40-year-old actresses didn't have a chance. Nowadays, most of the women in Hollywood who are successful are in their 40s, so I just missed."

OSAKA TO THEM: Actor WALTER MATTHAU may be good-humored, but he lacks a Sony disposition about the Japanese buying up American businesses. "I think Sony should take over Columbia Pictures." says Matthau, referring to the Japanese company's $3.4 billion purchase last month of the movie studio, "because they're such wonderful people. They had nothing to do with World War II, and if you think I'm being sarcastic or ironic, I'll give you the rest of this quote on Dec. 7th."

A NOSE BY ANY OTHER NAME: Alien Nation star ERIC PIERPOINT has discovered that having a big head is no protection against having your ego deflated. Playing George Francisco, the alien detective on the new Fox TV series based on the movie of the same name, Pierpoint was in full swollen, bald, mottled head makeup on location recently in Los Angeles when he was approached by a group of children. "They were fascinated and kept asking questions," says Pierpoint. "One said, 'How long does it take to put your head on?' I said, About an hour and a half.' Then he said, 'How long does it take to put your nose on?' I told him, 'No time. This is my nose.' " Still skeptical, the boy asked to touch it, saying, "Man, you got a big nose."

CHATTER BOX

•America the Brewtifull This is the week a nation of beer drinkers celebrates American Beer Week (Oct. 15-21). The three most popular brands are Budweiser (one in even four beers consumed). Miller Lite and Bud Light.

•Truth in Numbers While some 145 million Mother's Day cards are given annually, only 800,000 cards will leave the racks for next Sunday's Mother-in-Law Day (Oct. 22)

•Justice in Time All three juries voted to convict, but it took Leona Helmsley's jury five days (35 hours) to reach its verdict, Zsa Zsa Gabor's three days (10 hours) and Jim Bakker's two days (11 hours)


DONNA MILLS: MEAN BUSINESS
Advertisement
Treat Yourself! 4 Preview Issues
The most buzzed about stars this minute!