On Newsstands Now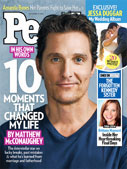 Matthew McConaughey: In His Own Words

Jessa Duggar's Wedding Album

Brittany Maynard's Final Days
Pick up your copy on newsstands
Click here for instant access to the Digital Magazine
People Top 5
LAST UPDATE: Tuesday February 10, 2015 01:10PM EST
PEOPLE Top 5 are the most-viewed stories on the site over the past three days, updated every 60 minutes
A Bitter Battle Erupts Over the Last Hours of Martin Luther King


The 62-year-old activist, who cradled the dying King after an assassin's bullet cut him down in 1968, did not simply sit still for the criticism. He blitzed through appearances on the morning TV talk shows and sat for a session of Donahue, defending his book at every step. "In all honesty, in all fairness, it happened," he insists. Abernathy's damning charge is that King spent the last night of his life enjoying two successive extramarital liaisons, followed by a knockdown motel-room fight with a third woman. The evening began after King delivered his stirring "I've been to the mountaintop" speech at the Masonic Temple in Memphis. Abernathy writes that afterward he, King and a civil-rights colleague, the Reverend Bernard Lee, went for a late-night dinner at the home of a woman friend of King's. When Abernathy awoke from a postprandial nap in a living-room easy chair at around 1 A.M., he says he found Lee asleep on the couch and King emerging from the bedroom with his female friend.

The three men then returned to the Lorraine Motel, writes Abernathy, where they found King's brother, the Reverend A.D. King, and a black woman legislator from Kentucky who had come expressly to see Martin. King did not disappoint her, according to Abernathy. Finally, at 7 or 8 A.M., King reportedly returned to the room he shared with Abernathy to ask him to help calm a third woman who was, King said, "mad at me. She came in this morning and found my bed empty." Abernathy's implication is clear: King, a married man, had been unfaithful even in his unfaithfulness. When the young woman in question arrived, and her argument with King grew increasingly heated, says Abernathy, the venerated civil-rights leader "knocked her across the bed...and for a moment they were in a full-blown fight, with Martin clearly winning."

Because he was King's friend, Abernathy's words have cut deeper than any enemy's could, prompting the fierce counterattack. Some wondered about his competence, citing his two strokes. Now participants in King's last hours have come forward to give their version of events. Adjua Abi Naantaanbuu, 52, a Memphis hair salon owner and longtime human-rights activist, says she was the hostess of the dinner party Abernathy describes. "No one had sex in my house that night," she says flatly. Far from being a "friend" of King's, she says, she had never met him before and had simply been asked to provide the visiting leaders with a home-cooked dinner. It was Abernathy, she says, who fell asleep in her bedroom after he "had one too many" drinks. Naantaanbuu may take the matter to court. She believes that Abernathy may have concocted his story to get back at his colleague. "I know now," she says, "that Abernathy was jealous of King, because he never got the kind of respect from the staff or the community that King got—or the publicity."

Rev. Bernard Lee, now the chaplain of the District of Columbia prison in Lorton, Va., says he has no recollection of any dinner party that night. "I suppose it's possible that we stopped somewhere for a few drinks," he concedes, but he insists that the rest of the tale is invented. "I consider Rev. Ralph Abernathy a dear friend," Lee says, "but I personally feel that he has reached an all-time spiritual low. He has sold his soul for 30 pieces of silver. He has betrayed a great trust, and I believe he did it to make a buck."

The unidentified woman who allegedly quarreled violently with King has not spoken out about the book. But Georgia Davis Powers, the former Kentucky state senator who visited King at the Lorraine Motel, maintains she merely stayed up talking with him, Abernathy and A.D. King until 4 A.M. "This whole thing came as a complete surprise to me," she says of Abernathy's account. Described by a friend as "torn up, hurt and angry," Powers has disconnected her phone and gone into seclusion. Her attorney describes Abernathy's book as "a tabloid in hardback."

In the book, Abernathy attempts a preemptive response to such criticism. "I can only say that I have written nothing in malice, and omitted nothing out of cowardice. (Or so I like to believe)," he writes. In fact, he insists he decided to tell all in order to lay to rest more scandalous allegations about King. "I think I can make some attempt to render justice to the dead without causing too much unnecessary pain to the living," he says. That clearly was a miscalculation, as evidenced by the reaction from within the movement. In their statement, Jackson and the other prominent civil rights activists described themselves as "shocked and appalled" by the book's "slander." Their anger was tempered only by the suggestion that the offensive passages had been inserted by parties unknown. "The Ralph we know and love would not have written this section," they said.

Ironically, Abernathy believes King's character flaws have received far more attention elsewhere than they merit. "Sexual sins are by no means the worst," he writes. "Hatred and a cold disregard for others are the besetting sins of our time, but they don't sell books or tabloid newspapers."

—James S. Kunen, Jane Sanderson in Memphis, Tom Nugent in Louisville and Elizabeth Velez in Washington


In three decades at the forefront of the battle for civil rights, Ralph Abernathy had rarely encountered such public virulence. In a withering statement, 28 of his old friends from the movement—Jesse Jackson, Andrew Young and NAACP president Benjamin Hooks among them—accused Abernathy of nothing less than a "dreary attempt to diminish the life and work of the only spiritual genius America has produced," Martin Luther King Jr. From the very pulpit in which King preached, the Reverend Joseph Roberts of Atlanta's Ebenezer Baptist Church excoriated Abernathy and urged his congregation to "do the right thing." Others muttered about a Judas-like betrayal and "30 pieces of silver." The cause of the calumny was Abernathy's recently published memoirs, And The Walls Came Tumbling Down. By supporting longstanding rumors about King's sexual indiscretions, Abernathy had seemingly pulled the walls down upon himself.
Advertisement
Treat Yourself! 4 Preview Issues
The most buzzed about stars this minute!