People Top 5
LAST UPDATE: Tuesday February 10, 2015 01:10PM EST
PEOPLE Top 5 are the most-viewed stories on the site over the past three days, updated every 60 minutes
Mourning Monty Python Lays to Rest Silly, Brave, Unique Graham Chapman


In the misty chill, the brief, spare service seemed somehow appropriate. "He always regarded death as highly overrated," fellow Pythoner Michael Palin wrote in an obituary, "and could never understand why anyone made such a fuss about it." In this case, however, the fuss was understandable: Chapman, the most doggedly different member of his era's most unpredictable comedy troupe, left a mark as indelible as a Monty Python footprint. Through his unforgettable roles—Arthur in 1975's Holy Grail, the Christ-like lead in 1979's Life of Brian ("Blessed are the cheesemakers") or the stiff-upper-lip colonel who interrupted Python skits to warn that things were getting "much too silly"—he gave form and shape to the absurdist comedy embraced by a generation.

Born in Leicester during a German blitz to a police inspector and his wife, Chapman entered Cambridge to study medicine, a career that got sidetracked when he discovered that formaldehyde was less to his liking than Footlights, a campus comedy review. In 1969 he helped to form Monty Python, but the affection in which he was held had as much to do with the way he lived his unconventional, sometimes painful, private life as it did with his gift for eccentric japes. In 1977, after years of alcoholism had given him the d.t.'s and a failing liver, he stopped drinking—cold turkey—and recovered in a hospital. Long before Betty Ford clinic confessions had become routine, Chapman would talk openly about his intake of "three pints of gin a day" and how "it nearly snuffed me."

In the previous decade Chapman had startled colleagues by taking up residence with writer David Sherlock. His forthright admission of homosexuality may have been shocking at first, but he and Sherlock stayed together for 24 years of relatively tranquil domesticity. In the early '70s Chapman made another break with tradition. With full permission of the boy's father, a single parent of five, Chapman "adopted" John Tomiczek, a teenage runaway from Liverpool who had recognized the Pythoner on a London street. "He was a doctor and he could see I was sick," says Tomiczek, now 33 and engaged to an American woman. "It turned out I had glandular fever, and Graham took me to the hospital. After that, he said I could live with him if I promised to stay in school and not run away anymore."

In recent years Chapman had continued to churn out TV and film scripts, despite the commercial disappointment of 1983's Yellowbeard, a film he starred in and co-wrote. Then, last November, during a checkup, his dentist found a tumor on his tonsil (Chapman had smoked a pipe for years). The first operation came in December, followed in July by another, for a tumor on the spine that affected his legs and left him in a wheelchair. There were long commuting trips by train from his home in Kent to a London hospital for radiation and physiotherapy, during which he practiced t'ai chi, including, says Sherlock, "one exercise called the monkey, where you hoot and swing from the luggage racks." Throughout the battle, Chapman continued to rally, fighting both the disease and the automatic public assumption that it was AIDS-related. "I am not promiscuous," he told a London paper. "I've always practiced safe sex."

Though cancer had wasted his 6'4" frame to a meager 140 lbs., Chapman kept his—and others'—spirits up. "He called me from the hospital. He was completely optimistic," says friend Harry Nilsson. "He talked about how he was going to move from the chair to the walker to a cane to squash. His message was, 'If you've got this thing, you've got to fight it.' "

As recently as last month, Chapman was strong enough to make the taping of Monty Python's 20th-anniversary special, which will air next year in syndication. But early this month he suffered a massive hemorrhage at his home and was rushed to Maidstone Hospital. "He was astounded by all the people who came to see him, all the people who loved him," says Sherlock. "He said this experience restored his faith in human nature."

In his final hours Pythoners John Cleese and Michael Palin were among those gathered around Chapman's bed. "Everyone said their goodbyes," says Sherlock, "and Graham fought throughout the night. I talked to him constantly, told him how much we loved him and how much he was loved. His last words to me were when I told him I loved him. He said he knew I did. The end was peaceful and happy."

Sherlock, who is helping to plan a memorial service for Chapman in late November, performed one last touching gesture. He prepared and dressed Chapman's body after death. "Then I went back to the house, and I began to miss him," he says. "The dogs were restless, especially his dog, and I couldn't relax. So I started to cook, and it turned out to be Graham's all-time favorite, leek-and-potato soup. Then I made a leg of lamb and roast potatoes and all the trimmings. And we lit a fire, and the dogs lay down, and we began to celebrate Graham's life."

—Susan Schindehette, Janine Di Giovanni in London


The simple casket was wreathed in hops, testament to the deceased's former fondness for beer. The Rolling Stones sent flowers with "thanks for all the laughs." There was even an enormous boot-shaped floral arrangement from "the other five Pythons with all our love. P.S. Stop us if we're getting too silly." There seemed little chance of that. The cluster of family and friends at the tiny brick crematorium chapel in Maidstone, Kent, who had come on the 13th hour of Friday the 13th, were there to attend the funeral of Graham Chapman, founding member of the seminal Monty Python comedy troupe, dead of throat and spinal cancer at age 48.
Advertisement
Today's Photos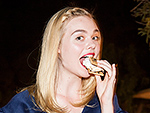 Treat Yourself! 4 Preview Issues
The most buzzed about stars this minute!