People Top 5
LAST UPDATE: Tuesday February 10, 2015 01:10PM EST
PEOPLE Top 5 are the most-viewed stories on the site over the past three days, updated every 60 minutes
Out of the Fire
Nearly Consumed by a Harrowing Childhood, Grace's Brett Butler Found Survival Through Comedy
Leavening tragedy with her own brand of acerbic southern wit has long been Butler's specialty. But lately, with her ABC sitcom Grace Under Fire in its third season and still in Nielsen's top 15, Butler, 38, is feeling less pain. In 1994, after a yearlong separation, she and husband Ken Zeiger, 35, a contract lawyer and composer, reconciled, and are sharing a Los Angeles home. Meanwhile, Butler, as she makes clear in her just-published autobiography, Knee Deep in Paradise (excerpted on page 108), has at last managed to make peace with a stormy history that has included an absent father, a violent first husband, alcoholism and drug abuse. "I wanted to write about an interesting life without blaming anyone else for the misfortunes," she says. "I've come to terms with the fact that I'm an interesting broad with a salty past."
Born in Montgomery, Ala., the oldest of three daughters, she was 4 when her father, Roland Decatur Anderson Jr., an oil-company executive, moved the family to Houston. It was there that his increasingly erratic behavior—including drinking and emotional and physical abuse directed at Butler's mother, Carol—led Carol to pack up the girls and leave for Miami. By the time Brett was 10, the family was living in Marietta, Ga., with Carol's second husband, an insurance salesman she identifies as "Joe" in her memoir, and two new half sisters. Divorced again three years later, her mother battled depression, and the family was sometimes so poor that they ate Tootsie Rolls for dinner. Humor became Brett's refuge. "It is how my family always dealt with things," explains Carol. "We didn't have it easy for a long time." Adds Brett: "I used to lie awake wondering if my sisters had lunch money if their clothes were clean."
Even as she sometimes laughed her way through the pain—she and her sisters did impersonations and put on sketches for their family—Butler found other consolations: drinking, smoking pot, having sex. "When I was 14, I read that girls whose fathers were absent due to divorce were more apt to be promiscuous," says Butler. "I remember thinking, 'Okay, a license to [have sex].' " By the time she was 16, she had moved into an apartment and was supporting herself with menial jobs. After earning a night-school diploma, she briefly attended the University of Georgia, then quit and headed back to Marietta to work as a waitress.
Moving to Macon, Ga., Butler, then 20, met Charles Michael Wilson, a strapping, brown-eyed steelworker, at a poolroom. They both loved drinking and the Allman Brothers, and they married three months later. The honeymoon was short-lived: One day after they exchanged "I dos," Butler received the first in a long series of beatings. "We were young, we had rage," says Butler, explaining that the violence usually occurred when she and Wilson were drunk. "Both of us participated in the sickness of it." Once, after a beating that she says left her "bloody from head to toe," Wilson, feeling remorseful, called her into the living room. "He had a shotgun in his mouth and his toe on the trigger," Butler says. "I sat there saying, 'I'm sorry, I'm sorry' " He put the gun down.
Like many battered wives, Butler blamed herself for her husband's behavior, but in 1981 something snapped: Noticing a pipe wrench under the kitchen sink, she fought the urge to bludgeon Wilson as he slept on the couch and phoned her mother to come pick her up. A few months later, Butler broke off the relationship for good during a meeting at a motel that culminated in Wilson's firing a rifle at her and missing. Since then, he has both admitted and adamantly denied battering Butler, while claiming that she too was violent. "His revisionism is morally outraging," says Butler. "I never struck back."
Later, in Houston with her mother, who had married a third time, Butler began waiting tables at a comedy club. Inspired by what she saw, she decided to give comedy a try herself. Her first time onstage, she says, "I felt like I was born to do it." Soon she had her own routine as "The Funny Waitress."
"At night, just before I fell asleep," she says, "I'd catch a vision of myself doing a far better show than I was able to do at the time." With that goal in mind, she sobered up through a self-help group. And though she was still smoking marijuana by the time she moved to New York City in 1984 (an arrest for possession subsequently led her to quit), Butler was soon a popular fixture on the Manhattan club circuit.
Her love life was looking up too. She met Zeiger through a friend three months after arriving. "That basic animal instinct attracted us," Zeiger says. "Respect and admiration followed." Butler, for her part, "kept waiting for him not to smile whenever he saw me," she writes. "After a while I got used to the fact that I'd just met a really great guy." In 1987—the same year she made her debut on The Tonight Show—they married. Butler moved to Hollywood after producers Marcy Carsey and Tom Werner approached her in 1992 with the idea for her own sitcom. But with her burgeoning career stretching the marriage to the breaking point, Zeiger stayed back in New York. Then, two years ago, while researching her father's life for her book (he died in 1979), she realized that her dad wasn't the only man missing from her life. She called Zeiger and, shortly thereafter, he joined her in L.A.
Recently the couple bought the home next door to their own. They plan to convert it into a recording studio for Zeiger, and are weighing the idea of adoption. "I don't want to give birth," says Butler, "but I think Kenny and I would make terrific parents." She plans to stay with Grace for three more seasons before moving on—to films, or possibly to writing full-time. She says she is happier now than ever before. "Parts of my life," Butler says, cautiously, "are actually good dreams that are coming true."
JANICE MIN
CRAIG TOMASHOFF in Los Angeles
Contributors:
Craig Tomashoff.
Advertisement
Today's Photos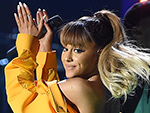 Treat Yourself! 4 Preview Issues
The most buzzed about stars this minute!