People Top 5
LAST UPDATE: Tuesday February 10, 2015 01:10PM EST
PEOPLE Top 5 are the most-viewed stories on the site over the past three days, updated every 60 minutes
Pre-Fab Stars
Their Lives Today Are the Stuff of Fantasy, but Once Upon a Time Celebs Dreamed Big, Did Homework and Drove Ugly Cars
NYPD Blue
's hard-boiled Dennis Franz was as clean-cut as Wally Cleaver. "He was always the ladies' man," classmate Emory Kelly says. At Edgewood High in Madison, Wis., Chris Farley already loved being a lug. "Once, at a football game, to impress his date, "says assistant coach Nick Burrows, "he started taking off down the sidelines and diving in the mud." Supreme Court Justice Ruth Bader Ginsburg, a straight-A student known as Kiki at Brooklyn's James Madison High, wore her hair in a perky flip. "Now she's so severe," laments classmate Bernice Cohen. And humorist Dave Barry played class clown at Pleasantville (N.Y.) High. "I was a little, tiny hairless dweeb," he says. "I was funny to avoid getting held upside down over the toilet." Of course, he says with a wink, that has since changed. "Now I'm constantly mistaken for Mel Gibson. And he for me. It's hell."
GWYNETH Paltrow
Like
Emma
, the Jane Austen heroine she played onscreen last year, Paltrow, 24, enjoyed a privileged upbringing. The future Mrs.
Brad Pitt
had good parents (actress Blythe Danner and
St. Elsewhere
executive producer Bruce Paltrow), a fine education (the Spence School, a private New York City girls' academy) and a well-developed wild streak. "She was rambunctious," recalls one classmate. "She always had a funny comment to make in class and wasn't too in-tune with the academic scene. She hung out with the girls who went out all the time." Indeed, Paltrow once told
The New York Times
that as a teenager her interest in night life led her to sneak out after her parents went to bed. "I would creep down the stairs between our two golden retrievers. When I passed my mother's door—her hearing is acute—I used to jangle their chains so she would think it was the dogs."
TOM Cruise
It's hard to imagine, but young
Tom Cruise
Mapother IV—as he was known to the class of '80 at Glen Ridge (N.J.) High—was just a face in the crowd, A member of the wrestling team, Cruise, now 34, "was a quiet, smiling kid in the back of his group—the jocks," says Pat McPadden, former director of the school's media center. But every so often he made an impression. Recalls an amused Elaine Foster, the school's attendance secretary: "He once did a dance on the Ping-Pong table at my house and broke it! He owes me one."
DREW Carey
The proudly non-hip star of ABC's
Drew Carey Show
has been that way, lo, all his 38 years. After graduating in 1975 from Cleveland's Rhodes High, the mop-topped son of a draftsman and an elementary school secretary fine-tuned his offbeat persona at Kent State. A member of Delta Tau Delta, "he'd stay up all night playing board games," says frat buddy Nick Katzakis, an accountant in Cleveland. By day, you'd find him "posting something on the bulletin board about a Monopoly tournament." It wasn't until Carey dropped out in junior year to try stand-up—and took to the road—that he put on pounds. Says Katzakis: "He'd eat in any place that had saturated fats."
CONAN O'Brien
For Conan O'Brien, life at Brookline (Mass.) High wasn't easy. "My parents had a used station wagon from a hotel, and it said Pine Manor Lodge on the side," recalls the '81 grad. "Other kids had Camaros. I looked like I was picking up luggage." His love life caused more angst. "One girl asked me to the prom, and it was so unexpected, I was like, 'I can't! I'm having my back waxed that night!' " But the
Late Night
host, 31, felt vindicated at his l0th-year reunion: "Kids who couldn't even get their shoes on in high school were successful. It's the kid who was a big star who's a serial killer now."
KRISTEN Johnston
By 13, the 6-foot star of NBC's
3rd Rock from the Sun
was a mere half-inch shy of her full height. At that age, says Johnston, 29, "it's a lot more difficult to be tall. Back then it was, 'Who is this weird aunt?' " But at Whitefish Bay (Wis.) High, her talents as an aspiring thespian were what towered—so much so that in 1985 her class named her Most Likely to Become a Celebrity. "She carried herself so well," says Gerry Kasik, a volunteer with school productions. "When she was onstage, your eye went right to her."
GILLIAN Anderson
After a visit to London in the early '80s, Gillian Anderson returned to Grand Rapids, Mich., where she was a student at City High School. Only now the former preppie, perhaps under the influence of the country that gave the world the Sex Pistols, was a punk. "She had cut all her brown hair off and dyed it red," recalls classmate Michael Kritschgau, an AIDS studies coordinator in Chicago. "Gillian has always been ahead of other people." Eventually voted Most Bizarre, Anderson, 28, also pierced her nose and wore thrift-shop designs.
The X-Files
star wasn't creative in appearance alone. Prose about her pet iguana appeared in the school paper. "As he spreads himself unenthusiastically on his hot rock, a hint of sorrow spurts from beneath his lidded eyes," she wrote in a creative fever. "He is no longer the plump reptile I once knew and loved."
MICHAEL Richards
When Michael Richards, class of '67, was a gangly pep-squad member at Thousand Oaks (Calif.) High School, he'd enter the classroom by sliding across the linoleum. Sound like Seinfeld's Kramer? "He couldn't come into class unless he fell over two or three desks," recalls Lynn Hanks, a fellow drama student. Richards, now 47, was once cast as—what else?—the Scarecrow in a school production of
The Wizard of Oz
. He wouldn't stop singing "If I Only Had a Brain"—at lunch, down the corridors, as a hello. "Everything was off-the-wall with him," says classmate Carol Cooper, a middle school teacher in Arlington, Texas. "He was incredible. But I'm sure some of the teachers were ready to belt him."
KEVIN Sorbo
Before he became the toned, tawny star of TV's
Hercules: The Legendary Journeys
, Kevin Sorbo "looked like a geek—just like the rest of us," says account manager Mark Moth, the superhero's best friend since they grew up in Mound, Minn. At Mound High—where the 6'3" teen was 40 pounds shy of his current weight of 205—Sorbo, now 38, played basketball and baseball but didn't dare act. "I grew up in a jock neighborhood where you were considered a sissy if you were into that," he says. He didn't discover his artistic side until he had dropped out of college and, encouraged by a girlfriend, taken up modeling. "The people who knew me then are probably pretty surprised," he says. "I bet they're like, 'Look at Sorbo, what a kick!' "
RENE Russo
Rene Russo "always had plenty of boyfriends," says Steve Campbell, a classmate at Jordan Middle School in Burbank. Her beauty "nearly knocked me off my chair." But Russo, who wore a brace to correct a curved spine from age 10 to 14, wasn't convinced. Shy and not scholarly, she left Burbank's Burroughs High in 10th grade and, at 17, went to work in a factory (an agent later discovered her in a concert crowd). "She used to go around with her head down," recalls classmate Ron Howard, who directed Russo, 43, in Ransom. "If you'd said to me, 'Name 10 students who might wind up acting,' Rene would have never made the list."
TÉA Leoni
Raised quite comfortably as the daughter of a corporate lawyer in Englewood, N.J., and Manhattan, the star of NBC's
The Naked Truth
graduated from the Putney School in Putney, Vt., in 1984. The progressive coed boarding school sits on nearly 1,000 acres of farmland, and each student spends a semester putting in early mornings in the barns and fields. "I remember her shoveling manure," says Sven Huseby, former headmaster. "She never held her nose up. She was like everybody else." Still, the then-brunette tomboy stood out in the field: Leoni, now 31, dated novelist John Irving's son Colin and was "popular, really friendly," notes fellow student Elizabeth Harris. "She was definitely cool."
MATT Lauer
Admittedly, Matt Lauer's teen years weren't the stuff of headlines. "It was like a boring Norman Rockwell picture," says the
Today
show coanchor, 39, who graduated from Greenwich (Conn.) High in 1975. "I was not one of the cool kids." With no high school steady, the future heartthrob spent his free hours working in a men's clothing store ("Every stitch I own still comes from there") and watching a lot of Mutual of Omaha's Wild Kingdom. One source of excitement was his beige 1964 VW Beetle. "The floors were almost completely rotted out," Lauer says, laughing. "It was like the Flintstones' car. You could have gotten it going by running along the road."
Advertisement
Today's Photos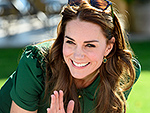 Treat Yourself! 4 Preview Issues
The most buzzed about stars this minute!