People Top 5
LAST UPDATE: Tuesday February 10, 2015 01:10PM EST
PEOPLE Top 5 are the most-viewed stories on the site over the past three days, updated every 60 minutes
Picks and Pans Main: Song
Talking With...
So what if Will Smith returns to rap on the title cut of his new action flick's soundtrack with a reworking of Patrice Rushen's "Forget Me Nots"? There are worse sins than being unoriginal, and Men in Black, disc and movie, is meant to entertain, not provoke deep critical thought. Along with a laconic '70s-flavored contribution from Snoop Doggy Dogg, there's a sexy collaboration between D'Angelo and the Roots, some new tracks from De La Soul and A Tribe Called Quest, plus Buckshot LeFonque's swampy, funky blast, "Some Cow Fonque (More Tea, Vicar?)." This is one soundtrack that adds up to more than just a commercial. (Columbia)
10,000 Maniacs
She was probably worth about 5,000 Maniacs all by herself, but when Natalie Merchant, the group's lead singer, went solo in 1993, her band-mates persevered, replacing Merchant with vocalist Mary Ramsey. The chemistry has changed: Love Among the Ruins is gentle and pleasant but finally uninspiring. Ramsey's voice is harmonious, though it lacks the range and emotional urgency that are Merchant's trademarks. A bigger problem is the band's new material—mostly mid-tempo drones, all air and no grit. One is tempted to ask (borrowing the title of a Maniacs' tune from nine years back), "What's the Matter Here?" Nothing much, it turns out—and everything. (Geffen)
K-Ci & JoJo
Chasteness and tenderness are not terms that immediately spring to mind in describing the music of Jodeci, the undisputed kings of "do me" R&B. But this excellent project from the Hailey brothers—the Jo and the Ci of the multiplatinum quartet—is remarkably understated if not downright polite. Taking a cue from the romantic, restrained approach of Babyface, Love Always offers acoustic arrangements and well-crafted songs paying homage to monogamy, commitment and adult behavior. K-Ci's vocals lend a delicious tension: Like Bobby Womack, an obvious influence, Hailey combines the church and the street, giving even the most adoring love song a glint of sanctified yet unmistakably sexual swagger. (MCA)
Robin S.
On her 1993 breakthrough hits "Show Me Love" and "Love for Love," Robin S. sounded so caught up in the rapture of the rhythm that listeners couldn't help following suit. What happened to all that contagious joy? It's essential to good dance music, but on this, her second album, Robin seems more concerned with vocal gymnastics than spreading delight. Case in point: her cover of Phyllis Hyman's "You Know How to Love Me." Lisa Stansfield also revisits the number on an upcoming disc and effortlessly conveys the glee of its lyrics with a bubbly delivery. But Robin's performance is so labored and joyless, good loving seems to be the furthest thing from her mind. (Big Beat/Atlantic)
Ron Sexsmith
Ron Sexsmith's voice hovers so gently around a melody that it's hard to believe his tough-minded lyrics could emanate from the same person. Romanticism without sentimentality is difficult for any composer. But Sexsmith, whose self-titled 1995 debut drew comparisons with such heavyweights as Ray Davies and Elvis Costello, sure has a knack for it—and with this fine follow-up he's fast proving himself worthy of the raves.
As hard on himself ("It Never Fails," "Average Joe") as he is on a universe that never quite adds up ("Strawberry Blonde," "Pretty Little Cemetery"), Sexsmith presents a wise and witty worldview that makes him a somewhat wanly smiling optimist. "Some rain is bound to fall," he notes on the instant-standard final track "April After All." Tony Bennett, call your office. (Interscope)
Richard Buckner
An all-night traveler on the Heartache Highway, this 32-year-old San Franciscan sings some of the most haunting tales of lost love you're likely to cry over in this lifetime. The 13 songs on Devotion + Doubt are an exquisite mix of pedal steel, fiddle, acoustic guitar, chord organ and ukulele. He even works a vihuela (a small, guitar-like instrument) into the blend.
But it's Buckner's voice, a 2 a.m. blend of bourbon and smoke, sweetened by a swallow of honey, that gives the disc its emotional kick. In the best cut, "A Goodbye Rye," ex-sweethearts share one more for the road before parting. Happily, though, this ardent troubadour's deepest pain becomes the listener's lasting pleasure. (MCA)
Bernadette Peters
To call Peters a mite theatrical would be like describing Dom Pérignon as a carbonated beverage. Acolytes of the Broadway star, heard here in a concert recorded at Carnegie Hall last year, adore her every bit of breathiness and archly etched intonation. She coochie-coos "Broadway Baby," and "Time Heals Everything" is badly oversold. It's really too bad, because when Peters reins it in and just sings, she is darn fine. And she is pure ingenuous enchantment in "Raining in My Heart," from Dames at Sea, the '30s-style Off-Broadway musical from 1968. One of the CD's droller moments is spoken, not sung: Introducing a number from Dick Tracy, Peters notes that in the movie the piece was sung "by a blonde bombshell." She adds coyly, "Not me, although we both have religious names." (Angel)
>Nina Gordon and Louise Post of Veruca Salt
PROVING HEAVY METTLE
CHICAGO-BASED QUARTET Veruca Salt swept onto the alternative rock scene in 1994 with its joyous, head-banging single "Seether." But when American Thighs, their debut album on a small independent label, was later acquired by industry giant Geffen Records, some fans accused the band of selling out. This year Veruca Salt—singer/guitarists Nina Gordon and Louise Post, bassist Steve Lack and new drummer Stacy Jones—has released its second full-length album, Eight Arms to Hold You.
Was the band ready for the attention and acclaim you received for the first album?
L.P.: Not at all. Not psychologically, not in terms of musical experience or expertise. N.G.: At that point, we were still in diapers. We were just making this little record that we thought sounded okay. It was the media saying, "They're going to be the next big thing."
How did you feel when some of your fans accused you of selling out?
N.G.: That was really ridiculous. We were simply on an independent label because that was the first label that offered us a record deal. We didn't have a lot of money to make the first record, so it sounded low-fi, but that wasn't, what we wanted to sound like. We always saw ourselves as a huge rock band.
Why did you turn to Bob Rock (Metallica) to produce the new album?
N.G.: 'Cause he kicks a—. We'd heard all his records and they just rock, they sound huge. We really thought that the combination of our pop songs and his massive sound would be irresistible.
Contributors:
Amy Linden,
Mark Bautz,
Jeremy Helligar,
Billy Altman,
Joanne Kaufman,
Marisa Sandora.
Various Artists
Advertisement
Today's Photos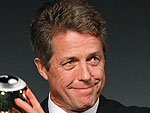 Treat Yourself! 4 Preview Issues
The most buzzed about stars this minute!