People Top 5
LAST UPDATE: Tuesday February 10, 2015 01:10PM EST
PEOPLE Top 5 are the most-viewed stories on the site over the past three days, updated every 60 minutes
Many Happy Returns
Hanna Andersson's Gun Denhart Recycles Her Kidswear for the Needy
Denhart doesn't just talk the talk. Her company (there are retail shops in Portland and White Plains, N.Y., in addition to three outlets and a catalog) donates 5 percent of profits to charity and pays 40 percent of employees' child-care costs. And, since 1985, Denhart has invited customers to send back outgrown outfits. (The lollipop-colored, all-cotton designs range in price from $5 for baby socks to $48 for a kid's anorak.) In return they get a 20 percent discount on their next purchase, and Hanna Andersson (named for the Swedish-born Denhart's late paternal grandmother) donates the recycled clothing to needy families throughout the U.S. Each month, more than 3,000 of these "Hannadowns," as Denhart calls them, pour into the office. "It makes you feel great," says Aileen Wise, 41, a homemaker and mother of three from Portland, "when you can send your Hannadowns to help somebody else."
And help they do, as Sarah Newcomer, 20, a Portland single mother whose year-old daughter McKayla wears Hannadowns, can testify. "McKayla is growing out of her clothes every three months," she says, "so this program is a lifesaver." Adds Genevieve White, 21, another grateful mom who answers phones at a Portland counseling center that distributes Hannadowns by the boxful: "Gun is a wonderful person. The good she does for people is incredible."
Denhart demurs. "Hannadowns have exposed me to a part of humankind I didn't know existed," she says. "I led a very protected life in Sweden." A native of Lund, a university town 10 miles northeast of Malmö, Gun's late father, Gunnar Brime, ran a packaging firm and mother Elsa was a Red Cross volunteer. Gun and her three siblings had no shortage of clothes: Their maternal grandmother, Ester Björklund, sewed most of their outfits, which, Denhart recalls, "wore like iron."
After graduating from Lund University with a business degree in 1967, she began teaching business law. In 1969 she wed the owner of an international language school (whom she declines to discuss). When the marriage ended in 1973, she moved to Paris with her 2½-year-old son Philip (he now works at his dad's school in Stockholm) and met and fell in love with Tom Denhart, a TV commercial producer for a French ad agency. Tom admits he was nervous "when she took me home to see her parents. I was just getting a divorce, I was an American, and I was sort of suspect."
He easily passed muster. The couple wed in 1975, soon after relocating to Greenwich, Conn. Tom worked as an art director at the Ogilvy & Mather Worldwide ad agency (among his creations: the Don't Leave Home Without It American Express campaign), and Gun ran the finance department of the U.S. branch of her ex-husband's school. But when their son Christian was born in 1980, the Denharts decided to make a change. "I really wanted to start a business that had something to do with Sweden," says Gun.
Inspired by strangers who oohed and aahed over Christian's colorful outfits—gifts from Gun's parents—they settled on Swedish baby clothes, moved to Portland (Tom's hometown) in 1983 and set up shop in the airy New England-style house they still call home. (The business, which now employs a staff of 250, was moved into a renovated bicycle warehouse in 1987.)
Although their success has lately been overshadowed by personal crisis—in 1995, Tom was diagnosed with prostate cancer, which is now in remission—there is also joy. Denhart points to the window of the Hanna Andersson store in her office building and a large portrait of the company's latest model, granddaughter Alex, daughter of Evan, Tom's son from his first marriage. "It's wonderful to have a baby around again," says Denhart. "Children are what we're all about."
MICHAEL A. LIPTON
CATHY FREE in Portland
Contributors:
Cathy Free.
IT'S 11 A.M. ON A MONDAY, AND GUN Denhart is not exactly where you'd expect to find the chairwoman of an enterprise that grossed $50 million last year: on her hands and knees under the desk in her spacious Portland, Ore., office. But if other captains of industry take coffee breaks, Denhart, 51, cofounder with her husband, Tom, 55, of Hanna Andersson, a mail-order children's-wear firm, takes baby breaks. "We don't live on money and food alone," says Denhart, crawling after her 11-month-old granddaughter Alex, who is resplendent in a Hanna Andersson T-shirt and leggings. "We live on human connections."
Advertisement
Today's Photos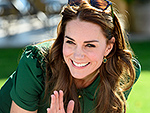 Treat Yourself! 4 Preview Issues
The most buzzed about stars this minute!