People Top 5
LAST UPDATE: Tuesday February 10, 2015 01:10PM EST
PEOPLE Top 5 are the most-viewed stories on the site over the past three days, updated every 60 minutes
Making It Big
Checking Out of Er, Towering Abe Benrubi Takes a Giant Step with George of the Jungle
That no doubt explains why Benrubi, 27, looks so at ease in George of the jungle, a farcical new flick based on the 1960s TV cartoon and starring Brendan Fraser as the buff, but klutzy, ape man. Having spent the past three seasons pretty much confined to the nurses' station just off the world's best-known emergency room, Benrubi seems positively liberated as Jungle's big baddie. And completely unselfconscious. "He has a couple of laughs which come at his expense—like an ape farting in his face—which most actors can't do," says director Sam Weisman. On location in Hawaii, Weisman adds, Benrubi "was very popular with the ladies because of his ER status. There's Brendan, with 7 percent body fat; you'd expect he'd get the attention."
Benrubi's ER colleagues would have no such expectations. "I can't tell you how many people I meet who say, 'I love George [Clooney], I love Tony [Edwards], but I looove Abe,' " says castmate Noah Wyle. On the set, says ER executive producer John Wells, "he and Clooney are the clown princes," cracking wise and playing practical jokes.
While Clooney will continue to keep his fellow physicians in stitches next season with impressions of Sammy Davis Jr. and others ("He'll do it," Benrubi says, "all day long"), Benrubi is moving on to NBC's sci-fi drama Sleepwalkers, which debuts in the fall. Though looking forward to the move, he says he'll miss the show that gave him fame and led to a small role in last year's Twister; he also appears in upcoming films by Oliver Stone (U-Turn) and Kevin Costner (The Postman). Loath to complain about success, Benrubi, who split in January with his girlfriend of about two years, Twister production assistant Kirsten Holly Smith, admits he sometimes misses anonymity. "It's weird," he says of being swarmed by ER fans, "because I don't think of myself in that way."
Born in Bloomington, Ind., Benrubi was named Abraham Rubin Hercules Benrubi by his father, Asher, a radio deejay who followed his Greek family's tradition of naming a son after a mythological hero. "When Abe was in high school, the principal's administrator called the house, saying that Abe wanted a strange name on his diploma," laughs his mother, Patricia, 44, who raised Benrubi in Indianapolis after she and Asher split when their only child was 6. Abe says he grew up a bit of a loner, happily "hanging out with my imagination," listening to music, and drawing and reading comics. He credits Spiderman with one of life's great truisms: "With great power comes great responsibility," he says, quoting the superhero and explaining that, though sometimes tempted, he never abused his size to bully smaller kids.
Fond of acting out scenes from his favorite comics in his basement, he took drama lessons in grade school and later appeared in local theater productions. At 18, he got his first break—a part in Diving In, a low-budget film shot in Indianapolis in 1989. Soon after, he moved to L.A., where within six months he landed a part on Fox's Parker Lewis Can't Lose. Working steadily ever since, Benrubi attributes his good fortune in part to the fact that, in Hollywood, size matters. "In show business being big is an advantage," he says, estimating there are no more than 20 similarly oversized actors in Tinseltown. "The lack of competition is great."
STEVE DOUGHERTY
MONICA RIZZO in Los Angeles
Contributors:
Monica Kizzo.
PAINTED A SOCK-O! LIME GREEN and a Zap! lemon yellow, the walls of actor Abe Benrubi's Los Angeles home resemble the panels of an enormous comic book. Which is just as the 6'7" giant who dwells within intends. A connoisseur of comics who treks each Wednesday to a nearby newsstand for his weekly fix, Benrubi explains that it was Spiderman and other superheroes who inspired him to act. "I wanted to do stuff I couldn't do in real life," he says, "like be an alien or go to the bottom of the ocean or down into a volcano." The man known to millions of ER fans as unflappable admissions clerk Jerry Markovic adds, "I'm an actor because I'm an escapist. No pretenses of 'art.' "
Advertisement
Today's Photos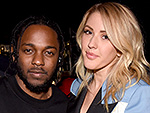 Treat Yourself! 4 Preview Issues
The most buzzed about stars this minute!