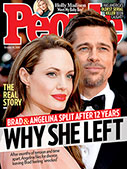 This Week's Issue!
People Top 5
LAST UPDATE: Tuesday February 10, 2015 01:10PM EST
PEOPLE Top 5 are the most-viewed stories on the site over the past three days, updated every 60 minutes
Picks and Pans Main: Song
Roots and Wings
In 1949, Clarence "Gatemouth" Brown began recording a landmark series of big-band sessions for Houston's small Peacock label. Nearly 50 years later the versatile bluesman has returned to the format with glorious results. On Gate Swings the 73-year-old Brown's guitar rides the crest of a 13-piece horn section as he reels out one swinging, graceful solo after another, gliding through everything from his own compositions (like the gorgeous "Gate's Blues Waltz") to Count Basie's "One O'Clock Jump" and Percy Mayfield's "River's Invitation." Gatemouth swings for the fences on every track and only whiffs once, with some off-key crooning on Buddy Johnson's "Since I Fell for You." (Verve)
Jon Bon Jovi
On this, his second solo album, Bon Jovi peels away the power-rock layers—screaming guitar solos, vein-bulging belting—that define much of the catalog of his famed band and offers instead a softly rendered collection of songs that are no less passionate. With a gently percussive background enhanced by moody, Ry Cooder-like guitar riffs and evocative melodies, Bon Jovi demonstrates that his songwriting is as diverse as his ever-changing hairstyles. Whether it's a haunting ballad delivered sotto voce ("Little City") or a buoyant rocker at full vocal throttle ("August 7, 4:15"), Destination Anywhere lives up to its name. It's not a brilliant album, but it is très Bon. (Mercury)
Third Eye Blind
This San Francisco quartet's debut album serves up a mélange of guitars, keyboards and percussion in a seductive collection of punk-flavored pop—-sans repetitive riffs and vocal vapidity. Frontman Stephan Jenkins's Johnny Rotten-ish voice may sound kind of faux Brit, but his words usually ring true. Whether mourning a lost lover in "Losing a Whole Year" or wisely affirming his bedrock beliefs in "Semi-Charmed Life," Jenkins has a knack for summing up a world of emotion in a single line—which makes for a fully charmed album. (Elektra)
The Jayhawks
In 1995 this Minneapolis alt-rock outfit released Tomorrow the Green Grass, a watershed album that seemed to put them on the verge of everything—until cofounder Mark Olson quit for a solo career. Sound of Lies proves that the remaining Jay-hawks have wings of their own. With Gary Louris in charge, the harmonies are now mostly in the background, while the lyrics have turned darker and more elliptical. But this is the sound of a good new band starting to soar. (American)
That Dog
Like a politician in October, That Dog wants to be all things to all people. But this group actually delivers on its platform, doling out a little bit of pop, folk, alternative rock and even a dollop of country in one of the year's most compelling recordings.
The swirl of piano, violin and occasional surf guitar lends Retreat from the Sun a distinctive sound. However, it is the lilting, almost childlike vocal harmonies of Anna Waronker and sisters Petra and Rachel Haden (daughters of jazz great Charlie) that bridge the gaps between an aggressive rock tune ("Annie"), a somber folkish number ("Every Time I Try") and an exuberant Top 40-wannabe (the title track). That Dog is a winning ticket. (DGC)
Candye Kane
No one can hold a tassel to this 32-year-old stripper turned blues belter when it comes to musical moxie. For her genre-bending third album, the Southern Californian recruited some stellar sidemen—including Texas blues guitarist Derek O'Brien, rockabilly bassist Ray Campi and guitarist Dave Alvin of the Blasters—to create 14 rousing blues-abilly tunes. The soulful "Freak Lover" features stride piano, violin and slapped bass, while the kicky remake of Nancy Sinatra's hit "These Boots are Made for Walkin' " is propelled by banjo, washboard and accordion. On Diva la Grande, Kane shows she can liven up any party, even when she's not shedding a stitch. (Antone's/ Discovery)
Mötley Crüe
At their peak in the late '80s, Mötley Crüe was (to borrow the title of their biggest hit) the "Dr. Feelgood" of heavy metal. Sure, their video image bordered on cartoonish, but their songs were a raunchy blast. Though original vocalist Vince Neil has rejoined the band after five years away, the Crüe delivers only a handful of fired-up tunes (such as "Find Myself" and "Anybody Out There?"). The rest of Generation Swine sounds bloated and inert; the single "Afraid" could even pass for one of Smashing Pumpkins' turgid art-rock symphonies. Scary indeed. (Elektra)
James Bonamy
On his sophomore release, James Bonamy tries to set himself apart from country music's ever-expanding pack of pleasant-voiced, guitar-strummin' pretty boys. And the 25-year-old Florida native almost succeeds—on the strength of the soulful, soft-rock ballad "Little Blue Dot" and a catchy cut called "The Swing." Yet there's an overriding sameness to many of his songs, perhaps befitting an artist who paid his dues crooning and hoofing in the homogenized stage shows of Nashville's Opryland theme park. Closing out with a religious-themed number that won't win too many converts, Bonamy provides us with an innocuous CD that is certainly marketable if unmemorable. (Epic)
Talking With...
Art Garfunkel
ART NOUVEAU
Following the 1970 breakup of Simon & Garfunkel, the duo's taller half pursued a solo recording and screen career. Within the past year, Garfunkel, 55, completed a 12-year cross-country walk and released two albums with cameos by his son James, 6—Songs from a Parent to a Child (Sony Wonder) and Across America (Hybrid Recordings).
Who does James enjoy listening to?
He likes Little Richard, Chuck Berry, Fats Domino. It doesn't matter how old you are when it's good music.
What was the weirdest thing that happened to you during your trek?
I was walking in Ohio one night, and a bunch of jocks in a car threw a beer can at me. But that was the only unsafe thing that happened the whole time. This country is cool. You do not have to fear to go out.
Why did you record Across America live on Ellis Island?
When I finished the walk, I decided to plan a concert. And because my family came through Ellis Island [from Romania], I felt very much like an American story. I'm just a third-generation Jewish boy who practiced with his friend Paul to get as good as the guys on the radio.
Where do you go from here?
I want to have another child, but that's in God's hands. I also want to become a nicer person. And make another album—my next "best album ever."
Contributors:
Alan Paul,
Peter Castro,
Ken Baker,
Peter Ames Carlin,
Craig Tomashoff,
Mark Bautz,
Jeremy Helligar,
Randy Vest.
Clarence "Gatemouth" Brown
Advertisement
Treat Yourself! 4 Preview Issues
The most buzzed about stars this minute!