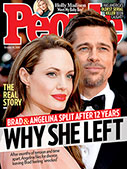 This Week's Issue!
People Top 5
LAST UPDATE: Tuesday February 10, 2015 01:10PM EST
PEOPLE Top 5 are the most-viewed stories on the site over the past three days, updated every 60 minutes
Daughter Dearest
Christina Oxenberg's Novel Inflames Her Titled Family
If so, her most recent endeavor could be considered an uprising. A first-time author who has long maintained a testy detente with several of her relatives, Christina has strayed even further from the flock with her novel Royal Blue ("darkly comic," said the Chicago Tribune) and its tale of a young woman's rebellion against her tempestuous family: "Your mother's a self-centered, gold-digging tart, and your father a shameless social climber," spits the protagonist's suitor. Though Oxenberg insists the book "is not a tell-all," its portrait of a daughter and her charmingly irresponsible European princess mother echoes Christina's relationship with Elizabeth, a socialite who counts Prince Charles as her second cousin and Richard Burton and Warren Beatty as former lovers. (Dad is New York City businessman Howard Oxenberg.)
Estranged from her mother for four years after a snowballing series of slights (Elizabeth is now a pitchwoman for her own perfume on QVC), Christina has heard through friends that the 61-year-old princess is livid over the book. Sister Catherine, 35, hasn't spoken to Christina since it hit stores in June, and her 78-year-old father has ceased paying her $l,100-a-month rent. "[Christina] was a little too dishy in there," says New York City socialite Nan Kempner, a pal of Princess Elizabeth. Demurs Howard Oxenberg, the only family member to publicly comment so far: "The novel is about 90 percent fiction. You have to figure out what is real and what is not real."
The family saga has long seemed the stuff of fiction. At the age of 4, Princess Elizabeth, the youngest of three children, was exiled to Kenya with her parents—the late Prince Paul of Yugoslavia and Princess Olga of Greece, 94—following a 1941 coup in Yugoslavia. She grew into a headstrong beauty and one of the most desirable women in Europe. Having met Oxenberg on the ski slopes of Austria, she eloped with him at 23. But the romance soon waned, and after Christina was born, in New York City, rumors arose that her real father was John F. Kennedy. "I have asked my mother, and she said she didn't know," Christina says now, adding teasingly, "but I do like Hyannis Port."
Following Elizabeth's divorce from Oxenberg, Christina, then 3, and her sister moved with their mother to London. Even as children they were a study in contrasts. "I was always the tomboy, the truant," says Christina, while Catherine, now a single mother to daughter India, 6, in L.A., "was always obsessed with fashion and style."
The sisters were introduced to a procession of stepparents (Princess Elizabeth has married three times; her father, five); one near miss was Burton, who was briefly engaged to Princess Elizabeth between his two marriages to Elizabeth Taylor. "He loved kids," says Christina. "He took us to Rome and his house in Switzerland, and he once punched a photographer [trying to take our picture] at a restaurant near that house. Early Sean Penn."
When she was invited to Buckingham Palace in 1977, another of her mother's suitors, Lebanese businessman Nassib Lahoud, gave Christina "a stack of 20-pound notes to buy some nice clothes," she says. "I laid them out on my bed and stared at them for hours." Not that cash flow ever cramped their style. When Elizabeth split with Lahoud "he bought her a very expensive watch covered with diamonds from Asprey of Bond Street," Christina recalls. "She went directly to Asprey and cashed it in. The money lasted several years."
But the good life had its lows. Christina recalls attending at least 14 boarding schools, where she was often disciplined for fighting with her teachers. During a holiday from her Oxford high school when she was 15, she claims she returned to the family's London home—only to discover that her mother had sold it and moved to New York City without telling her. If the incident caused any scars, however, she doesn't let on. "Some things, weirdly enough, are funny," she says. "It wasn't such an awful thing."
Graduating from Colorado Rocky Mountain School in Carbondale, Colo., in 1981, Oxenberg drifted through a series of clerical jobs in Manhattan before marrying artist Damian Elwes (brother of actor Cary Elwes) five years later. They lived and worked in Paris, Morocco, Costa Rica and Colombia, he painting, she promoting his art. "But I did not want to be an art dealer," says Oxenberg, who split with Elwes in 1991. "I wanted to write."
Her chance came in 1994, when an editor she knew suggested that publishers would leap at a novel from her if it had an autobiographical spin. Tired of temp jobs and with a $100,000 stash of family jewels in a bank vault, she had no qualms about serving up the dish. "My intentions," she admits, "were incredibly selfish." Now planning a move to Tahiti with a friend next month, she looks forward to renewing her family ties. "I'm definitely in the short-term ticking everybody off," she says, "but I didn't write anything evil. I'm holding on to the belief that when my family reads the book, they'll chill out."
ANNE-MARIE O'NEILL
ANTHONY DUIGNAN-CABRERA in Manhattan
Contributors:
Anthony Duignan-Cabrera.
A TINY, ONE-ROOM APARTMENT IN Greenwich Village hardly seems a fitting abode for the scion of a European royal family. Then again, Christina Oxenberg—the second daughter of Princess Elizabeth of Yugoslavia and sister of former Dynasty star Catherine Oxenberg—isn't exactly your standard aristocrat. "I have never felt like a royal," says Christina, 34, her brown hair disheveled. She is wearing a Gap T-shirt and downing mouthfuls of pistachios. "I think I'm innately peasant stock."
Advertisement
Treat Yourself! 4 Preview Issues
The most buzzed about stars this minute!